Caregiving As A Parent
Deavan Clegg, a former star of the reality TV show "90 Day Fiancé" is keeping a "close" watch on her son, who now has a fever as he battles cancer.
4-year-old Taeyang was diagnosed with B-cell acute lymphoblastic leukemia last May. A fever can be tough for a child going through chemotherapy.
Acute lymphoblastic leukemia, or ALL, is a type of leukemia where the bone marrow makes too many immature lymphocytes, a type of white blood cell. It is also called acute lymphocytic leukemia.
As a parent, it's crucial to pay close attention to your child's health and immediately take them to see a medical professional if you feel something isn't right.
Assuming the role of a cancer caregiver when a spouse, parent, sibling, child, or friend is diagnosed with cancer comes with a unique set of responsibilities. The first thing to understand is that there is no shame is asking for help.
"90 Day Fiancé" star Deavan Clegg, 26, says her son, who is bravely battling cancer, is now sick with a fever. The strong mom, who has stopped her regular job to be able to be his full-time caregiver, is watching him closely to make sure he's OK.
SurvivorNet has been following Taeyang's story since Clegg first announced his B-cell acute lymphoblastic leukemia diagnosis after his third birthday in May 2022.
Read More
Clegg shares her son with her ex Jihoon Lee, who she appeared on the American reality TV series "90 Day Fiance: The Other Way." She took to her Instagram story this week to inform her fans her son "isn't feeling well."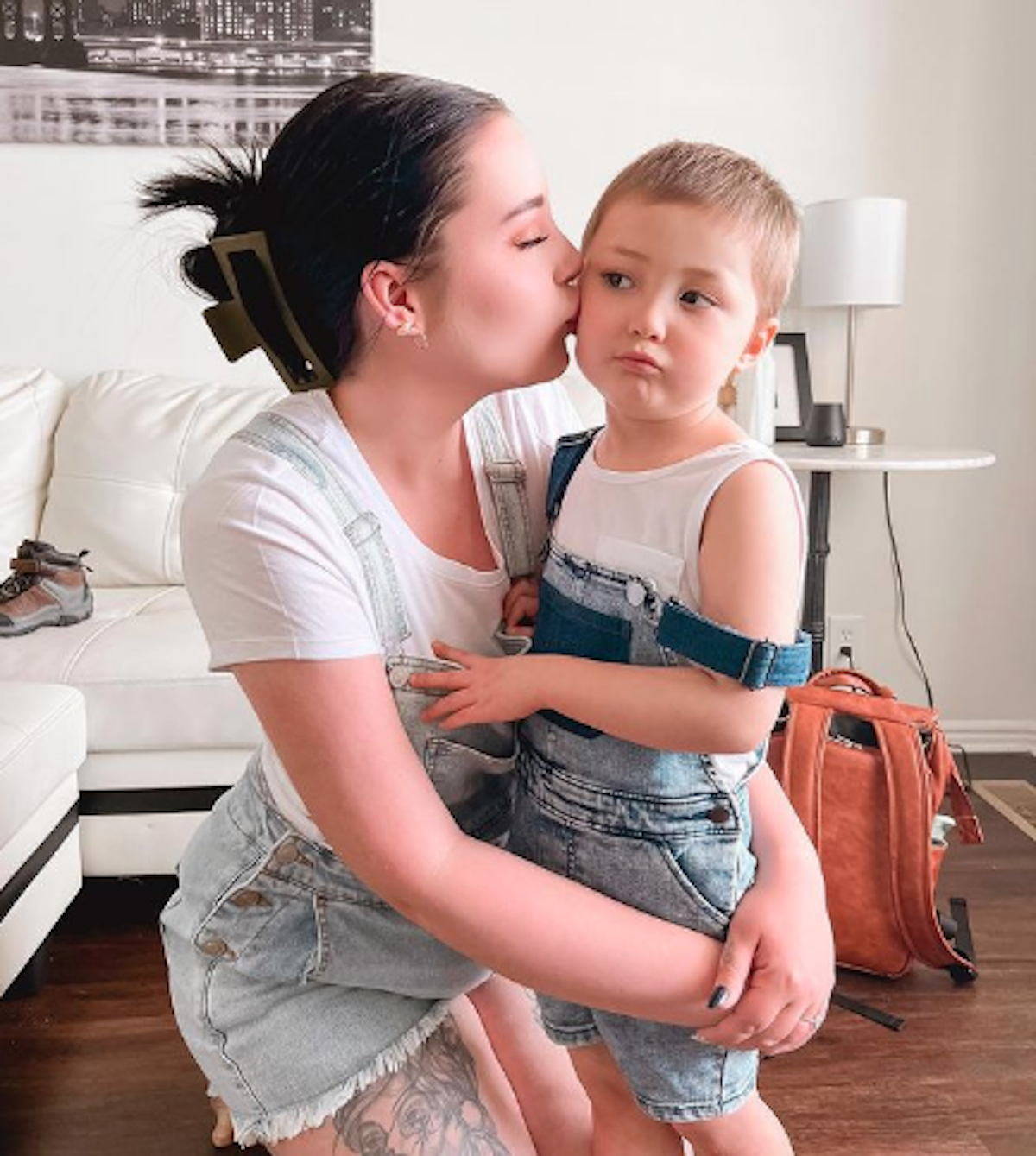 "Taeyang isn't feeling well," the strong mom wrote on her Instagram story, in text placed over a photo of her
kissing her son on his cheek
. "He's sick with a fever. We are watching him closely." Following her son's health update, Clegg re-shared
 a post from her mom Elicia Clegg
, which read: "Thank you
Phil's Friends
[a non profit] for this lovely card to Taeyang. We are approaching 1 year. Which we hope will be the halfway mark in his battle."
The card, written by a 20-year-old from Illinois, read, "You are strong! You are brave! You are loved!"
Clegg's mom Elicia, also revealed in an Instagram post that she has just started feeling better after catching the flu. It's unclear if she has been near her grandson while she was sick or whether his current symptoms are due to his cancer or another illness he caught.
View this post on Instagram
Taeyang's wave of sickness comes just weeks after he turned four and celebrated his birthday with his mom, her current boyfriend Topher Park, their infant child, and her daughter Drascilla.
It's clear Taeyang is still fighting cancer, but Clegg's recent Instagram post showed the little boy, appearing to be happy and well, wearing matching overalls while being hugged and kissed by his mom.
READ MORE: Hard Times For '90 Day Fiance' Star Deavan Clegg– Like So Many, Struggling to Pay for Son's Cancer Bills
"My hero ❤️ Taeyang is still fighting cancer but he's doing amazing we will win this battle. #cancerawareness #childhoodcancer," Clegg captioned the post.
Taeyang's Cancer Diagnosis
Deavan Clegg first shared the news of Taeyang's diagnosis with her followers on May 31, 2022, and although she often takes to Instagram to update her followers, more information on his current treatment remains unknown.
"I have vowed to always be 100% transparent with you guys and I am choosing to share the most vulnerable and saddest point of my life right now in hopes it can help give anyone else dealing with a similar situation some strength," she wrote in her post, featuring a photo of her son playing with toys in what appears to be a hospital.
"I'm overcome with so much emotion and devastation to announce that my beloved son Taeyang who just celebrated his third birthday last month was just diagnosed with childhood cancer, b-cell acute lymphoblastic leukemia just a few days ago."
After announcing that her son had already started chemotherapy treatments, she explained, "This is every parents absolute worst nightmare and I'm trying hard to stay strong for Taeyang, Drascilla and my baby in my tummy. Taeyang will need around-the-clock hospital care and this will be a long two-year process that has a high success rate of full recovery in five years. I'm still processing all of this and asking for prayers, please."
Meanwhile, Taeyang's grandmother Elicia shared in a recent update post on her grandson's GoFundMe page, which has since raised more than $41,000, thanking everyone for helping amid this "long fight."
She wrote last month, "Right now he is stabilized, and luckily only has to go to the hospital once a month now, and gets all other treatment at home. This has been good for his emotional well-being. I will keep you all posted, but for now, today, Taeyang is doing so well, and is happy, and I was happy for him."
"It may seem silly, but just being around other children, and running alongside them was a bit of sunshine and put a much-needed smile on his face," she added.
Understanding Acute Lymphoblastic Leukemia
Acute lymphoblastic leukemia, or ALL, like Deavan Clegg's son has, is a type of leukemia where the bone marrow makes too many immature lymphocytes, a type of white blood cell. It is also called acute lymphocytic leukemia.
The American Cancer Society estimates that about 6,540 new cases of ALL will be diagnosed in the United States in 2023. The ACS also reports that the risk for developing ALL is highest in children younger than 5 years of age, with a slow decline in risk until the mid-20s. Then, the risk slowly rises again after age 50.
What Is Acute Lymphoblastic Leukemia (ALL)?
Dr. Olalekan Oluwole, a hematologist with Vanderbilt University Medical Center, previously talked with SurvivorNet about ALL's effect on the body and the type of treatments that work to fight it.
"ALL is a type of cancer that is very aggressive," Dr. Oluwole told SurvivorNet. "It grows very fast. Within a few weeks, a few months, the person will start to feel very sick. And that's why we will have to give it an equally aggressive type of treatment to break that cycle."
All About Acute Lymphoblastic Leukemia: Answers to the Most Common Questions About the Disease
Dr. Oluwole also says the leukemia often resides in the bone marrow, and because it is an abnormal growth, it just keeps dividing.
"It doesn't follow rules, and it doesn't stop," he told SurvivorNet. "Not only that, because this is part of the immune system, the immune system is sorta like the police of the body. So those abnormal cells that have now become cancer, they have the ability to go to many places. They go into the blood, and they often go into the tissue or the lining around the brain."
Advocating for Your Child; When to be Concerned
When it comes to your own health, as an adult, advocating for yourself and your own health is extremely important. It isn't uncommon to run into medical professionals who will dismiss your symptoms, but you know your body the best. And you know when there's something wrong.
Be Pushy, Be Your Own Advocate … Don't Settle
The same goes for a parent and their child. Mothers and fathers know when there's something wrong with their child, and children aren't able to advocate for themselves.
As a parent, it's vitally important to pay attention to your child's health and take them to see a medical professional if you feel something isn't right. But it's also only natural to worry about your child and seek professional help for the smallest things.
Cancer Caregivers: The Basics
Assuming the role of a cancer caregiver when a spouse, parent, sibling, child, or friend is diagnosed with cancer comes with a unique set of responsibilities. The first thing to understand is that there is no shame is asking for help. This can be an overwhelming time for both patients and their caregivers, too.
Through interviews with expert oncologists, social workers, patients advocates, and more, we've come up with a checklist of helpful steps cancer caregivers can take throughout the journey.
Cancer caregivers may:
Attend doctor visits with the patient
Help the patient take notes/ask questions
Provide transportation to and from treatment
Accompany the patient during treatment
Help keep track of side effects
Link up with a social worker/patient navigator
Help with day-to-day activities
Provide emotional support
Dr. Jayanthi Lea With Guidance For New Cancer Caregivers
Caring for a Child With Cancer
Similar to Deavan Clegg, who sure has a lot on her plate right now, Jayne Wexler knows the simultaneous role of mother and cancer caregiver. Her son, Justice, was also diagnosed with ALL, but he has since recovered.
In a previous interview with SurvivorNet, she explained how she managed to be a mother and a caregiver all at once.
'I Try To Stay Strong, But Sometimes You Need To Cry': Playing The Role of Cancer Caregiver and Mom
"Being a caregiver is a huge job," Wexler said. "Fortunately, my husband and family were very supportive … it's really hard to see your child go through this. If it could be me, I would take it in a second. You just go on auto-pilot and you just do what you have to do."
However, that doesn't mean it was always easy. Wexler admitted that as a parent caring for a child with the disease, you don't have a lot of time to sit down and deal with your own emotions.
"You don't have that much time for yourself," Wexler said. "I try to stay strong, but then sometimes you just want to go and cry, and you need to cry… it's good to cry."
The survival rate for children with cancer has improved an incredible amount over the past few decades, but pediatric cancer is still an incredibly hard thing for a family to go through.
In her own caregiving experience, Wexler found therapy to be a really great way to process everything happening to her family. Regardless of whether it's therapy or participating in your favorite activities or something entirely different, it's important to find ways to also take care of yourself as you're taking care of your child.Contributing: SurvivorNet Staff
Learn more about SurvivorNet's rigorous medical review process.
---