Silver linings, community and using her voice were just a few things 32-year old actress Emily Tyra discovered after battling brain cancer.
Minnesota-born Tyra started her performance career by dancing with the Boston Ballet, and eventually moved to Broadway by joining the lead cast in shows including Hugh Jackman Back on Broadway, Chaplin the Musical, and Nice Work If You Can Get It. Tyra is also known for her roles as villainous Mia Bialy in the Golden Globe nominated television mini-series "Flesh and Bone" and Dr. Noa Kean in medical drama "Code Black." Little did Tyra know that she would face a personal medical emergency of her own the next year.
Read More
Her career was going well, but in March 2019 Tyra was diagnosed with brain cancer out of the blue after experiencing two compulsive seizures where her body went rigid and started shaking uncontrollably. Tyra lost consciousness in her home, and the next thing she remembers is waking up at Keck Medicine of University of Southern California (USC). Once regaining consciousness, the doctors told Tyra that she had a brain tumor, and they needed to start surgery immediately.
"It was like ripping a bandaid off," Tyra tells SurvivorNet. "I know a lot of people have a different experience. There's a lot of scans and worries and tests and waiting for results, that was not my experience at all."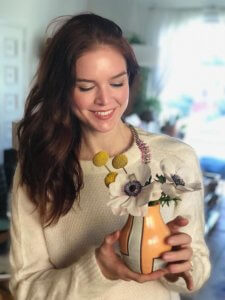 What makes brain cancer particularly unique is that neurosurgeons aren't able to determine the type of tumor until removing it by performing a craniotomy. This procedure requires a surgeon to make a cut in the scalp close to where the tumor is located, open the skull, and cut into the brain to reach the tumor. Once the tumor is removed, the skull is sewn back together. The tumor is then determined by a biopsy.
Following the craniotomy, doctors concluded that the tumor was a Grade II astrocytoma, which is most commonly found in adults from ages 20 to 40. It's also known as low-grade astrocytoma, where a malignant tumor slowly grows in the brain. The tumor was located in Tyra's parietal lobe, which is responsible for balance and coordination.
Brain cancer is a rare diagnosis compared to other cancers. According to American Cancer Society, there is a less than a 1% chance that a person will develop a malignant brain tumor in their lifetime, but they are more common for men than women. As opposed to Grade I tumors, Grade II are more likely to reappear over time, and only two out ten are astrocytomas.
Related: Surviving Cancer Surgery
Following the surgery Tyra received six weeks of simultaneous chemotherapy and radiation treatment and then a full-year of different oral chemotherapy cycles. Each chemotherapy cycle lasts for a few weeks, and are broken up by a rest period before starting a new one.
Tyra wanted to connect with those who had gone through the same experience, but unfortunately, the closest brain cancer support group was across town in Los Angeles, California, and seeing as she wasn't allowed to drive, that wasn't a possibility. Tyra ended up finding a support system in an unlikely place — Reddit. By scrolling through the website's Brain Cancer page, Tyra was able to read other people's stories and find that community she was searching for.
"I did feel alone and thought I couldn't possibly relate to anybody, but I was able to find commonality that everybody else felt that way too," Tyra says. "Then I was able to find commonality with anyone who's had a cancer diagnosis [because] we're all searching for silver linings. I think it's something that anyone with a cancer diagnosis carries with them."
Related: You Are Not Alone — 6 Inspiring Cancer Memoirs to Help Survivors and Caregivers Cope with Their Journeys
Tyra used her year-long recovery as a way to look towards the future. When Tyra was first diagnosed with brain cancer, she was planning her wedding, but that didn't stop her from walking down the aisle. She and her husband, Adam Santucci, exchanged vows twelve days after she completed radiation and her first cycle of chemotherapy. She says that the diagnosis made them always look forward to something, even if it was as small as making homemade pasta.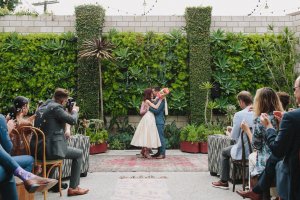 Not only was Tyra able to get married during her recovery, but her work ethic didn't slow down either. As a dancer, Tyra's parietal lobe being damaged was a frustrating challenge to overcome, but six weeks after her brain surgery she was back in a dance class.
"I told myself you're going to mess up, people are going to see you struggle, and that's okay," Tyra says. "Once I allowed myself to accept that was the reality and be okay with it that's when I started making breakthroughs."
Tyra's resilience paid off in the end. Despite all she'd been through, she accepted to play the role of Cassie for Signature Theatre's production of A Chorus Line in Washington, D.C., which debuted in November 2019. Tyra admits she was in no condition to accept the role at the time, but she wanted to try anyway.
Related: 'I'm Beating It' — Two-Time Teen Cancer Survivor and Penn State Swimmer Believes in Comeback Stories
"I feel very empowered and obligated to share my story," Tyra says. "People would ask me if I was going to tell anybody about this, and I would respond 'is that even a question?'"
Learn more about SurvivorNet's rigorous medical review process.