When she noticed her nose felt blocked, British mom, Julia Davey, 40, did the smart thing and got it checked by a doctor.
Davey's doctor suspected a nasal polyp might be the problem and referred her to an ear, nose, and throat specialist. Although she'd been noticing symptoms for two weeks, Davey never imagined her blocked nose would be anything serious.
Read More
RELATED: Smart Tips For Getting Cancer Screenings Right Now From The Chief Medical Officer of the American Cancer Society
To get a closer look, the specialist performed a nasal endoscopy, inserting a thin, flexible tube with a tiny camera and a light into the nasal passage.
A biopsy confirmed that Davey's blocked nostril was the result of squamous cell carcinoma. Although it is most often associated with skin cancer, when cancer invades the squamous cells that line the mucous membranes in the nose, it's considered a form of head and neck cancer, according to the National Cancer Institute.
Dr. Jim Allison, 2018 Nobel Prize winner, tells SurvivorNet that the next big wave of cancer research will likely involve combining immunotherapy with targeted drugs.
"I feel like I've had my whole world tipped upside down this past year," said Davey, who has two sons, 12 and 16, and a daughter 5.
RELATED VIDEO: Sometimes The Hardest Thing About A Cancer Diagnosis Is Telling Family — Victoria Rego Shares Her Story
What followed was a two-hour operation to remove the nasal septum. Davey hoped the surgery would put the cancer behind her. But soon, the other nostril became blocked and doctors discovered Davey's nasal cancer has returned.
"It had seemed manageable up until then," Davey told Berkshire Live. "But it all changed. I realized I had a bigger battle on my hands than I'd thought."
"I'm Not Vain At All But…"
When chemotherapy failed to slow the tumor's growth, Davey and her doctors were left with a difficult course of treatment: a total rhinectomy. To remove the cancer, doctors would have to remove her nose. "I'm not vain at all but your nose is so prominent," Davey said. "It was just devastating."
RELATED: The FDA Approves Immunotherapy Drug Keytruda For Some People With Head and Neck Cancer
A 14-hour operation to remove her nose, upper palate, and lymph nodes came in November 2019. A prosthetic nose was built for her, based on photographs.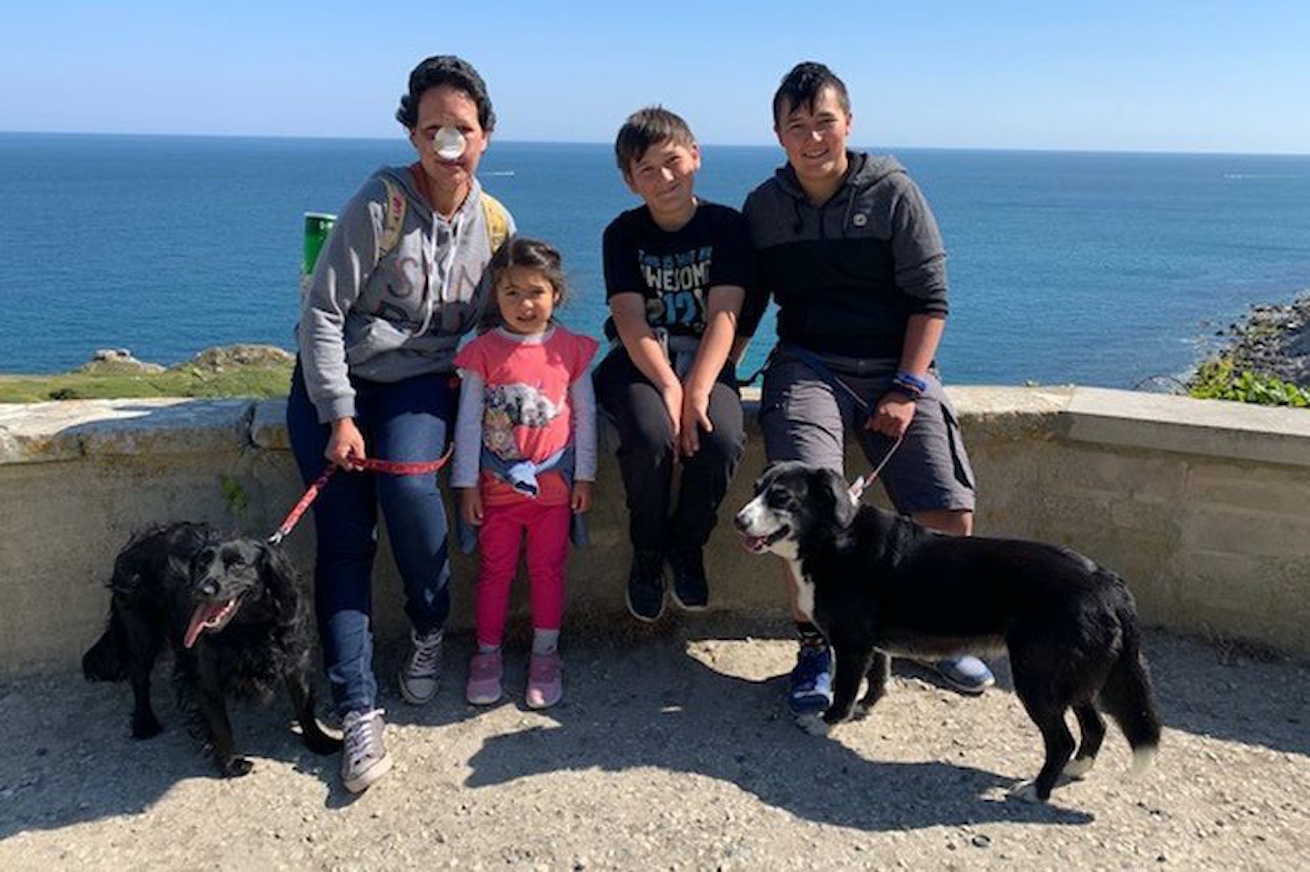 When cancer invaded her nasal cavity, Julia Davey, here with her children, Eleanor, Joel, and Tom endured surgery to remove her nose and continues to fight the disease. 
"There's a hole where my nose is. There's no other way to describe it," says Davey who has resisted letting anyone see her face without her nose covering. "Only a few people have seen it … but I haven't shown the children. I don't want them to have nightmares."
Immunotherapy and Radiation
After 30 radiation sessions, a scan revealed another tumor growing in her jaw. Although she hasn't been given a prognosis, Davey is now on immunotherapy and is determined to remain positive.
"It can feel like I'm fighting against the tide," she said. "But I need this treatment to work. My drive is being a mum and I've got to stay positive."
What Causes Nasal Cavity Cancer?
The most common type of paranasal sinus and nasal cavity cancer is squamous cell carcinoma. This type of cancer forms in the thin, flat cells lining the inside of the paranasal sinuses and the nasal cavity.
RELATED: Throat Cancer Warrior, Michael Douglas Gets Emmy Nod For 'Kominski Method,' A Show That Doesn't Shy Away From Cancer
Risk factors include being exposed to certain workplace chemicals or dust, such as flour or sawdust. The cancer can also be linked to smoking or to exposure to the human papillomavirus (HPV).
"The vast majority of humans in the U.S. will eventually get infected with human papillomavirus," says Dr. Allen S. Ho is a head and neck surgeon at Cedars-Sinai Medical Center.
HPV and Cancer Connection
For the past two decades, HPV has been studied as a cause of certain cancers, including throat, and other head and neck cancers.
RELATED VIDEO: HPV Is Responsible For 5% Of Cancers In The World: An Advocate's Crucial Message
The virus spreads through sexual contact. There are over 200 types of HPV-related viruses with only a few of these types are related to cancer. Most often, the immune system helps to clear the infection. It's not well understood, but some people do not clear the infection. It lingers over a period of years eventually turning into cancer.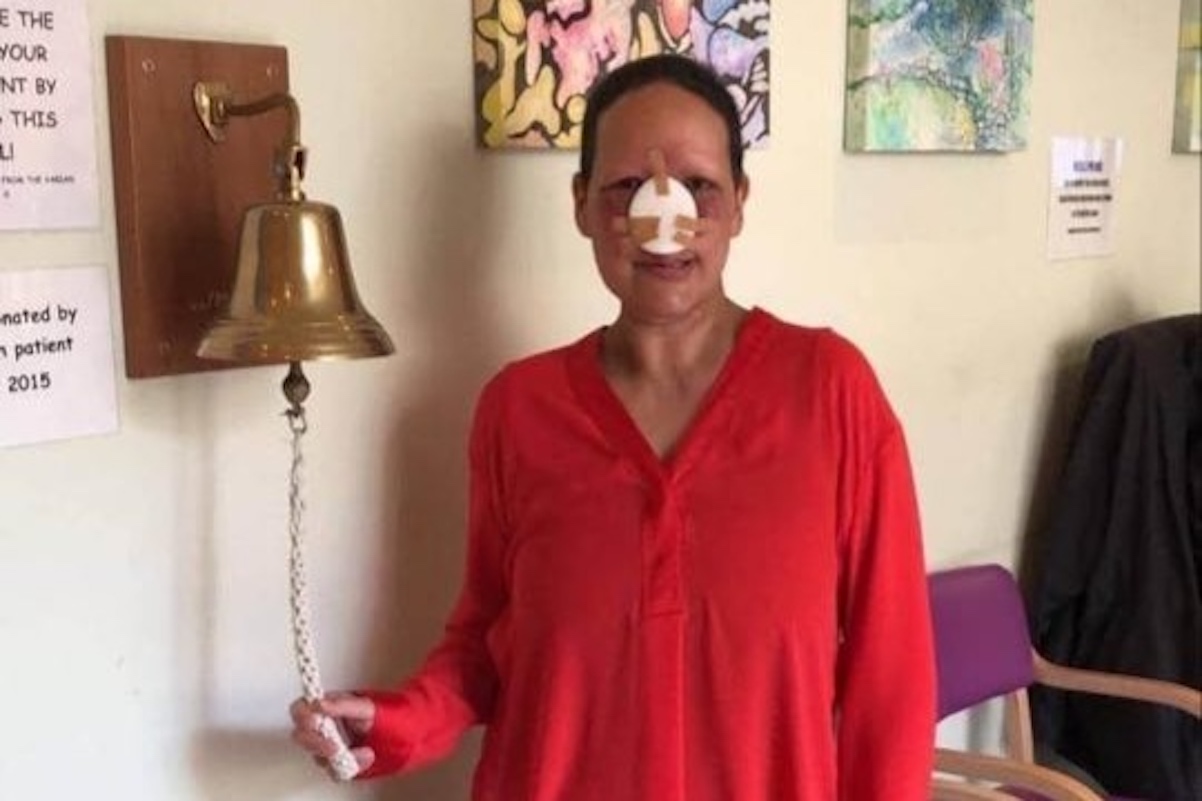 Chemotherapy was an early part of Davey's squamous cell carcinoma treatment, which has also included surgeries, radiation, and immunotherapy. 
Other forms of paranasal sinus and nasal cavity cancer include:
Melanomas: Cancer that starts in cells called melanocytes, the cells that give skin its natural color.
Sarcomas: Cancer that starts in muscle or connective tissue.
Inverting papillomas: Benign tumors that form inside the nose. A small number of these change into cancer.
Midline granulomas: Cancer of tissues in the middle part of the face.
Symptoms Of Nasal Cavity Cancer:
There may be no signs or symptoms in the early stages of paranasal cancer. Signs and symptoms may appear as the tumor grows. Check with your doctor if you have any of the following:
Sinus problems and nosebleeds
Headaches or pain in the sinus areas
A persistent runny nose
A lump or sore inside the nose that does not heal
A lump on the face or roof of the mouth
Numbness or tingling in the face
Swelling or other trouble with the eyes, such as double vision
Pain in the upper teeth, loose teeth, or dentures that no longer fit well
Pain or pressure in the ear
Learn more about SurvivorNet's rigorous medical review process.
---