Roker & Men's Health
Al Roker was diagnosed with prostate cancer last year and had surgery to treat it; today, he's a vocal advocate for PSA tests and men's health.
Prostate cancer elimination is possible, say today's doctors, with early detection.
Men need to be advocates for their health and stay on top of their screenings, they way they might stay on top of a tire change, says one doctor.
Last year,
TODAY
show titan, Al Roker, 67, was diagnosed with prostate cancer, and today he joined
The Atlantic
's "People Versus Cancer" event to discuss the elimination of prostate cancer, and how men need to advocate more for their health.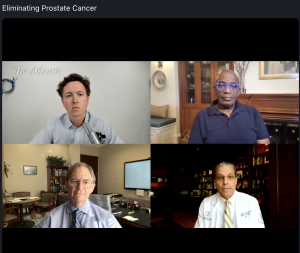 Read More
Joined by his doctor,
Dr. Vincent Laudone,
the chief of surgery at Memorial Sloan Kettering Cancer Center, Roker discussed his treatment path, his emotional response to the diagnosis, and how he almost thought of not telling his wife he had cancer.
Eliminating Prostate Cancer & Al's Cancer Journey
During the roundtable discussion, Roker and others discussed the future elimination of prostate cancer as a very real possibility. Jonathan Simmons, who's on the Board of Directors of the Prostate Cancer Foundation, says that in his lifetime prostate cancer deaths have been cut in half.
Related: 'TODAY' Anchor and Prostate Cancer Survivor Al Roker Receives a Prestigious Journalism Award: 'Words Cannot Begin to Express the Privilege and Gratitude I Have'
"That's an amazing amount of progress," says Simmons. He says that early detection for prostate cancer – much like breast cancer – is "key."
In November 2020, Roker announced on-air that he had been diagnosed with advanced prostate cancer. He continued to be public about his battle with prostate cancer, and transparent around his treatment. Roker opted for surgery to treat his prostate cancer.
Roker recalls how a routine exam revealed his prostate cancer. Thinking everything would be okay, he told his wife she didn't need to accompany him to his appointment. "It was a scheduled 'let's go over the results of your biopsy' [type of thing]," says Roker. "The doctor closed the door and told Al, 'I like to give these results in person,'" he recalls.
Roker remembers how he thought for a moment: "Is there any way I could do this without telling [my wife] Deborah? Because she'll be furious she wasn't here." Roker says Deborah's journalistic skills went into "over-drive" after his diagnosis.
Many people called Roker a hero. "It was a huge public health contribution for Al to go public," says Simmons. Roker, however, doesn't think he did anything special. "To those whom much has been given, much is expected," he says, citing his success as part of the reason he went public – he knew he would have a wide reach.
"It's nothing to be ashamed of," says Roker of his prostate cancer during the event with The Atlantic. "Let's try to get some good out of this," he says of sharing his cancer journey with the public, "especially given that for men of color the diagnosis is more impactful. Let's make the best out of a not-great situation."
NBC 'Today' Weatherman Al Roker, 66, Reveals He's Having Surgery to Treat Prostate Cancer; What That Means & What Are the Side-Effects
Men's Health & PSA Tests
Roker notes today that "I think we as men are not as great an advocate for our own health." He also stresses the importance of prostate specific antigen (PSA) tests for men, which screen for prostate cancer. PSA tests look for PSA in the bloodstream, which could indicate the presence of prostate cancer.
Related: 'TODAY' Anchor Al Roker's Crucial Reminder to Not Delay Screenings After Almost Canceling His; He Would Not Have Found His 'Aggressive' Prostate Cancer
If you have a family history of prostate cancer or other cancers in your family, you should begin screening for prostate cancer earlier than the average person. The current recommendation is to begin screening at age 50 if you have an average risk of prostate cancer.
Those that are at a high risk of developing prostate cancer, should start screening at age 40 or 45, depending upon your specific circumstances. Speak with your doctor about what's best for you, and advocate for your health – lead each doctor's appointment with a plan.
Learn more about SurvivorNet's rigorous medical review process.