Bear's Birthday Message
Alaskan Bush People's Bear Brown wrote a sweet message in honor of his mother, Ami's, 57th birthday
Ami Brown battled stage 3 lung cancer in 2017, and was declared "cancer free" in 2018
Bear says their family's recent struggles have made them stronger, and his mother is the strongest woman he knows
Alaskan Bush People
 star Ami Brown has a lot to celebrate. Not only is she in remission for advanced lung cancer, but she's spending another birthday with her family. Her son, Bear, is showing how grateful he is for her recovery, and that they can enjoy this special day together.
Bear Brown wrote a sweet message on Instagram in honor of his mom's 57th birthday, sharing that even though the recent years have had its challenges, his mom's strength inspires him daily. Ami was diagnosed with stage 3 lung cancer in 2017, after complaining for months of unexplained back pain. She underwent four months of chemotherapy and radiation for treatment, which she responded well too. In 2018, she was declared "cancer free."
Read More
Related: Ridiculed For Moving To Seek Cancer Treatment — "Alaskan Bush People" Matriarch Ami Brown Bravely Fights On
A cancer battle can really put seemingly little milestones in a whole new perspective, and after watching his mother fight, Bear clearly isn't taking this birthday for granted.
"Happy Birthday to my mother!!!" Bear wrote. "The strongest and most courageous woman I've ever known. We've had a pretty hard time the past few years, but we've also had some monumental moments! Mom has gotten the grandchildren she has always wanted! I feel very blessed to still have my mother with me and that she has gotten to see the Wolfpack grow even larger with grandchildren. Through all the adversity we've faced we still stand together as a family! Even stronger because of it!!! Happy birthday Mom!!!"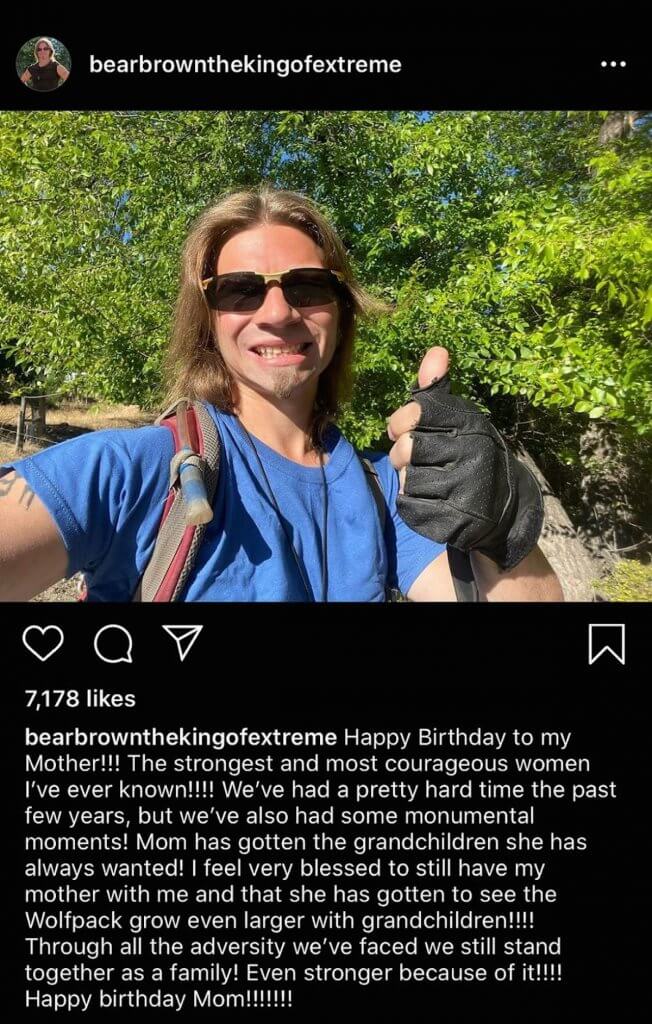 Celebrating Milestones After Cancer Treatment
For some people, a birthday my feel like no big deal, but after overcoming personal challenges such as cancer, they can mean everything to survivors and their family members. Milestones matter for survivors, and even though completing cancer treatment is impressive enough, the smallest occasion is often worth a party.
Chrissy Degennaro was diagnosed with multiple myeloma whens he was 36-years-old, and has been battling the disease for over 14 years ever since. Due to the rare type of disease, Chrissy didn't expect to make it to important milestones with her family — such as seeing her two-year-old son enter kindergarden. Her treatment was grueling, as she has undergone two stem-cell transplants, 27 types of chemotherapy, a CAR-T cell trial, and two CAR-T cell transplants. Even though none of those treatments have officially put her in remission, her resilience and determination to keep fighting has paid off as she continues to celebrate birthdays, anniversaries, and more occasions with her family.
Related: 'I Wanted to Keep Things with My Kids as Normal as Possible' – Lisa Schaible Survivor Story
"I do live one day at a time," Chrissy tells SurvivorNet. "Now, maybe I can go a week, a month, but things are looking pretty good. I'm able to be here for more milestones for my son, for more holidays, more birthdays. I do feel like I have had another chance at life."
Chrissy Degennaro on celebrating milestones during her 14 year cancer battle
Learn more about SurvivorNet's rigorous medical review process.