A Battle With Von Hippel-Lindau Disease
Mikaela Gage, 23, was 17 when she first began noticing the signs of Von Hippel-Lindau Disease, a rare genetic disorder that causes tumors and cysts to grow throughout the body.
At first, doctors thought it was ear infection when she complained of dizziness. But an MRI revealed a tumor at the base of her brain stem.
Two more tumors were found in her brain, as well as along her spinal cord and in organs such as her kidneys.
Today, Mikaela has found a community online and in the real world and has hope for the future as a new medication has successfuly shrunk her tumors.
Mikaela Gage, a power hitter on her Springville, UT varsity softball team, suddenly found herself unable to make contact with the ball.
It was so strange. It was a skill she had worked so hard at. Keeping her eye on the ball was literally what she did.
Read More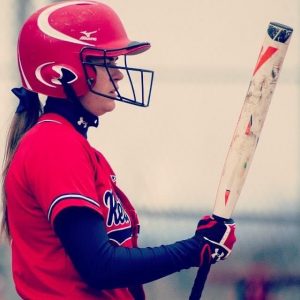 But now she couldn't see the ball. She was 17 and she couldn't make contact and she didn't know why. Her coach saw it, too, but they couldn't know the reason. Mikaela was relegated to the bench, unable to shake the feeling that something was very wrong.
There were other signs, of course. One night, the family went out to eat and Mikaela was immediately hit by nausea. She ran to the bathroom but nothing happened. And then it passed.
"That was weird. After a couple of minutes, the sickness just stopped and went away and I was totally fine."
Finding The Strength To Ask For Help
She was the youngest of five children and the only girl. She had grown up playing video games and with the family dogs. It was a family that toughed out sicknesses unless absolutely necessary. It was hard for Mikaela to admit she needed help.
"I remember going to my dad and looking at him and crying after a softball game," she told Survivornet. "I told him I just did not feel good, I did not feel right. I couldn't explain it, it wasn't like the flu or a cold, but I knew something was wrong."
At first, the diagnosis was a simple one: an ear infection. Mikaela took medication for that for weeks with no improvement. In class, she'd get so dizzy she'd have to lay her head down.
An MRI was scheduled, but as a member of a generation that grew up with the Internet, Mikaela wanted to do her own research. The night before the scan, she began Googling her symptoms and what she found scared her.
"One thing I came across while I did my own research that didn't seem so crazy to me was the possibility of a brain tumor," she said.
How Could This Happen?
After the MRI, the doctors didn't send Mikaela home to wait for results. Instead, she waited with her mom in a white room until one of the physicians walked in. He looked at Mikaela and said "We found a tumor on the base of your brain stem."
The results had been so clear, doctors were shocked that Mikaela was still able to walk.
As with all devastating news, it was hard to understand, but particularly for a healthy, athletic, young woman. The doctor explained that it could be random, but there was a possibility the tumor was caused by Von Heppel-Lindau Disease, a rare genetic condition that can cause cysts or tumors to form throughout the body.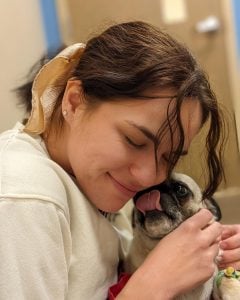 According to Dr. Craig Rogers, Chair of Urology at Henry Ford Health, VHL originates from a genetic mutation on the gene of the same name. The mutation, which is hereditary, is rare, occurring in only roughly one out of every 36,000 people.
"And then whoever gets that, they usually get a mutation in the normal gene, and then that causes almost everyone who gets this – who gets a mutated version or who inherits this – to get the disease," Dr. Rogers said.
For Mikaela, finding out she had VHL meant more scans. Two additional tumors were found in her brain and others were located on her spinal cord.  Others were found in her pancreas and both eyes. What was supposed to be a single brain surgery turned into three. More tumors were found in important organs like her kidneys.
 

View this post on Instagram

 
"After my last surgery, we asked my surgeon what to do. He was very supportive and helpful but said he was a neurosurgeon, he could take care of my brain and spinal cord but all the other seven or so places in my body that needed to be checked, I needed to find specialists in those areas as well," said Mikaela. "All of a sudden we were faced with the task of finding dozens of different doctors to help take care of my eyes, my pancreas, my kidneys, all of that."
Luckily, the Huntsman Cancer Institute in Mikaela's home state of Utah was at that moment in the process of becoming a VHL care center "which was such incredible timing. They were able to take over all my care completely."
"They had doctors for each part of the body that needed to be taken care of. They were all right there and they would all meet with me together at the same time and it was so relieving."
There was a weird aspect to being at the Huntsman: tumors caused by VHL can be cancerous or benign and so far, none of Mikaela's tumors were cancerous. She also had several cysts in her pancreas, another common symptom of VHL.
"Being treated at a cancer center was hard. It was really kind of an identity crisis, because I did have this disease," she said. "I was partially disabled but at the same time, mentally, I felt I was very healthy. I was starting to slowly go back to softball practice."
Building A Community
Mikaela began doing more online research, finding other people who suffered from the same condition she did on social media. She would post about her experiences and, person by person, began growing "my own little VHL community."
At the same time, her own community rallied around her. Her varsity team threw a fundraiser for her the night before a home game.
 

View this post on Instagram

 
"I remember showing up to the field at game time and there were decorations, there were banners, they had custom softballs with my initials and number on it," she said. "It's amazing the communities you can create when you find the right people."
Hope In A Promising New Treatment
Today, Mikaela is still dealing with VHL but she remains strong. In the past year, she began taking belzutifan, which inhibits a protein involved in tumor formation's growth.
"A couple of weeks ago I went in to have some checkup scans again to see how the medicine was working and they saw it's been shrinking my tumors. That's just so overwhelming to have that much hope with this new medication," said Mikaela. "I've been excitedly talking about this with my other VHL friends and they're all on the medication as well. So many people are seeing results."
After being through so much at such a young age, Mikaela remains strikingly positive. She lives on her own with her dog, living a normal life. But when she talks about the lessons she's learned, she tears up, her words broken by mounting tears.
"Don't be afraid to ask for help," she said, before pausing. "That was something I struggled with for a long time. I've really learned from all this we're not supposed to do everything by ourselves. We're not supposed to suffer alone. I think that's such a beautiful thing about hard times, they are designed to bring us closer to others."
 

View this post on Instagram

 
Learn more about SurvivorNet's rigorous medical review process.