Actress Angelina Jolie has had a huge impact on the national awareness around prophylactic cancer prevention, and now she's revisiting her feelings and decision-making process surrounding the decision to have her breasts removed due to a genetic mutation inherited from her mom. Jolie had a preventative double mastectomy in 2013 and removed her ovaries and fallopian tubes in 2015.
Jolie penned a heartfelt tribute to her mother for Mother's Day, which highlighted her strength in times of uncertainty, but also re-introduced the important issue of genetic testing and preventative procedures.
Read More
The actress lost her mother, Marcheline Bertrand, to ovarian cancer at age 56 in 2007.
"To anyone who is grieving this Mother's Day, I hope you will find consolation and strength in your memories," says Jolie, as she ends her piece.
Jolie is a mother to six children, and her mother lived with breast cancer and ovarian cancer before passing away. The actress' grandmother also had cancer, so Jolie decided to have a double mastectomy to reduce her risk of developing breast cancer. This was in response to Jolie finding out she had a genetic mutation (BRCA1), which put her at a greater risk of developing breast cancer and ovarian cancer.
Dr. Ophira Ginsburg explains how genetic testing can help some women to make life-saving decisions. 
Grief in a Time of Celebration
As Mother's Day was celebrated across the country this past Sunday, Angelina Jolie praised all mothers in her New York Times Opinion piece, speaking about the strength she sees in mothers experiencing a multitude of hurdles. She not only speaks about her own mother, who died of cancer when Jolie was in her thirties, but also about mothers who are refugees, abuse victims, and COVID-19 victims. This Mother's Day comes with its own grievances, as many are isolating from their mothers or have recently lost their mothers, or mother figure, to COVID-19.
Even though her mother's death was not sudden, Jolie recalls a major shift in her life once her mother passed. Bertrand was raised by her mother on the South Side of Chicago. Bertrand had a love for the Rolling Stones, which came in handy whenever her daughter, Jolie, was upset. Jolie recalls her mother playing rock music to cheer her up. The bittersweet recollection of memories with a late mother was not new to Jolie's family, as Bertrand's mother also died of cancer, and the loss devastated her. The inherited mutation and the inherited heartache of losing a mother too soon led Jolie to consider her prevention options.
Bertrand's favorite song was "Winter" by the Rolling Stones. Jolie wrote that she has begun to understand the loneliness her mother must have felt as she listened to "Winter" during difficult times in her life. Having endured her own share of loss and change in her life, Jolie resonates with the song in a new way. Jolie had a tattoo with the letter "w" drawn on her hand after her mom died to remind her of the song, but as time passed, the tattoo faded along with the feelings of home and protection she felt because of her mother. However, she has felt a re-emergence of those feelings as she takes care of her maturing daughters. Knowing what she felt for her mother and what her mother felt for hers, Jolie knew she wanted to take preventative measures.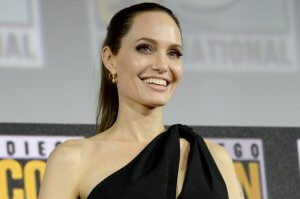 The Genetics of Breast Cancer and Preventative Measures
Angelina Jolie has a BRCA 1 mutation, meaning that one of the genes necessary for regulating her breast cells is dysfunctional. Doctors estimated that that put Jolie at an 87 percent chance of developing breast cancer and at a 50 percent chance of developing ovarian cancer, which is also linked to a mutation in BRCA1.
Because of the risk, Jolie decided to have several preventative procedures, minimizing the likelihood that she would develop these cancers. In 2013, she decided to have the double mastectomy. Jolie spoke about her experiences, describing the three months of procedures related to her mastectomy. She began with "nipple delay," to determine if she had the disease in her breast ducts and to stimulate blood flow to that region. This would allow for preservation of the nipple. Jolie detailed other major surgeries that involved removing breast tissue, placing temporary fillers, and breast reconstruction via an implant.
Then, in 2015, Jolie spoke about the procedures she had to remove her ovaries and fallopian tubes, reducing her risk of developing ovarian cancer. Jolie became immensely vocal about her genetic testing, emphasizing the importance of taking action when you have control. Thus, the 'Angelina Jolie Effect' ensued, a term Harvard researchers used to refer to the "large spike in genetic tests for a gene known to increase breast cancer risk following Jolie's op-ed."
The Legacy that Remains
With her experiences with her mother and her own children, Jolie has refined her understanding of what it means to be a mother. This understanding is more nuanced as she meets mothers with different stories. Jolie speaks about how refugee mothers showed her that "a mother is the strongest person on earth." She expresses her admiration for the resilience within mothers struggling with any pain, whether that be poverty, refugee camps, COVID-19, abuse, or cancer, knowing that they will still do anything in their power to provide for their children.
In the most difficult of times, Jolie finds comfort and protection in the memories of her mother since she cannot find that comfort in her mother's embrace or physical presence. Jolie has begun to embody the person her mother was to her, now taking care of those that she loves and being strong enough to keep them warm and safe even in the face of adversity.
As she ends her tribute, she writes to all mothers, who, despite all odds, remain devoted to their children. She honors them and urges those who are grieving the loss of a mother to find consolation and strength in those memories on this Mother's Day.
RELATED VIDEO: Losing a Parent to Cancer at a Young Age: How Does One Cope?  
Learn more about SurvivorNet's rigorous medical review process.