By Chris Woodyard
To hear Antonella Nester tick through the list, it's hard to imagine how such a successful life and career could have been derailed by such so many personal disasters in such a short period.
Read More
In short order, her husband lost his job. Then she was let go a year ago by QVC, the TV shopping channel where she was a longtime host in a shuffle of its on-air talent.
She was diagnosed with breast cancer and after surgery is enduring four rounds of chemotherapy to be followed by radiation treatments. The couple had to sell their house and move on to their 42-foot sailboat to help pay bills. To top it off, he recently suffered a heart attack.
"It almost seems impossible," Nester explains. "If I were a person going to the movies to see this storyline, I would walk out shaking my head saying 'That's so unbelievable, so unreal. How does even something like that happen?'"
Yet Nester continues to consider herself blessed. All is not lost, she says. Far from it.
Finding Joy
Widely known from years on TV, she's closing in on her $150,000 target on a GoFundMe page. Though she had a tough time with her last round of chemotherapy, she's overcome her resistance to accepting prescribed narcotics to help her through.
After his heart attack, husband Chris received a stent, has regained his energy and is recovering, she said.
All the while, she has been chronicling her journey through YouTube videos and on her Facebook page. Her radiance and positivity might seem unreal to many, given her terrible travails, but she says in an interview that it's really the only way forward.
"Joy is something in your heart and no one can take that away from you," she said in a telephone interview.
Dark moments? A few, of course, she said. She calls it her "rabbit hole" and talked about her comeback from them on a recent video.
"The thing is they don't last forever. I refuse to let cancer and every other thing that has happened in the past year to take more than it is allowed to take. What I mean by that is you took my hair, you took my house, you took all this stuff but that's all you get. I am not going to add to it by being depressed and sad and down."
Focusing on What Matters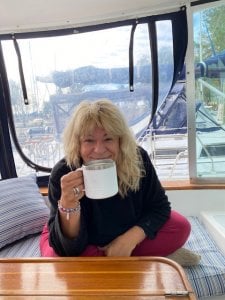 Actually, she expresses relief about having to downsize. In what might sound like a strange outlook coming from a former host on QVC — home to a nonstop TV sale-a-thons that involves hawking everything from wristwatches to kitchen knives — she extolls jettisoning material things in order to help concentrate on the more meaningful.
"Do not spend your life chasing all the stuff we have been brainwashed to think will make us better, will make us a better person," she advises. " That's garbage."
Instead, she says she is seeing life in a new way. She said she gets some of her greatest pleasures from simple things, especially the personal rewards that come from doing favors for friends or family. Just being outside is a pleasure.
"I am living every single day so fabulously. There is no schedule. I am looking at the trees, the birds, the sky. You see it from a different viewpoint," she said.
Besides chronicling her cancer battle on a YouTube channel, Nester has also gone public with her adventures as a liveaboard sailor.
The boat is currently docked in Maryland. The couple, both 57, inhabit the vessel with a grown son and cats Samba and Wizard. They plan to cruise the East Coast, heading south when temperatures start to tumble after the summer.
She hasn't given up on hobbies, like collecting and trading vintage Singer sewing machines. She's planning to sew curtains for the boat.
It's all in keeping with her positive outlook. She advises others to stay the course.
"I would say to someone going through this now or in the future. Don't worry and be sad because that doesn't change the outcome. Stay positive, and I know that sounds cliche. Fill your heart with some joy. Start filling up ammo in there."
Learn more about SurvivorNet's rigorous medical review process.
---