Orioles Star Trey Mancini Gets Engaged
Baltimore Orioles star Trey Mancini, 29, beat colon cancer, and now he's back to playing baseball and living life to the fullest.
He recently announced his engagement to NBC sports reporter Sara Perlman.
Overall, colorectal cancer cases having been decreasing over the last 20 years, but there has been an increase among younger people. Noting this increase, the United States Preventive Services Task Force has recently updated their screening recommendations to begin at age 45 as opposed to 50 for people without a family history of the disease.
Baltimore Orioles star Trey Mancini, 29, has had a lot to celebrate this year. First, he's still showing no signs of cancer after his 2020 colon cancer diagnosis, and, now, he's engaged!
Mancini and NBC sports reporter Sara Perlman have announced their engagement on various social media platforms. Both have shared breathtaking pictures of the event that took place at the Cliffs of Moher in Ireland.
Read More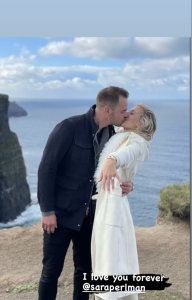 "I love you forever," Mancini wrote on a picture posted to his Instagram story. Throughout his cancer battle, Mancini has had his now-fiancé by his side. She was even there to reassure him when Mancini broke down about wanting to live a long life and start a family.
FIANCÉ @TreyMancini ☘️🇮🇪♥️😭❤️‍🔥♥️ pic.twitter.com/YJZvIXa1t1

Sara Perlman (@saraperlman) November 3, 2021
"We will. We'll be fine. You'll be fine," Perlman told Mancini. "I know with all my heart that this stuff is helping you. If there's any cancer cells left into you, the chemotherapy is doing its job and you're going to be OK."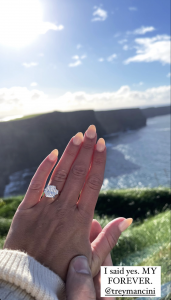 Now, on the other side of treatment and back to doing what he does best, Mancini can move forward and enjoy all of life's milestones with his supportive fiancé by his side.
Mancini's Cancer Journey
Mancini was struggling when he arrived for spring training in Sarasota, Florida, in March 2020. The then 27-year-old star was feeling easily fatigued and routine blood work as part of the teams' physical showed low iron levels, and another blood test showed his iron levels had dropped even further. Team doctors suspected that he had celiac disease or an ulcer, so they gave him an endoscopy and a colonoscopy.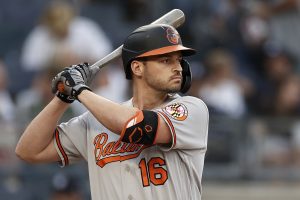 But when he awoke from the colonoscopy, Mancini was given much worse news: a malignant tumor in his colon. He had surgery to remove the tumor just six days later and turned 28 a week after that. A month after his stage III colon cancer diagnosis the same disease his father had battled just a few years prior Mancini began chemotherapy.
RELATED: Prostate Cancer Survivor and Baltimore Orioles Legend Cal Ripken Jr. Applauds Trey Mancini's Colon Cancer Battle: 'He Handled It Magnificently'
"There were times early on when I wasn't entirely sure I'd be playing baseball again," Mancini told MLB.com. "I'd be lying if I'd say that was the first thing that came to mind. The whole time I just wanted to be healthy long-term and live a long life. And baseball definitely was on the back burner when I was going through all that."
He missed the entire 2020 season, but the cancer warrior's treatment was successful. Mancini began the 2021 season in the starting lineup.
Then, more recently, Mancini had a two-week cancer scare in June just days before his historic performance at this year's Homerun Derby.
"I was thinking the worst. And I couldn't shake that," he told The Athletic.
Results from a routine carcinoembryonic antigen (CEA) test came to Mancini in June showing an elevated level of the protein used as a tumor marker when monitoring the treatment of some colorectal cancers. The CEA test can also help identify cancer recurrences in people like Mancini who have had surgery to remove a tumor, tissue or organ during their treatment for colorectal cancer.
"Me, overthinking it, I just couldn't wrap my head around the fact that my CEA was normal for quite a few times, and now it's elevated," Mancini recalled.
His oncologist told him there was no reason for concern, but he took a circulating tumor DNA test soon after. After a two week wait, Mancini received a negative result that detected no cancer cells on July 4. Then, just a week later, he had a dazzling display at the Homerun Derby where he hit a total of 59 home runs that night. To top it all off, his awe-inspiring performance came just 16 months to the day after he underwent surgery to remove a cancerous tumor.
Even more remarkable, it all happened just sixteen months to the day after he underwent surgery to remove a cancerous tumor.
Understanding Colon Cancer
Colorectal cancer, is a type of cancer that affects your large intestine (colon) or the end of your intestine (rectum). The cancer develops when abnormal lumps called polyps grow in the colon or rectum. It takes up to 10 years for a colon polyp to actually become cancer, according to SurvivorNet experts, so following recommended screening guidelines usually gives your doctor enough time to remove any polyps before they become cancerous.
Colon Cancer Screening is Extremely Important; Guidelines Now Say to Start at Age 45 if There Is No Family History
Overall, colorectal cancer is the third most common cancer in men and women in the United States, but it can be prevented with proper screening. Still, the American Cancer Society estimates that there will be a total of 104,270 new cases of colon cancer and 45,230 new cases of rectal cancer in the United States this year.
SurvivorNet Guide: Treating Early-Stage Colon Cancer
Symptoms of this disease can include the following:
A change in bowel habits. This ranges from constipation or diarrhea to changes in the size or shape of bowel movements.
A change in stool color, particularly black or tarry stools, can indicate bleeding from a tumor that lies deep in the colon.
Abdominal pain.
Unintentional weight loss.
Anemia can also be a symptom because tumors can sometimes bleed a small amount over a long period of time resulting in low red blood cell count (anemia).
It is important to note, however, that displaying some of these symptoms does not mean you have colon cancer. You could also have colon cancer and not display any of these symptoms. Regardless, it is important to stay up to date with screening and bring up any of these symptoms to your doctor should they arise.
RELATED: Dedicated Louisiana Meteorologist Delivers TV Forecast Daily From His Hotel Room Amid Radiation Treatment for Colon Cancer: 'All of these People Are Rooting for Me'
As far as causes are concerned, there is still much research to be done. Experts point to certain risk factors such as diet, smoking tobacco, being obese, drinking alcohol and having a family history of colorectal cancer as factors that can increase a person's risk for the disease.
Enjoying Life's Milestones after Cancer
Reaching milestones during or after a cancer battle is huge. These events like getting engaged or reaching another birthday may mean even more than they did previously, so it's important to take them all in and celebrate all that you've overcome.
I'm Able to Be Here For More Milestones One Cancer Survivor's Incredible Story
Chrissy Degennaro is a cancer warrior determined to keep enjoying these precious milestones. She has been battling a rare blood cancer called multiple myeloma for 14 years, and was first diagnosed when she was just 36 years old with a 2-year-old son. When she was given her diagnosis, she almost expected to not be able to see him enter kindergarten. But thanks to 27 rounds of chemotherapy, two stem cell transplants, a CAR-T cell trial and two CAR-T cell transplants over following 14 years, she's able to keep making memories with her family.
RELATED: I Got to Dance With My Daughter at Her Wedding: Steve Silverstein's Cancer Story
"You know, I do live one day at a time," Chrissy previously told SurvivorNet. "Now, maybe I can go a week, a month, but things are looking pretty good. I'm able to be here for more milestones for my son, for more holidays, more birthdays. I do feel like I have had another chance at life."
Learn more about SurvivorNet's rigorous medical review process.