Not Letting Cancer Take Away Her Inner or Outer Beauty
Beauty Queen, 27, Bravely Competes in Miss Universe Pageant After Losing Waist-Length Hair to Chemo: 'My Confidence Will Shine Through'

Miss Universe contestant Anglee Kumar, 27, will be competing in the historic pageant's finals next month, while also battling stage 4 cancer.

The London-based beauty queen, whose strength and courage far outweigh her physical looks, will be wearing a wig after losing her waist-length hair to chemotherapy treatment. Her eyebrows and eyelashes are gone, and her nails have been turning black, which can be another side effect of treatment.

Read More

"When I am on that stage, I will feel empowered, strong and beautiful," Anglee shared to

The Mirror

. "Yes, I will be wearing a wig, but my confidence at what I have overcome will shine through. I have been through so much and now I want to be a voice for other young women living with cancer."

Anglee already gets our vote!

The paralegal by trade—who has a Masters in Law—wants other women to know that "help is out there, you can get better and have a fulfilling life again."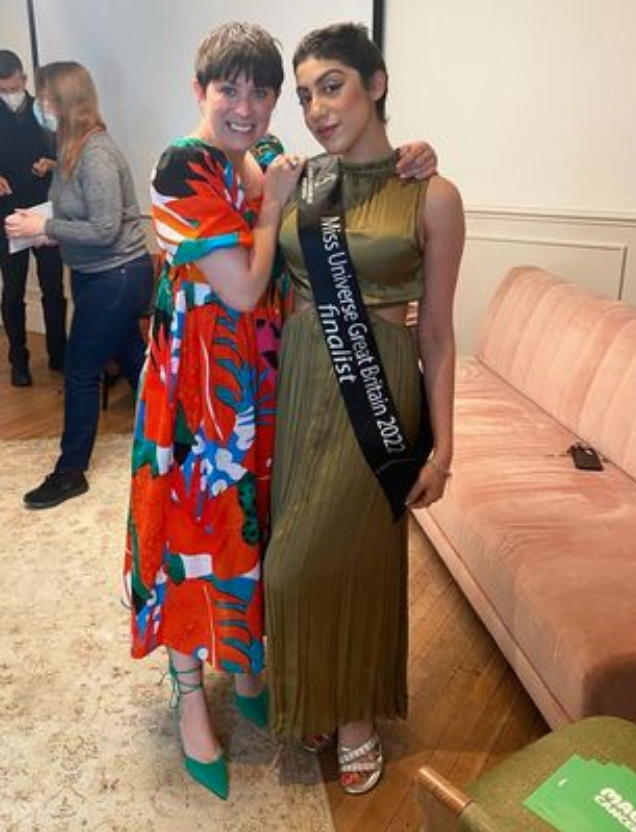 Anglee's Cancer Diagnosis
Anglee started suffering from heart palpitations in February 2021. She was told at first it was likely she was suffering from anxiety, and was told to limit the caffeine and alcohol.
Finally, nine months later, after pushing for more tests, she found out she had cancer. It was stage 4 non-Hodgkin lymphoma.
"My world came crashing down," she recalled of the devastating news. "I knew something was wrong, but I never expected cancer."
Non-Hodgkin Lymphoma Treatment and Symptoms
The chemotherapy treatment was unfortunately particularly grueling for Anglee, and she had to spend extend time in the hospital.
"I felt weak, sick and disgusting," she admitted. "I was traumatized by what was happening to me. I cried every day, I didn't want to leave my room. I couldn't even speak to friends."
Her mother would pick up her long strands of hair from the ground as she suffered from hair loss, which many cancer patients say is the hardest part of the journey for them along with being told they have cancer. "I couldn't face it. No matter how much you try to mentally prepare for it, you can't," she shared.
Anglee was too scared to even brush her hair. "I eventually had two strands on either side of my head, but I didn't want to cut them off," she recalled of the emotionally painful experience. "Then my mum sat me down and said it was time. So we did it. It was heartbreaking."
She then stopped even putting on make-up and lost the desire to upkeep her looks.
The worst part overall was feeling pressured to hide the fact that she had cancer.
"I come from a small, very close-minded Indian/Afghan community in which no young person has ever had cancer, so I was asked to keep it secret. They believe women who are ill will struggle to find a husband, so it is a taboo topic. I had two Instagram accounts – one where I talked about it and one where I didn't."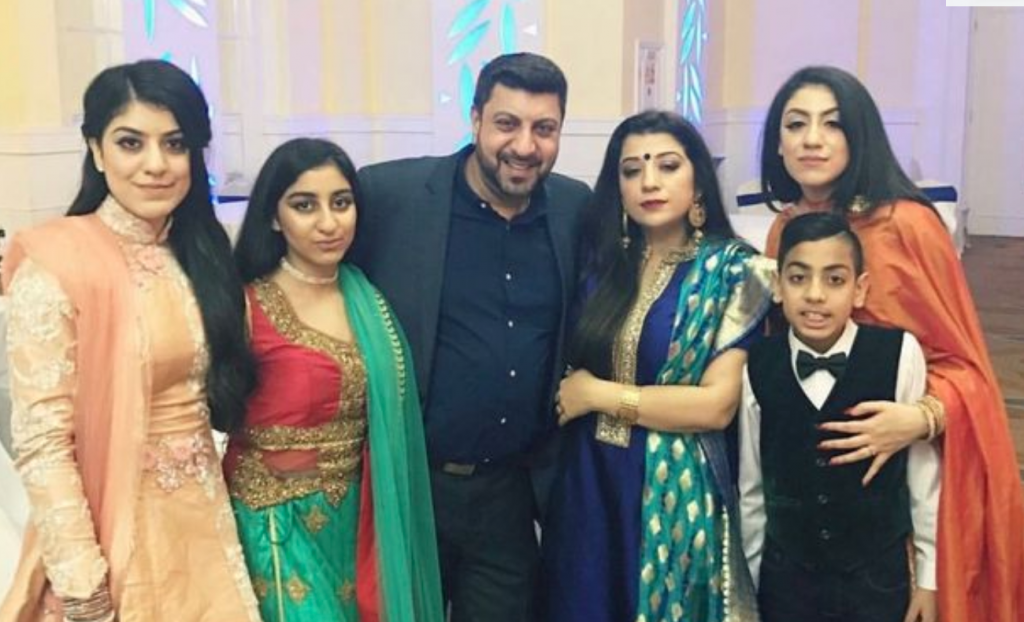 Determined to use the Miss Universe platform to break these cultural taboos, she took a stand and told her parents she is speaking out. "I'm doing this for the people who are not OK. I want to break stereotypes so people can get help which is a huge part of your recovery."
Anglee has always had a dream to compete in the Miss Universe pageant, and now it is all aligning for her as she gains her self-confidence back.
"Treatment was the darkest time of my life, but through it all grew this sense of wanting to use my experience to help others. I believe my cancer got to stage four as I wasn't taken seriously by doctors for such a long time. Because I'm young and female I had to fight for tests. I don't want other young sufferers to go through that."
Feeling Beautiful Again
On her quest to take her life back, Anglee turned to Macmillan Cancer Support for assistance, who helped get her therapy to treat her depression. Anglee kept pushing herself to be brave, but realized she couldn't quite do it alone at that time, and wants to let others know that it's beyond okay to ask for help.
"They got me therapy straight away. Getting a lot of things off my chest helped immensely."
Her parents helped her out with an expensive wig, which was also very important to her to feel like herself again. I"It is long and dark, with highlights, just like the hair I lost."
Anglee also received make-up and nail tutorials from an organization called Look Good, Feel Better, showing her how to cover the chemo effects.
Feeling Beautiful Isn't About Beauty
"They are an amazing charity. I did a nail tutorial with them that showed me how to cover the damage. They sent me a gift with make-up and creams. I learned how to draw on my eyebrows and apply fake eyelashes."
We cannot stress enough how important it is to do things for yourself to make you feel more like "you." Even if it feels "vain" to care about hair and make-up, if that's what makes you feel good, then do it! Everyone has a different journey and different story, and we have to support survivors in feeling good, however they want to achieve it.
We can't wait to see Anglee continue to make her dreams come true.
Learning More About Non-Hodgkin Lymphoma
When you're diagnosed with non-Hodgkin lymphoma, one of the first things your doctor will want to know is your type. Non-Hodgkin lymphoma comes in a few different subtypes. Knowing which one of these you have can help steer you to the most appropriate treatment for you.
One way doctors divide up these cancers is based on how fast they're likely to grow and spread. "The two main classifications I think of in terms of non-Hodgkin lymphoma are lymphomas that are more indolent and those that are more aggressive, because those are treated very differently," Dr. Jennifer Crombie, medical oncologist at Dana-Farber Cancer Institute, tells SurvivorNet.
Indolent lymphomas grow slowly and often don't cause any symptoms, so they may not need immediate treatment. At the opposite end of the spectrum are aggressive lymphomas, which grow and spread quickly and need to be treated right away.
People with lymphoma do not always have symptoms, but common ones are:
Swollen glands in your neck, armpit or groin
Fever
Chill
Night sweats
Unexplained weight loss
Feeling tired
Swelling in your stomach
No matter what, it's important to communicate anything usual happening to your body with your doctor. Even if you think there's nothing to worry about, it's good to rule out the possibility of more serious issues.
Learn more about SurvivorNet's rigorous medical review process.