Tongue Cancer Survivor Diane Von Furstenberg Posts Instagram Swimsuit Selfie At 75
Fashion mogul Diane von Furstenberg, 75, stuns fans wearing red swimsuit in Instagram selfie
Von Furstenberg shared the image with her 342,000 followers, standing in front of a full-length mirror
She built a fashion empire around her legendary "wrap dress," first introduced in 1974.
Von Furstenberg beat tongue cancer in 1994 at age 47
Fashion mogul
Diane von Furstenberg,
75, is more than a tongue cancer survivor and fashion icon. She's in incredible shape!
She stunned fans with a serious selfie on Istagram, standing tall without a smile in a bright red swimsuit with the figure most 40 year old's would envy.
View this post on Instagram
Read More
'Selfie at 75? Trying to own it and 2 hours of daily swimming helps!," she wrote in the caption. "I know I should smile but I feel stupid smiling at myself! Gratitude."
Von Furstenberg shared the image with her 342,000 followers on Instagram, standing in front of a full-length mirror and snapping the picture with her phone.
The make-up free designer also revealed she's working on her body confidence and had been putting in the work to maintain her figure.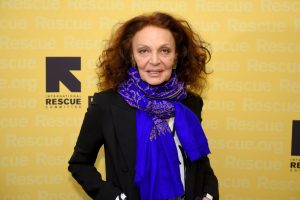 Von Furstenberg is a household name for many around the world.
She built a fashion empire around her legendary "wrap dress," first introduced in 1974. It's included in the collection of the Costume Institute of the Metropolitan Museum of Art.
But her other lifetime accomplishment – beating tongue cancer in 1994 at age 47.
"It's so strange," she said. "This little dress paid all my bills, paid for my children's education, made me famous, gave me a voice—I mean that little dress did everything for me—but for the longest time I took it for granted. I never honored it," she told Oprah Winfrey in a 2014 interview.
When people said, 'Diane von Furstenberg, the wrap dress!' I'd say, 'But I do other things, too.' It was only last year, as I prepared the exhibit, that I realized how important it was," said DVF referring to her "Journey of a Dress" exhibition that celebrated 40 years of the wrap dress.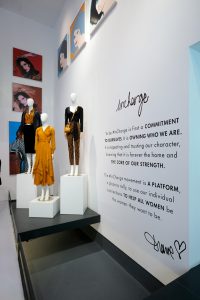 Von Furstenberg is now marking nearly 30 years of being cancer free, and she's not slowing down.
"I am now a woman at the sunset of her life," she wrote in her latest book, Own It: The Secret to Life. "And therefore, part of what I know I'm leaving behind is a beautiful family and my brand. But I also want to be able to use my voice, my experience, my knowledge and my connections in order to help other women to be the women that they want to be."
Diane's Tongue Cancer Diagnosis
Von Furstenberg shared the bizarre story of how she found out she had cancer after a lunch with designer Ralph Lauren.
"It's the most ridiculous thing," she said to Harper's Bazaar in 2009. "… So I didn't really know Ralph very well. And we ordered one course because neither of us really wanted to do this lunch." Lauren started opening up to her about a benign (non-cancerous) brain tumor that he had had. "And I said, 'How did you find out about it?' And he said, 'It's funny. I had a noise in my ear, and I went to the doctor, and there was nothing in my ear, but that's when they found it.'"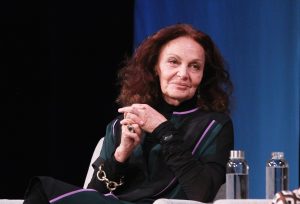 DVF realized at that moment that she had a noise in her own ear and thought she was being crazy. "He tells me about that and I have a noise in my ear? So I pay no attention. The next day, I still have a noise in my ear, so I immediately went to the doctor, who found nothing wrong with my ear. But he said, 'You know you have a swollen gland here.'"
Her doctor biopsied it and said it was only a cyst and wasn't in a hurry to take it out. "No, no, I want it out," she said. "And when they took it out, they cut it, they found little bad cells in it. I did eight weeks of radiation. But I was lucky; that was 15 years ago."
Learning About Head and Neck Cancer
Tongue cancer, which is often categorized as a "head and neck cancer," is associated with HPV, the human papillomavirus. HPV was not widely known at the time of Von Furstenberg's diagnosis. Only in recent years have doctors been discovering more about the virus and its association with these diseases.
There is also now an HPV vaccine that prevents against HPV-related cancers and can be administered starting as young as nine years old.
"We recommend strongly that children are vaccinated against HPV to prevent cervical cancer, but also to prevent head and neck cancer," Dr. Jessica Geiger, a medical oncologist at Cleveland Clinic Cancer Center, told SurvivorNet in an earlier interview. "Now the key with the vaccine is that you received the vaccine before you ever reach sexual debut or have sexual encounters. So that's why these vaccines are approved for young children ages 9, 10, 11 years old, up to 26."
HPV and Cancer Risk
The important thing to know about HPV is that there are many different strains, and only a couple of them tend to cause cancer.
"The vast majority of humans in the US, both men and woman, will eventually get infected with human papillomavirus," Dr. Allen Ho from Cedars-Sinai Medical Center tells SurvivorNet. "Probably less than 1% of the population who get infected happen to have the cancer-causing virus that, somehow, their immune system fails to clear."
Learn more about SurvivorNet's rigorous medical review process.
---