A cancer diagnosis has the potential to throw your entire life into disarray, impacting both your physical and mental wellbeing. At SurvivorNet, we believe treating the whole person is imperative, so we've teamed up with Dr. Marianna Strongin to leverage her expertise as a licensed clinical psychologist. Dr. Strongin will answer SurvivorNet reader questions on topics ranging from accepting new parts of your body to learning how to navigate parenthood as a single father with cancer and everything in between.  (You can submit your questions here.)
*****
Read More
I am 41 years old, and I am a stage 3 breast cancer survivor. I just completed my treatment and am currently recovering from my double mastectomy. I've always been told that it's extremely jarring to see your new body. Of course, all of that was just talk but now that my surgery is done, I catch myself avoiding mirrors or changing out of my pajamas tops. I didn't ask to have cancer; I didn't choose to have my breasts removed– there was no other choice to survive; I didn't ask for this new body, and I'm having a really difficult time accepting it. 
Dr. Strongin: You are absolutely right, you did not choose to have cancer, but you accepted it, and courageously, withstood treatment and surgery. I can hear that you are emotionally and physically changed by this chapter of your life. It sounds like psychologically you took a very strong approach – "there was no other choice but to survive."  This allowed you to accept the cancer and fight. Now you are having a harder time adapting this approach to the physical part of this journey. This is very common. Your body has changed and represents this difficult chapter in your life and simply accepting all of that is far too simple.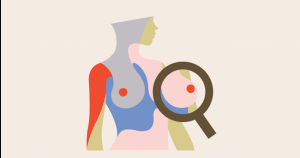 I would like for you to begin by working on acknowledging this part of your body as your own, the one that now represents fear and pain but also strength and courage.  As humans we are marked by significant life experiences, some physically, some emotionally and at times both. It sounds like just looking at yourself in the mirror is difficult.
In order to move forward, it will be important that you gradually spend time in front of the mirror. Research has found that when looking in the mirror we are more likely to focus on the parts of our body we are dissatisfied with which causes us to have a negative self-view and lower self- esteem. Therefore, I would like for you to first spend time gazing at the parts of your body you love – give them time, honor them and then thank them.
Next, I would like for you to spend a few seconds looking at your breasts. You must gradually build on the time you spend looking at them. At first you may experience a flood of emotions – this is expected and normal. As you allow yourself to spend more time looking at all of you, you will begin having a new relationship with your body. It may not happen immediately, but with time you can begin honoring and thanking that part of your body by creating a more accepting relationship with yourself.
Body image is both the mental picture that you have of your body and the way you feel about your body when you look in a mirror. Therefore, it is important that you create a ritual and practice that allows you to better accept your cancer journey both emotionally and physically.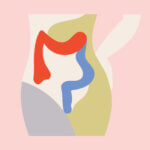 *****
I am a single father of two amazing children. I lost my wife a few years ago, and I feel like our family is starting to really heal from our loss. At my annual checkup, I was diagnosed with colon cancer, and I am in complete shock. I have been given my treatment options, but my kids keep asking me what's wrong. Do I tell them about my diagnosis? I don't want them to think that I'm dying, but I don't want to hide anything from them. They deserve to have a stable and healthy father after what they have been through.
Dr. Strongin: I am so sorry to hear about what you and your family have been through. I know that your priority is to keep your kids safe and feeling sturdy emotionally, especially after everything they have endured. However, focusing on your own health and recovery during this time will be critical. In order to do this, it will be important that energy and time is not wasted by concealing the truth from your children in an effort to shield them from potential worry and heartache.
As parents, we want to protect our children from difficult information and emotions, but the act of withholding causes children to become hypervigilant – constantly piecing together stimuli in an effort to predict their safety. This process is the cause of anxiety in children. Instead, children feel safest when we can help make sense of their reality, not manipulate it. Your children may be especially prone to paying attention to threatening details in order to prevent another loss. Therefore, I strongly encourage that you provide them with age appropriate information regarding your diagnosis and upcoming treatment.
This news may feel particularly distressing to them as it can feel familiar and therefore re-traumatizing. It might be helpful to identify the differences between your diagnosis and treatment from your late wife's so that they don't automatically predict the same outcome.  I imagine your children will experience emotions of great concern for your well-being and also their own. Feelings need support and understanding, but not solutions. Therefore, it will be helpful for you to offer them the space to ask many questions, express overwhelming emotion and to sit in a space with you that feels overwhelming to all.
As a caregiver we often neglect ourselves and our own feelings. Since you have recently lost your partner to cancer, your own diagnosis must be bringing up a whole host of emotions. It will be important that you ask and receive your own emotional support somewhere else. In order for you to be a present father, I strongly suggest that you carve out space to experience difficult emotions without any responsibility.
Learn more about SurvivorNet's rigorous medical review process.
---