The American Heart Association is going to war against "Big Vape."
The non-profit organization, in a remarkable display of aggression, is fighting to stop e-cigarette use among young people by targeting what it calls "Big Vape" and its use of Big Tobacco marketing tactics and outright lies to lure in youth.
Read More
More than 5 million middle and high school students currently use e-cigarettes, up from more than 3.6 million in 2018, according to the 
2019 National Youth Tobacco Survey
(NYTS). High-nicotine e-cigarettes "have proved to be a heavily traveled on-ramp to nicotine addiction among youth," Dr. Robert K. Jackler, a professor and departmental chair at Stanford University School of Medicine, told a Congressional committee investigating JUUL's role in the epidemic this past summer.
RELATED: Vaping Dangers Confuse the Public: A Guide to the Facts
The vaping industry is run in part by some of tobacco's biggest names:  E-cigarette market-leader Juul is partially owned by Marlboro's parent Altria and blu eCigs is owned by P. Lorillard Co. (Philip Morris International sells a smoke-free tobacco vape called IQOS.) Other brands flood the market as well.
"The industry's lies don't just sound like Big Tobacco – the industry is Big Tobacco," said Nancy Brown, CEO of AHA.
#QuitLying
The heart of AHA's program is the digital and social media campaign #QuitLying, which accuses corporations of spreading fake news that vaping is safe and calls them out for their marketing. It pulls no punches, calling vape companies liars and killers.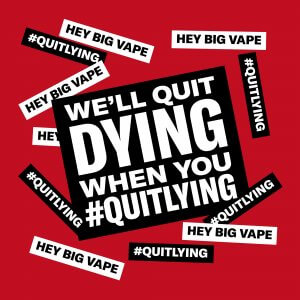 The aggressive program is part of a $20 million AHA research effort aimed at studying teen nicotine addiction and a new anti-nicotine government lobbying partnership with Kaiser Permanente.
The #QuitLying hashtag connects to QuitLying.org, a nexus of resources and tools for helping kids quit e-cigarettes and a place where people are encouraged to fight against "Big Vape."
'Big Vape' Marketing Follows Big Tobacco Playbook
The tobacco playbook has been hauled out for e-cigarette marketing, which includes ads with glamorous-looking young people and B-list celebrities such as Jenny McCarthy and Stephen Dorff (who appeared in ads for blu eCigs), and the giving away of products to celebrity influencers who, in exchange, are photographed with the product. Juul, for instance, gave away vapes at last year's Sundance Film Festival to stars including Elijah Wood, Nicolas Cage and Black Eyed Peas frontman will.i.am., and Katy Perry was photographed holding a Juul at the Golden Globes.
E-cigarette marketing has also relied on the new breed of celebrity spokesperson: social media influencers. This past summer, the Food and Drug Administration (FDA), as part of its Youth Tobacco Prevention Plan, cracked down on a handful of vape brands that had been paying influencers to post about their flavored formulas without including government required warnings that their products contain addictive nicotine.
The emphasis on social media increasingly makes sense: A growing number of broadcast companies, including CBS, WarnerMedia and Viacom, announced  this past September that they would no longer run e-cigarette advertising. (Not long after that announcement, Juul, which more than any other brand has ben the subject of numerous investigations and lawsuits, suspended all broadcast, print and digital product advertising in the U.S.)
The Long Fight
The AHA, which joins anti-vaping campaigns from other orgs and agencies including the FDA and local health departments, is no stranger to anti-tobacco advertising. In the sixties, the organization produced powerful TV commercials including "Like Father Like Son" the story of an adorable tow-headed boy following his dad's every move.

Most anti-smoking advertising at the time deployed scare tactics, such as a famous spot starring popular TV star Bill Talman ("Perry Mason") who was just weeks away from dying of cancer: "If you don't smoke don't start. If you do quit!"
Years later, in the '90s, the nonprofit American Legacy Foundation, or Truth Initiative, reframed the debate with its "Truth" campaign. (The AHA is a collaborating partner with the Truth Initiative.) Truth recognized that cigarette smoking was considered an act of rebellion by young people so it encouraged the then-MTV generation to rebel against tobacco companies instead. Truth commercials ranged from agit-prop confrontations with young people dumping body bags in front of the offices of Philip Morris to the Super Bowl XXXVII mock-spot for a fictitious popsicle made with deadly Shards O' Glass and the potent tagline: "What if all companies sold products like tobacco?"  Advertising Age called the Truth Initiative one of the top 10 advertising campaigns of the 21st century.

In 1997, the California Tobacco Control Program launched an anti-smoking campaign that was a hardcore throwback to the scared-straight tactics of the sixties. Debi Austin a lifelong smoker and cancer victim, was filmed smoking through a stoma, a surgical hole in her neck. In 2013, the Centers for Disease Control disturbed viewers with Tips from Former Smokers starring more disfigured and dying cancer victims. The campaign claimed to inspire more than 100,000 people to stop smoking.
The FDA's Real Cost campaign launched in 2014 continued the focus on the health dangers of smoking with shock spots featuring kids mutilating themselves to buy a pack of smokes (since that is the "real cost" of smoking) and smokeless "dip" users horribly disfigured by cancer.  According to the FDA, the campaign prevented up to 587,000 youth ages 11 to 19 from initiating tobacco use between February 2014 and November 2016. By 2017, Real Cost morphed into anti-vaping campaigns that also focused on damage created by the habit.
RELATED: Rare Lung Condition from Inhaling Hard Metals Linked for First Time to Vaping
Big Tobacco
SurvivorNet reached out to Altria, Reynolds American (the U.S. division of British American Tobacco) and Juul for their reactions to the AHA's aggressive new campaign; they have yet to respond.
Ironically, some prominent anti-tobacco professionals feel that the AHA also should quit lying. In his long-running anti-tobacco blog, Dr. Michael Siegel, a professor at the Boston University School of Public Health, disputes the AHA claim that vaping is a gateway drug to cigarette smoking. "The American Heart Association's lies are leading more people to smoking because by making smokers think that vaping is no different than smoking and that it can't help them quit, they are undoubtedly persuading many ex-smokers to switch back to cigarettes."
Meanwhile, Big Tobacco keeps on pushing, and succeeding. Earlier this year, PMI persuaded the FDA that its electrically heated tobacco system IQOS is "appropriate for the protection of public health" and the government officially authorized it as the only electronic nicotine delivery product that can be legally marketed in the U.S.
Learn more about SurvivorNet's rigorous medical review process.