Being Proactive Can Save Your Life
Blink-182 bassist/vocalist Mark Hoppus, 49, has been battling stage 4 lymphoma.
Hoppus shared an important message on his Instagram Stories today, proving how imperative it is to get checked out immediately when you feel something in your body may be amiss.
Top experts urge people to continue getting in for screenings despite the ongoing issues of the pandemic.
Blink-182 bassist/vocalist Mark Hoppus, 49, shared an important message on his Instagram Stories today, proving how imperative it is to get checked out immediately when you feel something in your body may be amiss. In his case, it was a lump and sore shoulder. More often than not, your ailment may not be serious, but for Hoppus and millions of others, it turned out to be cancer.
Related: 'It Sucks & I'm Scared': Blink-182 Frontman Mark Hoppus, 49, Reveals He Is Battling Cancer; Why Cancer Screenings Are Critical
Read More
Hoppus posted a screen grab of a text he had sent (presumably to a doctor or medical professional named Jill), which shows how quickly he got in to get checked when he found a lump in his shoulder. He titled the photo "How it started … " and then followed up with a "How it's going …" post of himself at a medical center taken during his treatment.
"For the past couple days I've had this dull sore lump in my shoulder kind of right where it connects to my neck that could either be fatal lymphoma or a sore muscle," the text read. "At what point should I be concerned and have it looked at?"
Related: Radio Host Dan Bongino Reveals It Was a Nurse Watching His Show Who Spotted his Hodgkin Lymphoma Lump
Luckily, the person responded "I need to see you!!!" and Hoppus got in the same day. Unfortunately, Hoppus was right. He has stage 4 lymphoma.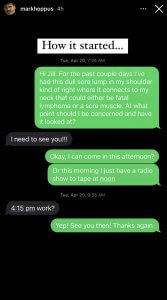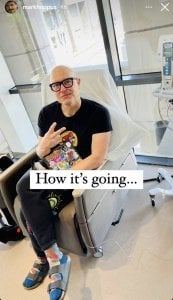 The musician announced his life-changing news in June via Twitter.
"For the past three months I've been undergoing chemotherapy for cancer. I have cancer," Hoppus wrote in his statement. "It sucks and I'm scared, and at the same time I'm blessed with incredible doctors and family and friends to get me through this. I still have months of treatment ahead of me but I'm trying to remain hopeful and positive."
"Can't wait to be cancer free and see you all at a concert in the near future," he added. "Love to you all."
— ϻ𝔞Ⓡ𝔨 𝐇𝑜Ƥ𝐩ย𝓼 (@markhoppus) June 23, 2021
"The cancer isn't bone-related, it's blood-related. My blood's trying to kill me," the musician told fans on Twitch in July.
"My classification is diffuse large B-cell lymphoma stage IV-A, which means, as I understand it, it's entered four parts of my body," he explained. "I don't know how exactly they determine the four-part of it, but it's entered enough parts of my body that I'm stage IV, which I think is the highest that it goes. So, I'm stage IV-A."
Diffuse large B-cell lymphoma (DLBCL) is the most common form of non-Hodgkin lymphoma, accounting for about 23% of new cases each year, according to the Lymphoma Research Foundation. It is highly aggressive.
Luckily, Hoppus received some good news last month that his chemotherapy treatment is working.
— ϻ𝔞Ⓡ𝔨 𝐇𝑜Ƥ𝐩ย𝓼 (@markhoppus) July 19, 2021
Learning About Lymphoma
With no screening test available for lymphoma, knowing your risks and watching for symptoms are key to an early diagnosis.
"Screening is a test we do with the goal of detecting lymphoma in a very early state," Dr. Elise Chong, medical oncologist at Penn Medicine, tells SurvivorNet. "For something to be a good screening test, we need to see that the screening helps people live longer, and helps people have better outcomes."
Doctors currently don't have evidence showing that finding lymphoma early helps people live longer. "That's the second part of screening that we need to see," Dr. Chong adds. "Because we don't meet those two criteria, we don't have a good screening test for lymphoma yet, although people are certainly working on this."
What Are Your Risks?
"The patients who are diagnosed with lymphoma early, typically it's luck," Dr. Chong says. They may have had a symptom that made their doctor check them, or the cancer showed up on a scan or blood test that was done for another reason.
Until an effective screening test does become available, you can increase your odds of finding lymphoma early by knowing whether you're at risk, and staying alert for symptoms.
You might be at higher risk for this cancer if you:
Have been infected with the HIV or Epstein-Barr virus
Had an organ transplant
Have a family history of lymphoma
Have been treated with radiation or chemotherapy drugs for cancer in the past
Have an autoimmune disease
Finding Lymphoma Early—Do You Know the Symptoms and Risks?
It's Important To Continue Cancer Screenings Through COVID-19
Learn more about SurvivorNet's rigorous medical review process.