Mark Hoppus, the lead singer for the rock band Blink-182, is battling cancer. He shared the news on social media Wednesday, first posting and then deleting a photo on his Instagram account before tweeting a short statement.
"For the past three months I've been undergoing chemotherapy for cancer. I have cancer. It sucks, and I'm scared, and at the same time I'm blessed with incredible doctors and family and friends to get me through this," wrote Hoppus.
Read More
RELATED: 'You've Got This, Brother': B.J. Novak, Wolf Van Halen, Travis Barker Show Support for Mark Hoppus
"I still have months of treatment ahead of me but I'm trying to remain hopeful and positive."
He closed out by telling his friends he was excited to one day be cancer-free and see them all at a concert in the "near future."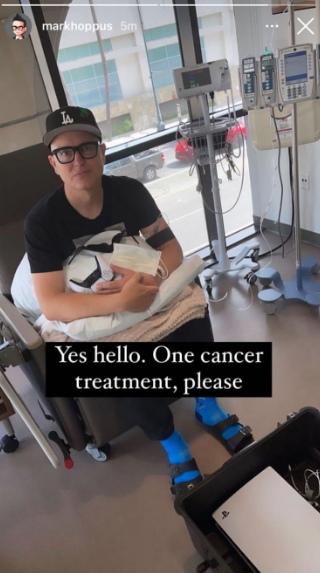 Hoppus, 49, had posted a photo of himself in sandals and blue hospital socks at the hospital a few hours prior to sending out his tweet, which read: "Yes hello. One cancer treatment please." He was also holding his Playstation remote.
That was then removed, but not before a number of fans quickly expressed their sadness at the news.
It is still unclear what kind of cancer Hoppus is battling, and his rep did not respond to a request for comment.
Hoppus started Blink-182 in 1992 with friends Tom DeLonge and Scott Raynor. They signed a deal and were able to put out their first album in 1997, but shot to international stardom in 1999 with the release of Enema of the State. (DeLonge announced last year he had skin cancer.)
Hoppus, DeLonge, and new drummer Travis Barker remained together for the next six years before splitting due to tensions in the band. They got back together in 2009, but that reunion was brief and Hoppus is now the only original member still in the band.
He married his wife Skye in 2000 and the couple have one son, Jack. And unlike some of his peers, Hoppus has long had a remarkably healthy lifestyle. He works out and runs most days and has been a vegetarian for decades.
Cancer Screenings Are Critical
When it comes to catching a cancer diagnosis early, cancer screenings are a critical step in the process. By attending screenings regularly, doctors can check for signs of cancer in the earliest stages. This leads to more treatment options and a higher likelihood of entering remission.
Cancer screening recommendations can vary depending on the type of cancer, and your risk factors, so it's important to pay attention to guidelines.
For example, it's recommended that people with average risk get colorectal cancer screenings starting at age 50 and continue until 75-years-old. With breast cancer, guidelines recommend women with average risk should have annual mammograms between the ages of 45 and 54. So, it's extremely important to both pay attention to these guidelines but also push for screening if you feel that something is wrong.
Learn more about SurvivorNet's rigorous medical review process.
---