Aunt Advocates for Skin Cancer Awarness
A woman in the UK has a family history of skin cancer; most recently, her niece battled the disease after using tanning beds in her 20s.
Now, she's advocating for others to check their bodies and be vigilant about any abnormalities spotted on the skin.
Protect your skin by avoiding tanning beds, wearing sunscreen, and avoiding the sun at peak hours, experts tell SurvivorNet.
A woman in the UK, Dianne Cannon, 55, is advocating for melanoma and skin cancer awareness due to her niece and other family members battling the disease over the years. Cannon's father, brother, and her two sisters have also
battled skin cancer
in "
various forms
," reports 
The Mirror, 
since 1995.
Dianne's Niece's Battle with Melanoma
Dianne Cannon's niece, Claire,  a "bubbly" mom stopped using tanning beds in her 20s after she was diagnosed with melanoma. She thought she had conquered the disease, but her melanoma returned.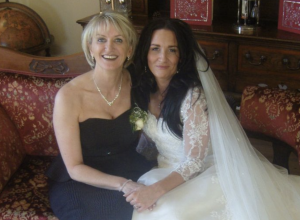 Read More
Claire visited her doctor who discovered a recurrence of her skin cancer under her arm. Melanoma is the most aggressive form of skin cancer.
Claire passed away in hospice, and her aunt Dianne wants everyone to know the importance of checking your body for any "abnormalities." Cannon even began working for Melanoma UK after Claire battled the disease a second time. Cannon was also diagnosed with skin cancer in 2020, although it was not melanoma. She discovered the cancer on her nostril via a lump on her nose.
Cannon urges skin cancer awareness, saying, "…I don't want other people going through what we're going through…You must talk to your GP because they're not going to know all your potential history," reports The Mirror. 
She continues, "They won't know whether your dad's got skin cancer, or your niece has died of melanoma, or your brother has had a full facial reconstruction."
As Cannon encourages others to do, it's very important to share your family history – especially your family cancer history – with your doctor.
Tanning Salons Pose a Big Risk of Melanoma
The Importance of Protecting Your Skin
Skin cancer is the most commonly diagnosed type of cancer in the U.S., and you can protect yourself and lower your skin cancer risk by taking prevention steps.
In an earlier interview, dermatologist Dr. Dendy Engelman outlines five easy ways to protect your skin, and lower your skin cancer risk. She tells us:
Avoid sun during peak hours. This means from 10 a.m. to 2 p.m. It doesn't mean you should never go outside during the middle of the day, but make sure you're protected when you do venture outdoors.
Cover your skin and eyes. A wide brim hat and sun glasses will protect your face, the top of your head, your ears, and the delicate skin around your eyes.
Wear an SPF of 30 or higher. Plenty of facial moisturizers have SPF built into them. Reapply often.
Get an annual skin check. You can check your own skin for anything that looks out of the ordinary, but you should still get a yearly check to make sure you didn't miss anything. If you do happen to notice anything out of the ordinary in between checks, schedule an appointment to talk to your doctor about it ASAP — it is always worth it to make sure.
Avoid tanning beds. "There's absolutely no benefit to going to a tanning bed," Dr. Engelman says.
Top 5 Ways to Protect Your Skin From Skin Cancer
Learn more about SurvivorNet's rigorous medical review process.