South Carolina Man Beats Cancer & Pops the Question
A South Carolina man was diagnosed with stage 4 Hodgkin lymphoma last year and beat the disease this year; he proposed to his girlfriend after ringing the cancer bell.
Symptoms of Hodgkin lymphoma may include swelling around the armpits or groin, persistent fatigue, fever, night sweats, unexplained weight loss, and severe itching. Biopsies are performed as a way to evaluate a cancer and its makeup.
Having a supportive partner or loved one through a cancer battle can make the world of a difference.
Hodgkin lymphoma survivor Caleb Lee, 26, proves there's such a thing as a happy ending after a stage 4 cancer diagnosis; the South Carolina resident beat stage 4 Hodgkin lymphoma and celebrated his victory by proposing to his girlfriend after ringing the cancer bell at Prisma Health Cancer Institute.
Lee, who's from Seneca, South Carolina, got down on one knee to propose to his girlfriend, Ally Brown, who said "yes" to his marriage proposal. Lee treated his disease with 12 treatments of a clinical trial chemotherapy, reports WYFF News 4.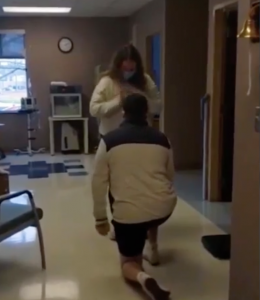 Read More
Lee tells WYFF News 4, "I was just trying to make what is a very important moment even bigger, and she has been right there by me from the onset of this.
She has taken great care of me
. She has been through the ups and downs with me."
Understanding Hodgkin Lymphoma
Lee was diagnosed with stage 4 Hodgkin Lymphoma in 2021. Due to a clinical trial through Prisma Health's relationship with the Southwest Oncology Group, Lee received a drug which stimulates the immune system to help fight cancer.
Lymphoma begins in white blood cells called lymphocytes. This kind of cancer is typically classified as either Hodgkin lymphoma or Non-Hodgkin lymphoma. The distinction between lies in the white blood cells linked to the disease. If doctors are unable to detect the Reed-Sternberg cell (a giant cell derived from B lymphocytes), then it is categorized as Non-Hodgkin lymphoma.
In a previous interview, Dr. Elise Chong, a medical oncologist at Penn Medicine, says lymphoma symptoms can be difficult to detect. "The symptoms of lymphoma, especially if you have a low-grade lymphoma, often are no symptoms. People say, but I feel completely fine, and that's very normal," she explains.
Dr. Elise Chong explains why your type of lymphoma matters
What to Expect from a Hodgkin Lymphoma Biopsy
Dr. Chong describes in an earlier interview what someone diagnosed with lymphoma, like Lee, can expect from a lymphoma biopsy. She says, "The process of the biopsy depends on the type of biopsy that's being performed. If it's a surgical biopsy, usually the patient will either be put to sleep or in a twilight state, where you won't remember anything about the procedure," she explains.
Dr. Chong says the biopsy will require general anesthesia or some sort of lighter anesthesia. "This is also done so that no one's remembering any discomfort associated with the procedure," she says. "Then the surgeon cuts through the skin, removes the lymph node or other section of organ that's being biopsied, and then this is closed back up either with skin glue or sutures or sometimes staples."
Dr. Chong says that processing that tissue takes around one to two weeks, "because we need to do special stains for lymphoma, we need to do chromosomal tests to really have enough information to talk about the type of lymphoma."
What Kind of Lymphoma Do You Have? Why Your Type Matters
Relationships Through Cancer
Lee shares how Brown took excellent care of him through his cancer diagnosis and treatment, and all the way through to beating his disease. Having a supportive partner through cancer makes the world of a difference.
Actress and writer Jill Kargman, who battled cancer, reflects on the importance of partner support through cancer in an earlier interview. The  star of the book-turned-Bravo-series Odd Mom Out tells SurvivorNet in an earlier interview, "I think cancer is a great way to find out if you're with the love of your life or a shithead. I think it presses the fast forward button on getting to the bottom of that answer, because a lot of people in middle age are kind of at a crossroads, waiting for their kids to fly the coop."
"And I think if you're with someone who is not supportive and kind of emotionally checked out or doesn't tell you you're still beautiful with that, this might not be your person," says Kargman.
Jill Kargman on Relationships and Cancer
Learn more about SurvivorNet's rigorous medical review process.