Leaving a Legacy After Cancer
Hit '80s show Golden Girls has been the gift that keeps on giving for superfans who keep the legacy alive by participating in themed events like Golden-con, which took place in Chicago this past weekend.
One of the snappiest characters is "Dorothy," played by Bea Arthur, who lost her fight to lung cancer in 2009 at 86. This past Monday marked the 13th anniversary of her death and many attendees dressed like the late icon over the weekend, silver-haired wig and all.
Lung cancer can affect past and present smokers, and even people who never smoked. A leading expert tells SurvivorNet that you should get your lungs screened, even if you smoked in the past.
Iconic '80s show
Golden Girls
has been the gift that keeps on giving for superfans who keep the legacy alive by participating in themed, nostalgic cruises and events.
The Golden Girls
convention
was the latest and greatest festivity, entitled "Golden-con: Thank You For Being a Fan," which took place last weekend on the city of Chicago's Navy Pier.
They say imitation is the highest form of flattery, and many attendees donned wigs and get-ups dressed as their favorite on-screen Floridian housemate from the show.
Read More
Bea Arthur, Rue McClanahan, Estelle Getty and Betty White—aka Dorothy, Blanche, Sophia, and Rose—each played a unique character that we could identify with, and many viewers simply fell in in love with them all. Arthur
died from lung cancer
in 2009 at 86, and this past Monday marked the 13th anniversary of her death.
There to honor the late legend, were sisters Hillary Wasicek, 37, and Melissa Gluck, 43, from California posed as Dorothy and Rose.
"It's a fun expression of showing respect and appreciation for something you admire. It just makes you feel more a part of it," Wasicek said. "We just met so many people and heard so many stories. It's like 'These are my people.'"
TV producer Stan Zimmerman landed an early writing job on the first season and had never imagined that he would be mingling with diehards 40 years later. "So I've seen the trajectory of the popularity, but nothing like what is happening now," Zimmerman said. "It's so cool to see young people that obviously were not even born when we wrote it know every line."
Zack Hudson, a hard-core fan who works in social services, spearheaded the event.
"All we did was make one announcement on social media," Hudson said. "It just kind of escalated from there. So we pivoted a little bit to welcome as many people as we can. And we're here now." Hudson observed that people were looking for an outlet to "continue grieving" Betty White, who died just shy of her 100th birthday in December.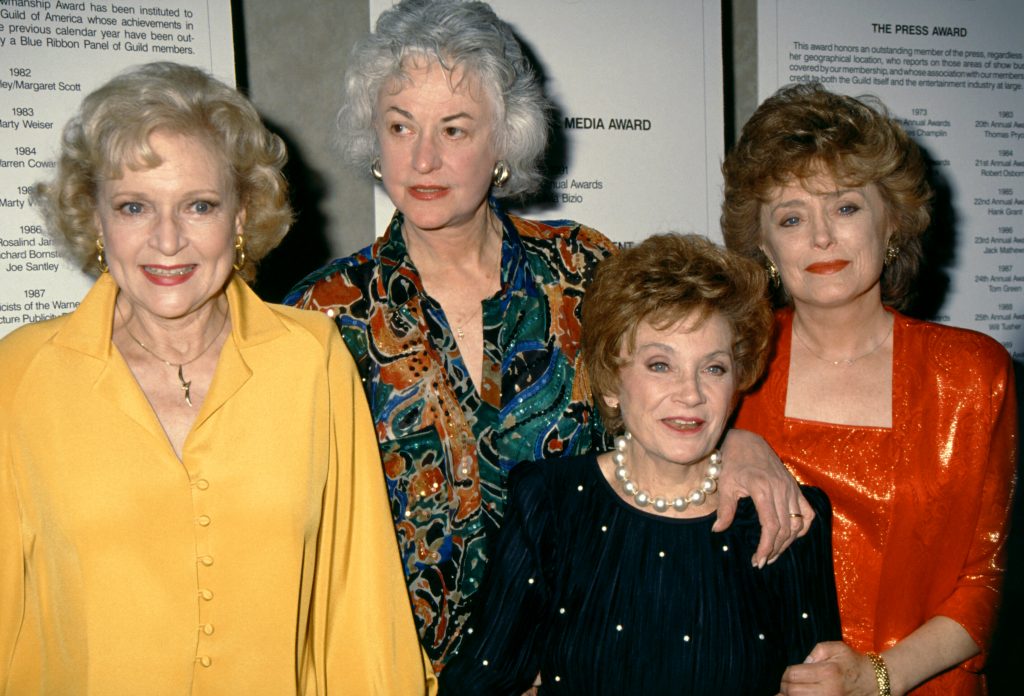 "This is a chance to pay that much (respect) to a show that they loved and actresses that made it shine," co-producer Brad Balof said. "One thing that does help the show remain timeless is that there's enough humor that is not dependent on a specific situation, political or geographic … It's just funny."
The show debuted in 1985 and lasted for seven seasons, not to mention years in syndication. Now, like most classic sitcoms, Golden Girls is available to stream.
Remembering Cancer Warrior Bea Arthur
New York City-born Bea Arthur as Dorothy Zbornak provided most of the show's razor-sharp zinger lines as she half-sternly and half-affectionately called out her on-screen roommates' ridiculousness in the show's memorable scenes.
Arthur died peacefully and surrounded by family at her Los Angeles home when she lost her lung cancer fight.
We Need To Be Catching Lung Cancer Early
"She was a brilliant and witty woman," Arthur's personal assistant, Dan Watt, said of the Tony Award winner and two-time Emmy winner when he announced the tragic news. "Bea will always have a special place in my heart.
Related: Remembering 'Golden Girls' Star Bea Arthur Who Died at 86 from Lung Cancer; Learn the Importance of Screening
Arthur's reps never shared details about her cancer fight, which is respectable, as every person is different and handles cancer in their own way. Many stars of earlier generations were more private about their personal lives and their health battles.
"My mother had close relationships with a few close friends. She wasn't a loner. But she really liked sitting around and chilling, as people say," Arthur's son Matthew Saks, 59, said in an interview with Fox News in 2019. "She would wake up in the morning, have a coffee and read the LA Times and The New York Times. That was fun for her."
Related: Remembering Famed 1950s Singer Rosemary Clooney, George Clooney's Aunt Who Died from Lung Cancer
Saks spoke of the well-reported tension between Arthur and her co-stars, specifically Betty White. "You know, I'm always being asked the question if my mom hated Betty White," he said. "It's not the way it is. I think my mom had some problems with her, but she liked her."
Arthur is survived by another son, Daniel Saks, 56. Both boys were adopted by Arthur and the late Gene Saks, whom Arthur was married to from 1950-1968. She was married to the late screenwriter Robert Allan Arthur for three years prior to marrying Saks.
Getting Screened for Lung Cancer
It is unknown whether Arthur was a smoker (although she did smoke in a scene in Maude), but regardless, it's important to know that you don't have to be a smoker to get lung cancer.
Dr. Patrick Forde, director of thoracic oncology research at Johns Hopkins University in Baltimore, says getting screened early is a must.
Former & Current Heavy Smokers Should Get Lung Cancer Screenings Using CT Scan
"Over the last few years, there's been a number of studies looking at using low dose CT scans of the chest in patients who have a history of smoking to try and pick up lung cancers in earlier stage," Dr. Forde tell SurvivorNet.
Related: If You Smoke a Pack a Day, Lung Cancer Screening Should Start at Age 50 & Be Free, Say New Federal Recommendations
"About 70% to 80% of patients who are diagnosed with lung cancer, unfortunately, the cancer has spread outside of the lung and is not suitable for surgery." So, in other words, if you're a smoker, go get checked.
Learn more about SurvivorNet's rigorous medical review process.