Amanda Mealing, 52, star of the British television series "Casualty" revealed her experience with PTSD in the aftermath of her breast cancer treatment, mirroring the experience of her character on Casualty.
Mealing was treated for breast cancer in 2002 and received a mastectomy, chemotherapy, and radiation. She was diagnosed with PTSD from the illness five years later, an illness with which her character on Casualty, Connie Beauchamp, was diagnosed with earlier this year.
Read More
"I literally crumbled down on my haunches at the steps, going up to reception. And there were only five steps and I couldn't make it up," Mealing said about a collapsed she had on the set of Casualty's sister show "Holby City."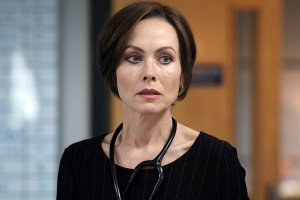 Mealing said that after her illness, she never took the time she needed, rushed quickly back to work, and "didn't deal with the psychological aspect" of the disease. "At the time I couldn't," she says of the immediate aftermath of her treatment, "because I'd just had, what I call, my hand-to-hand combat of fighting the cancer, so I didn't have time to look at my emotional and psychological state."
And that her husband saw that by not dealing with the psychological aspects up front, there was a chance they'd have to deal with complications later on, "My husband said, 'This is going to come back and bite us on the arse years down the line'. And it did."
For Mealing, therapy has been an important part of her mental recovery, "It does work. If you have been through trauma, it is essential."
PTSD is a very specific illness, but a lot of people going through cancer suffer from various types of anxiety and emotional difficulties, so we wanted to provide a little information about coping with negative emotions during this difficult time.
Information about dealing with fear and anxiety during cancer
Anxiety and fear are totally normal reactions to the news of cancer, and acknowledging these emotions can be therapeutic and important to the healing process.
"I think the most important advice I would give to someone who has just received a cancer diagnosis is to find people whom they find as a source of support. To allow themselves to go through all of the different emotional reactions to that news," said Dr. Susan Parsons, Director of the Center for Health Solutions/Center on Child and Family Outcomes at Tufts Medical Center, in a prior interview with SurvivorNet. Dr. Parsons did not comment on this case specifically.
Dr. Susan Parons, Director of the Center for Health Solutions/Center on Child and Family Outcomes at Tufts Medical Center on dealing with fear and anxiety after a cancer diagnosis.
"The anger, the frustration, the fear. The disappointment. Whatever those emotions are, figure out what's important to you and find those people that can help you realize that."
In times of frustration, it can be useful to a little bit of direction on specific ways to deal with it. A few of the most common ways to deal with fear and anxiety after a cancer diagnosis, that have helped people in the SurvivorNet community in the past, include:
1. Let your family and close friends know – and let them help. So many cancer survivors tell us they want and need support but are often too preoccupied to make specific requests. Urge those close to you to jump in with whatever practical help they can offer.
2. Keep a journal. It can be extremely cathartic to let those feelings loose on paper. Grab a pen and a nice journal and chronicle your different thoughts throughout the day.
3. Join a cancer support group. There are groups in nearly every community offering opportunities to connect with others going through a similar journey. You'll learn incredibly helpful insight from others who can tell you about what to expect and how to stay strong on tough days.
4. Consider seeing a therapist. Ask your doctor to refer you to a therapist so you can discuss your fears and concerns in a safe space. Often, vocalizing your thoughts and feelings rather than internalizing them can provide relief.
Learn more about SurvivorNet's rigorous medical review process.