The Importance of Screening For Colon Cancer
American TV personality, 68-year-old Gayle King, shared some exciting news on Instagram, revealing that she recently underwent a colonoscopy with Oprah Daily's Adam Glassman.
King shared photos from the important screening while urging anyone over 45 "don't mess around" because it's time to get a colonoscopy.
People with an average risk of colon cancer should start getting colonoscopies at age 45.
A colonoscopy is considered the most thorough and effective at preventing and catching early-stage colorectal cancer. Other colorectal screenings include stool tests and a sigmoidoscopy, which checks a portion of your colon. Virtual colonoscopies may also be an option for some.
TV personality Gayle King, 68, shared some exciting news on Instagram, revealing that she recently underwent a colonoscopy with Oprah Daily Creative Director Adam Glassman.
The American Cancer Society recommends that those who are at average risk for colorectal cancer have their first colonoscopy at 45, something the CBS Morning co-host and Oprah Daily Editor-at-Large is hoping others will take into consideration.
Read More
"Soooo what did you do this morning! @therealadamsays & I decided on a 'couples massage' you know the one that focuses on your butt aka
A COLONOSCOPY
!!! @drlapook did the honors swipe left .. the prep .. the process," King wrote in an Instagram caption, alongside a collection of photos of her and Glassman during their colonoscopy experience. "The results revealed soon @oprahdaily … AND if you are over 45! Your turn..seriously…. Don't mess around," the mom of two continued.
"Always a good idea to do it with a buddy," Glassman wrote in one of King's comments.
Fans responded with praise, with one writing, "Thank you for getting your colonoscopy and sharing your experience. We need more people getting screened so colorectal cancer doesn't become the biggest cancer killer."
"I'm making my appt today for my colonoscopy. It's been 10 years thanks for the reminder. You're doing a great job," another person commented.
Others responded to King's post-colonoscopy plans, which involved seeing Drake perform at Apollo Theater.
"I see your weekend was full of adventures and fun," a third fan wrote.
As King awaits her colonoscopy results, she captioned a recap post from her night out, just one day after her screening, "SATURDAY NIGHT LIVE for real! @apollotheater w @champagnepapi He took us on his musical journey..me & @ninawcooper along w/hundreds of other "friends" enjoyed the ride! Thanx Drake ..I remember your first ny show back in the day..happy for your success…swipe left."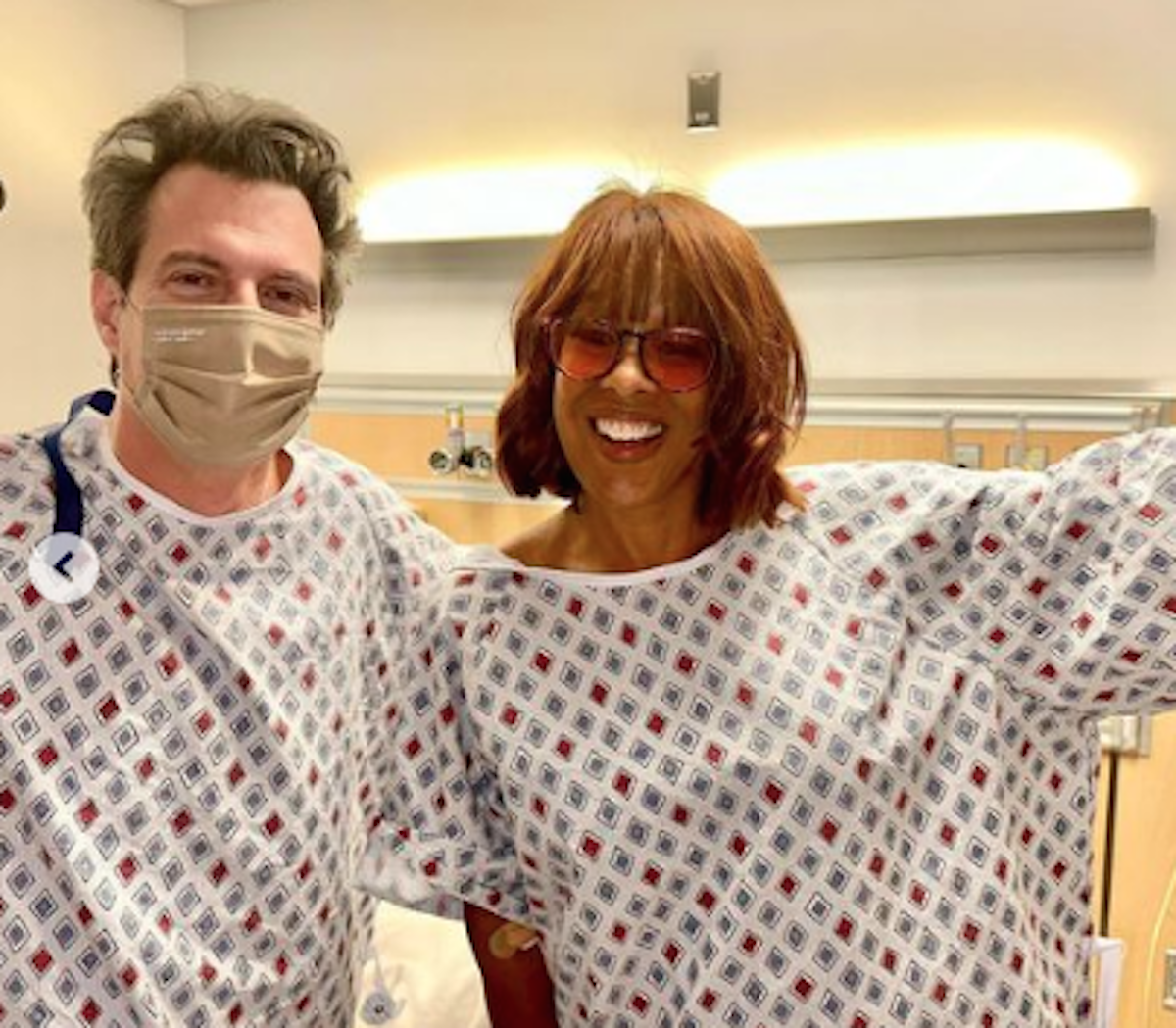 Getting a Colonoscopy
When you have a colonoscopy for colon cancer screening, the gastroenterologist performing the procedure is looking at the inside of your colon to detect polyps.
Looking for Polyps During Colonoscopy
Polyps are small growths in the colon that aren't yet cancerous, but have the potential to develop into cancer. A polyp that's found during a colonoscopy is removed, which can actually prevent the development of cancer. A pathologist determines if it is a benign polyp or if it is colon cancer. Most polyps (about 95%) that are removed are precancerous, meaning that they have not yet progressed to cancer.
Many people hold off on getting a colonoscopy because of the perceived discomfort or embarrassment of the situation. That's why it is helpful to know that it is a painless procedure.
"When we see a polyp, we actually physically take the polyp out through the colonoscope," Dr. Zuri Murrell, a colorectal surgeon at Cedars-Sinai Medical Center, previously told SurvivorNet. "That means we basically put a wire through with a little bit of a little flange at the end, and we pull the polyp out. Now, note there is no pain with that. Inside the colon, there are no pain fibers. So there's no pain."
When they take the polyp out, they send it to a lab.
"A pathologist basically cuts up the little polyp and looks under a microscope," Dr. Murrell explained. "And underneath the microscope, they can decide whether or not it is early cancer or whether it is just a precancerous polyp."
"But it would have been a cancer ultimately if you just let it grow and grow and grow," he continued. "Well, guess what? Now that it's out of your body, there is no more risk for that polyp to become a cancer."
The Importance of Colon Cancer Screenings
Colon cancers start out as a polyp, or small growth, in the colon that causes no symptoms. Although polyps can't be felt, they can be picked up by screening tests before they cause a problem. It takes up to 10 years for a colon polyp to become a full-blown cancer, which gives doctors time to remove the polyp before it causes a problem.
The U.S. Preventive Services Task Force drafted new recommended guidelines a few years ago which state colon cancer screenings should begin at 45-years-old. This is in response to the increase we are seeing of colon cancer diagnoses in younger adults. However, many insurance companies still do not cover the cost of screenings for those below the age of 50. In the past, the disease had predominantly been found in adults 50-years or older, but for those predisposed to get it at a younger age, these new guidelines could potentially help catch it at an earlier stage.
Colon Cancer Screening is Extremely Important; Guidelines Say to Start at Age 45 if There Is No Family History
The best and most complete way of screening is a colonoscopy every 10 years. In general, you should get your first colonoscopy at age 45 but the guidelines differ depending on your risk category.
If you have a close relative who had colon cancer, a rule of thumb is to get screened 10 years prior to their age of diagnosis to make sure any growths or cancers are caught early.
If you have several family members who had colon cancer, or family members who got it at a young age (less than 50 years old), it may be necessary to undergo genetic screening.
And if you have a lot of polyps on your colonoscopy or if you yourself have had colon cancer previously, you will need a colonoscopy every 3 to 5 years.
Who Needs to Be Screened for Colorectal Cancer?
There are some things that may put you at higher risk for colon cancer. They include things like your age (those age 50 and older are more likely to get it) and having a family history of colon cancer. There are, however, also risk factors that you can control to some degree. For example, the following may put you at higher risk for colon cancer:
Smoking
An unhealthy diet
Heavy alcohol use
Being overweight
Physical inactivity
While there may be no symptoms of colon cancer in its earliest stages, there are some common warning signs, including a change in the color or shape of bowel movements, constipation, bloating, diarrhea, blood in the stool and unexplained weight loss. Anyone who experiences these symptoms, no matter their age or risk factors, should see their doctor.
What Happens if Doctors Find Cancer
"Cancers don't spread quickly. They've been there for years. But I think for peace of mind, I like to try and see a patient within a week or so once they have a diagnosis or suspicion of a cancer just to kind of talk through things with them and give them a sense of what the plan is going to be," says Dr. Heather Yeo from Weill Cornell Medicine and NewYork-Presbyterian to SurvivorNet.
Most patients get diagnosed after having a colonoscopy. "Either they have symptoms, so they've had blood in their stool, or they've had some weight loss and anemia, meaning their blood count is low," she says. "The colonoscopy often will show something abnormal."
Doctors will review the actual mass or polyp. "We want to look at that on the slides and actually see if we see that there's clearly a cancer there," Yeo says.
"Then there's a series of tests. We usually start with one blood test. And then, we start with a CAT scan, usually the chest to the abdomen and pelvis if we're sure that there's a cancer there. And then, those things kind of tell us whether or not there's a distant disease."
Dr. Yeo says the most common places to look  for distant spread are in the lungs or liver.
Colon Cancer Diagnosis What Happens After the Colonoscopy
Contributing: SurvivorNet Staff
Learn more about SurvivorNet's rigorous medical review process.
---