Life After Breast Cancer Treatment
Get Organized with the Home Edit star Clea Shearer, 41, took to social media this week to reveal she has started taking monthly ovary suppression shots to help initiate her body into menopause.
Shearer shared that she was cancer-free in December 2022, after a nine-month breast cancer battle that included a double mastectomy, chemotherapy and radiation for treatment. She was originally diagnosed in March 2022.
Monitoring is essential after breast cancer treatment, but it's important to remember that most early-stage, non-metastatic breast cancer patients never see their disease return after treatment. Breast cancer survivors can expect to see their doctor every three to four months in the years immediately following treatment, according to one of our experts.
Netflix star and expert home organizer Clea Shearer, 41, took to social media this week to inform her fans about the ovary suppression shots and daily medication she is starting to take as part of a "new era" in her breast cancer journey.
The star of "Get Organized with The Home Edit," who resides in Tennessee with her husband, John, and their two children, Stella, 11, and Sutton, 7, is starting this "new era" just weeks after reaching a major milestone in her nine-month breast cancer battle: the end of in-house treatment.
Read More
"I turned 41 yesterday – and while I'm starting a new year – I'm also starting a new era in my cancer journey. Today I began monthly ovary suppression shots that will put me into menopause," Shearer wrote in a lengthy post this week on
The Home Edit's Instagram
page. "Getting my first shot wasn't a surprise, but I didn't expect it would be in my former chemo chair! As I sat there, I was flooded with so many feelings and emotions," she explained. "It's wild how strong the memories are, and how quickly they come back."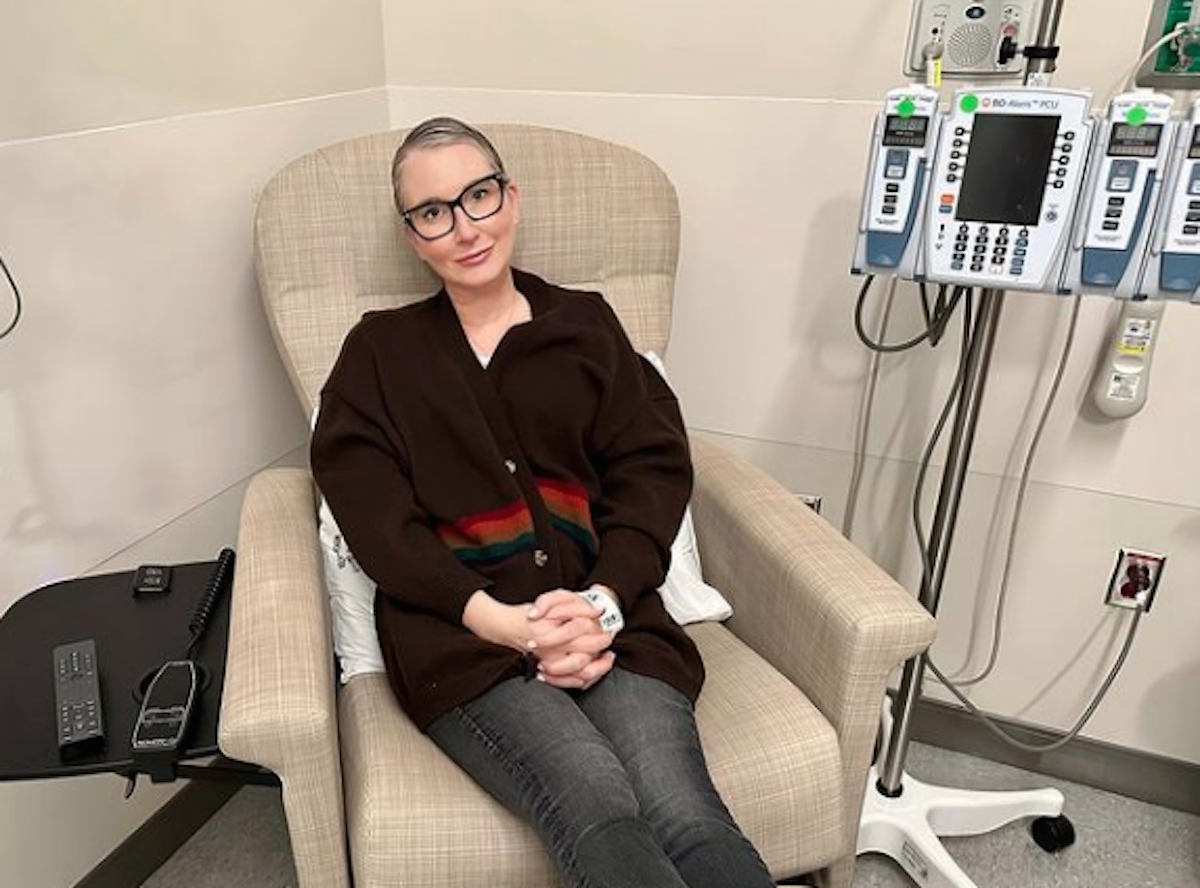 According to
John Hopkins Medicine,
ovarian ablation or suppression (stopping ovary function) can be an option for premenopausal women with estrogen receptor-positive breast tumors.
"Since a premenopausal woman's ovaries are the main source of estrogen production, temporarily or permanently shutting off their function has been shown to be effective (when used alone) in reducing the chances of a breast cancer recurrence," the research university explains, noting that hormonal drug injections called gonadotropin-releasing hormone (LH-RH or GnRH) agonist are used for ovarian suppression.
"Studies are now confirming their usefulness when given with tamoxifen instead of chemotherapy or after chemotherapy. This is called ovarian ablation or suppression and can be done through surgery (permanently) or monthly hormonal injections (temporarily)," John Hopkins Medicine adds. "The injection of medication will prevent you from ovulating or menstruating and will put you in temporary menopause."
The photo shared on The Home Edit's post was of a smiling Shearer sitting in her "former chemo chair."
"In a few weeks, I'll layer on daily medication that I'll need to take for the next 10 years," she said, "Endocrine therapy comes with a buffet of side effects – but the best side effect is keeping cancer away, so I'll take it."
"I'd be lying if I said I wasn't nervous about how my body will react… but I'm hopeful this year will be kinder, and this phase will be more gentle than the last," Shearer added.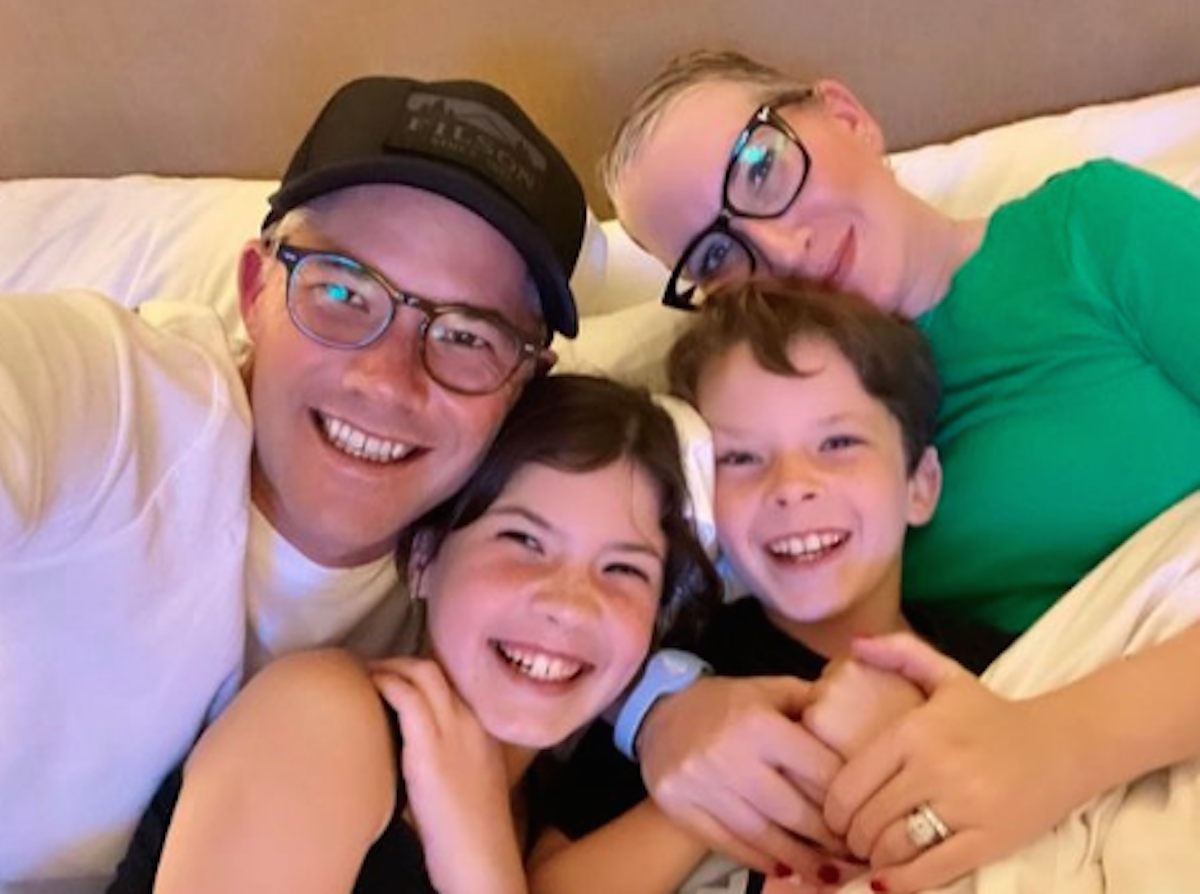 Shearer co-founded The Home Edit with her best friend and business partner Joanna Teplin, 44. Their business became such a success that Netflix opted to make a television show of it. Netflix released the second season of Get Organized with the Home Edit on April 1, shortly before Clea received her cancer diagnosis.
Clea Shearer's Cancer Journey
Clea Shearer was diagnosed with breast cancer on March 8, 2022. For treatment, she began with a double mastectomy on April 8.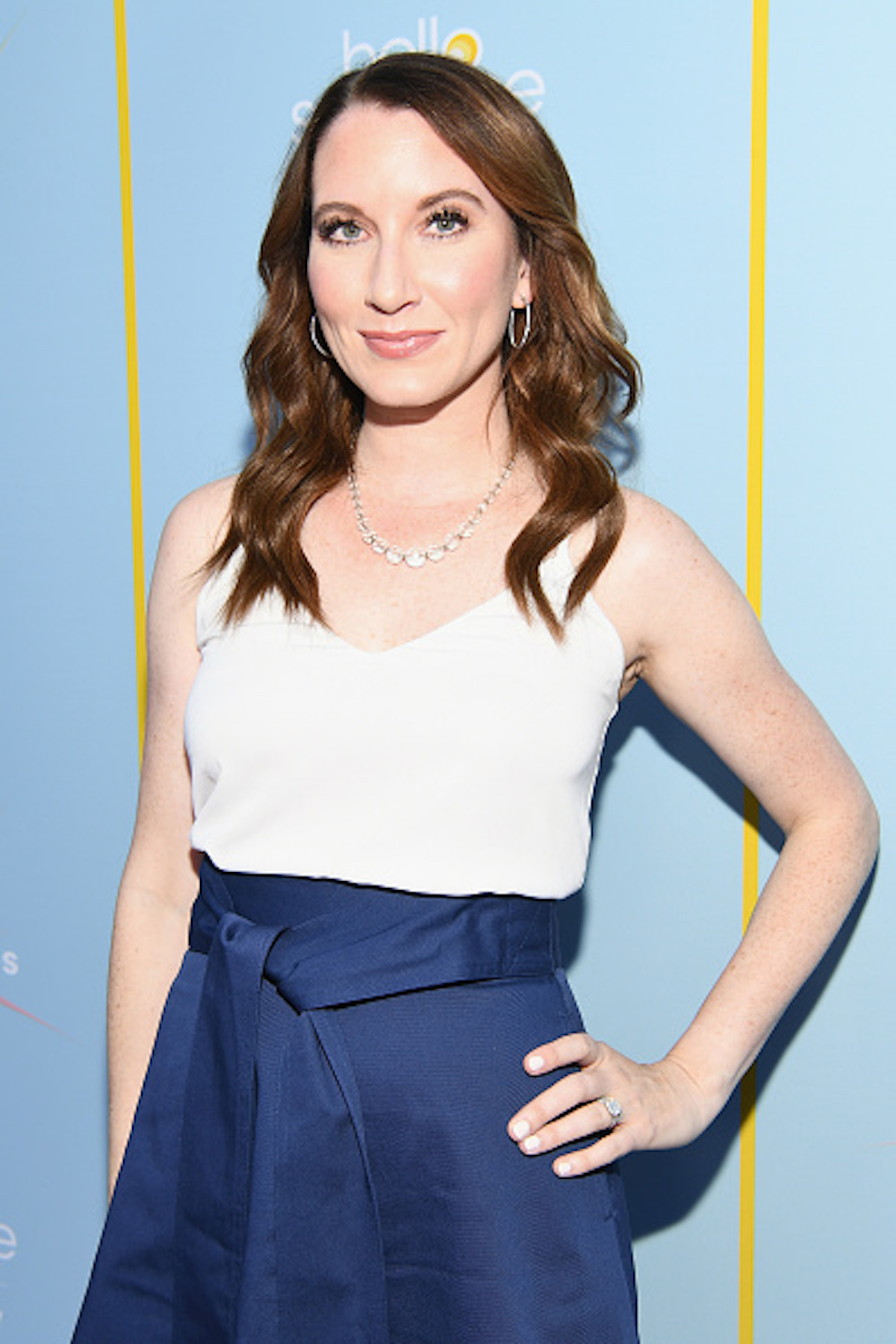 Clea, who's been sharing regular updates about her health on Instagram, was originally told her cancer was stage 1, but during the nine-hour surgery on Friday, April 8, doctors found cancer in one of her lymph nodes, which elevated the cancer to stage 2. The type of breast cancer Clea was diagnosed with hasn't been been made public yet, but she said her cancer is "aggressive and fast-moving," however, "I caught it early."
She had two tumors, one measuring 2 centimeter in size and the other 3 centimeters (she was originally told each tumor was 1 centimeter). The tumors were sent to a lab in order to determine if Clea would need chemotherapy or radiation, and it turns out she needed both.
According to her Instagram, Clea also underwent a second breast cancer surgery shortly after her first because "some of my skin tissue is just NOT having it…"
About a month after her surgeries, she started the next phase of treatment — chemotherapy. She underwent her first round of chemotherapy on May 19, and shortly after, she shaved her head.
"Very short hair, and really don't care," she posted to Instagram on May 28, about a week after cutting all her hair off. "This first round of chemo has been a lot, both physically and mentally. It wiped me out for a few days, but it makes the good days feel that much better."
An Overview of Breast Cancer Treatment
Shearer began chemotherapy six weeks after her operation in the form of an AC-Taxol regimen – a chemotherapy combination used to treat breast cancer that includes the drugs doxorubicin hydrochloride (Adriamycin) and cyclophosphamide, followed by treatment with paclitaxel (Taxol).
RELATED: New Wave Of Questions About Over-Treatment For Some Breast Cancers– 'Delusional To Think We're Not Over-Treating Some Women,' Says Top Expert
"8 weeks of AC followed by 12 weeks of Taxol," Shearer explained of her specific treatment regimen. "I had some really rough days, but shockingly, I had some good days too! Shout out to reclining chairs, 'Top Chef,' and Zofran. I wrapped up chemo on Sept 8th which was 6 weeks early, but my body wasn't producing white blood cells anymore and the long term damage wasn't worth the extra treatments."
Managing Chemotherapy Side Effects
Shearer then began radiation in October and finished in December.
"I had some starts and stops," she said of radiation, in a November post on Instagram. "I had to deflate my left breast expander so the radiation beam could hit my right side, I had COVID (what in the actual….), nighttime sessions when no one was in the hospital, gala gown changes in the patient dress room, etc.
"But here I sit, on Nov 22nd, 9 months after my diagnosis – and I'm cancer free. As my treatment journey comes to a close (although, it will never be over!), I want to thank you all from the bottom of my heart," she wrote, admitting her treatment will "never" end. "The outpouring of love will stay with me always."
The Debates Around Radiation for Breast Cancer
Support From Friends and Family
Speaking to People at the time of her diagnosis reveal, Shearer revealed she leaned on friends in her time of need.
"[Christina] was my first phone call and my second and the last few, too," she told the news outlet, referring to Christina Applegate, who has been battling Multiple Sclerosis (MS), an auto-immune disease that causes nerve damage in the brain and spinal cord, since the spring of 2021.
Recounting when she told her business partner Teplin about her diagnosis, Shearer said, "Joanna is really strong. She just leapt immediately to, 'We're going to beat this. We're going to get through this together. We're going to do whatever we have to do.'"
As 2023 came to a close, Shearer shared a beautiful photo of herself alongside her husband and three kids embracing each other and explained how their support has also helped her amid her cancer battle.
"Not a perfect photo, but it was a perfect moment," she captioned the post. "What a year this has been… I still have such a journey ahead of me – including 10 years of hormone treatment and reconstruction surgery – but these three will get me through anything."
Monitoring after Breast Cancer Treatment
Now that Clea Shearer is done with treatment and taking ovary suppression shots, what's next for the TV star? Monitoring.
Monitoring is essential after breast cancer treatment, but it's important to remember that most early-stage, non-metastatic breast cancer patients never see their disease return after treatment.
Monitoring After Treatment for Breast Cancer
"Remission's a complicated word to use with breast cancer, because we hope that the women that we treat with early-stage non-metastatic breast cancer are cured," Dr. Elizabeth Comen previously told SurvivorNet. "But we know that breast cancer can come back years, even decades later."
That's why breast cancer survivors undergo monitoring. Dr. Comen says patients can expect to see their doctor every three to four months in the years immediately following treatment.
RELATED: How 'Home Edit' Star Clea Shearer Beat Breast Cancer And What Doctors Will Do To Keep Cancer From Getting Back
"In the beginning, when a woman has recently completed her treatment, I usually see women every three to four months to do a breast exam," Dr. Comen said. "They will get imaging every year or every six months, depending on – in conjunction with the surgeon or radiologist – what may or may not be appropriate for imaging.
"We may do blood work about once a year…. And of course, when I'm seeing patients every three to four months I will be doing an exam, but also asking them how they feel."
When having a follow-up appointment as a breast cancer survivor, it's important to share any unusual or relentless symptoms you've been experiencing. That being said, most aches and pains are just a part of normal life. But symptoms that don't seem to go away may be cause for concern.
"Do they have a pain that hasn't gone away in months? Or do they have shoulder pain every now and again when they play tennis but it goes away, it gets better and it comes back months later, and then gets better?" Dr. Comen explained. "There are different types of aches and pains that we think about and that we look for with patients."
How To Support Someone with Cancer
No matter what role you play, it can be very tough to know what to do when someone you care about is diagnosed with cancer. To help get you started, below are some ways to offer support to your loved ones with cancer.
Avoid asking, try doing. Although it's understandable to not know how to best support your loved one during their cancer journey, it can be equally as hard for them to voice exactly what they need or want from you. Instead of always asking, "How can I help you?" maybe try saying something more concrete like, "Hey, can I come over at 8? I'll bring Monopoly." If you offer specific ways to support rather than ask for things they need, it's likely to come across as more genuine and feel easier for them to accept the support or help.
Stay in touch, but "don't say stupid things." You might never be able to truly understand the battle your loved one is facing, but being a person they feel comfortable talking through some of their negative emotions with can make a big difference. That being said, breast cancer survivor Catherine Gigante-Brown says there are some topics you might want to avoid. "Don't burden us with stories about your Great Aunt Harriet who had breast cancer," she previously told SurvivorNet. "And then you say, 'Oh how's she doing?' And then they'll say, 'Oh, she died.' We don't need to hear the horror stories."
How to Talk to a Friend With Cancer: Don't Say Stupid Stuff
Offer to cook them a meal. Consider inviting them over for dinner, dropping off a special dish, or, if that's not possible, sending a gift basket with some pick-me-up goodies. If you're able to cook for them, perhaps try to make a healthy meal that will bring them joy. Remember that there's no specialized diet that has been found to fight cancer, but it's always a good idea to maintain a moderate diet with lots of fruits and vegetables, as well as fats and proteins. No matter what, it's the simple gesture of providing a meal that will make them feel loved and supported.
Try helping them find joy. There's no one right way to do it, but try to think of activities you can do with your loved one that will lift them up. It could be something as simple as watching a funny tv series together, having a wine and paint night, taking a drive to a beautiful place or starting a book club with them. We've seen in previous studies that patients with better emotional health have a better quality of life when going through treatment and actually tend to live longer than those with worse emotional well-being. Dr. Dana Chase, a gynecologic oncologist at Arizona Oncology, says "better quality of life is associated with better survival, better outcomes… having a good social network can be very helpful."
Be involved. If you've take on more of a full-time caregiving role, work to understand your loved one's diagnosis and help them follow the instructions from the cancer-care team. "I encourage caregivers to come in to visits with my patients, because in that way, the caregiver is also listening to the recommendations — what should be done in between these visits, any changes in treatment plans, any toxicities [side effects] that we need to look out for, changes in dietary habits, exercise, etc.," Dr. Jayanthi Lea, a gynecologic oncologist at UT Southwestern Medical Center, previously told SurvivorNet.
Contributing: SurvivorNet Staff
Learn more about SurvivorNet's rigorous medical review process.
---