Clea Shearer Looks for the Positives Through Cancer
Star of The Home Edit, Clea Shearer, 40, says she stays positive through her cancer journey.
In April 2022, Clea Shearer announced that she had been diagnosed with breast cancer and that she would be undergoing a double mastectomy.
Keeping a positive mindset can help a person's cancer battle, says experts, based on anecdotal evidence.
Clea Shearer of 
The Home Edit
, a reality series on Netflix, is currently battling breast cancer but she says she is finding the positives during her cancer journey. She is currently undergoing chemotherapy following her double mastectomy.
Shearer, who is a professional organizer, spoke with E! for an exclusive interview, sharing her views on the importance of mental strength and positivity. She says, "[Chemotherapy] is something that is difficult to experience and difficult to go through but mentally, I know that every side effect I feel is just a result of this life-saving medication working."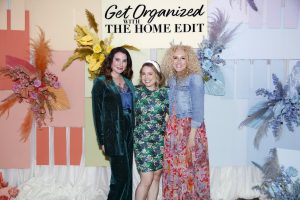 Read More
The Los Angeles native continues, "I know that I might appear sick or feel sick on a lot of days, but it's not actually being sick. It's actually getting stronger and being healthier. Mentally I know that and I slug through the bad days."
Shearer also emphasized the importance of prioritizing one's health, especially for women. She says, "Prioritizing our health is just something that traditionally, a lot of women, at least myself, just don't do. We're busy and it's a really inconvenient truth to find something in your body such as cancer. The more we dial in and focus in on what our bodies are telling us, the better."
Clea Shearer's Breast Cancer Diagnosis
In April 2022, Clea Shearer announced that she had been diagnosed with breast cancer and that she would be undergoing a double mastectomy.
"I found a lump myself (in) the last week of February," Clea posted to Instagram on April 7. "I had been trying to make an appt with my OB(GYN) for several months, and even when I told them I found a lump, they couldn't accommodate me. I had to request a mammogram from my general doctor, which led to an ultrasound, and then an emergency triple biopsy."
Clea, who's been sharing regular updates about her health on Instagram, was originally told her cancer was stage 1, but during the nine-hour surgery on Friday, April 8, doctors found cancer in one of her lymph nodes, which elevated the cancer to stage 2. The type of breast cancer Clea was diagnosed with hasn't been been made public yet, but she said her cancer is "aggressive and fast-moving," however, "I caught it early."
She had two tumors, one measuring 2 centimeters in size and the other 3 centimeters (she was originally told each tumor was 1 centimeter). The tumors were sent to a lab in order to determine if Clea will need chemotherapy or radiation, and as stated earlier, it turns out she'll need both.
Clea underwent a second breast cancer surgery because, as she shared on Instagram, "some of my skin tissue is just NOT having it…"
When Should You Consider a Mastectomy?
Staying Positive Through Cancer
Focusing on hope, and maintaining a positive attitude through a cancer battle – as Clea Shearer is doing – can help. Shearer told E!, "The good days are honestly great. I feel like myself. It's almost exhilarating. It's like when you wake up after being sick from the flu and that very first day you're like, 'I feel great. I feel amazing.'"
"Overall it's not easy," she continues, "but it's absolutely manageable and it's saving my life. I'm grateful for it."
Anecdotal evidence from SurvivorNet experts points to how a positive mindset and gratitude can positiviely impact a cancer prognosis. One oncologist at Cedars-Sinai tells SurvivorNet in an earlier interview, "My patients who thrive, even with stage 4 cancer, from the time that they, about a month after they're diagnosed, I kind of am pretty good at seeing who is going to be OK. Now doesn't that mean I'm good at saying that the cancer won't grow," he says.
"But I'm pretty good at telling what kind of patient are going to still have this attitude and probably going to live the longest, even with bad, bad disease. And those are patients who, they have gratitude in life."
SurvivorNet reporter Sydney Schaefer contributed to this article. 
Learn more about SurvivorNet's rigorous medical review process.