Testing Points Docs to the Best Treatment
Comprehensive biomarker testing checks the lung tumor for gene mutations that might respond to targeted therapy.
Genetic testing of the lung tumor is typically for people with stage 4, non-small cell, non-squamous cell lung cancer.
If your doctor doesn't mention it, ask for it.
Thanks to targeted therapy, some people with
stage 4 lung cancer
can take just one pill a day and continue to live their lives. Comprehensive biomarker testing helps points doctors towards the right pill.
"Comprehensive biomarker testing is critically important in lung cancer," Nicholas Rohs, MD, a hematologist-oncologist at Mount Sinai Hospital in New York City, tells SurvivorNet. "It makes a huge difference in how we manage patients and definitely gets them the best care."
How Does It Work?
Read More
Dr. Geoffrey Oxnard tells SurvivorNet about the importance of genetics in late stage lung cancers
Before we tell you how it works you first need to understand a little about how cancer cells survive. Gene mutations in some tumors produce specific proteins on the surface of cancer cells that help the tumors grow and thrive. Different gene mutations produce different proteins. In one person with lung cancer, the EGFR protein, for example, might drive the tumor's growth. In another person, the culprit could be ROS1.
Targeted therapy – as the name suggests – attacks the specific protein that is aiding and abetting the tumor's survival. Different drugs target different proteins.
Comprehensive biomarker testing is genetic testing of a lung tumor to check for any of the gene mutations that might respond to targeted anti-cancer drugs. In total, the test checks for about a dozen different mutations that the FDA has approved drugs to target. Tumors usually don't carry more than one of these mutations. Some tumors don't carry any of them.
Related: You've Just Found Out You Have Lung Cancer: Your Next Steps Are Important
"I have occasionally seen two co-mutations," says Rohs. "But it's so rare that it might tell me the patient actually has two different primary cancers. So, if that pops up, it leads to a lot of questions."
The test is non-invasive. The lab can do the test on the tissue that was already taken from your tumor to diagnose you. They can also test your blood for tumor DNA and find driver mutations that way. That's called a liquid biopsy.
"Since you don't need a new biopsy and you can do it by taking two tubes of blood, there's really no great reason not to do this," Sandip Patel, MD, a medical oncologist at UC San Diego Health, tells SurvivorNet. "This is essential care."
Who Gets Comprehensive Biomarker Testing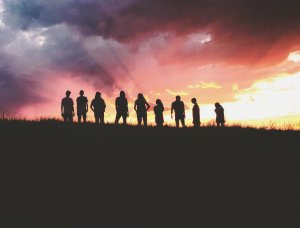 You only get targeted drugs if you have stage 4 metastatic lung cancer. The driver mutations that those drugs attack are usually on non-small cell non-squamous cell lung tumors. So, comprehensive biomarker testing is for people who have this type and stage of lung cancer.
Related: Is Medical Marijuna Right for People With Lung Cancer? Here's What the Experts Say
But, research that's underway right now is exploring whether targeted therapy might help people at earlier stages. "There is emerging data about using EGFR inhibitors in more local – stage 2 or 3 – lung cancer," says Patel. "So, that may be the standard of care one day."
Other new research suggests that targeted therapy after lung surgery could lower the risk of recurrence. "But this is still in active debate, so the decision to use targeted therapy in this way would be an individual decision between the provider and the patient," says Rohs.
Advocate for Yourself
Many doctors will automatically go for comprehensive biomarker testing for their patients who have metastatic non-small cell, non-squamous cell lung cancer. But don't take it for granted that your doctor will. If you have this type of cancer, ask whether you'll be getting this test.
It's important because comprehensive biomarker testing not only points doctors towards the best medication for you; it also points them away from the wrong ones.
Related: You Never Smoked But Still Got Lung Cancer! Treatment Options May Be Different for You
"Data's building to show that many patients who have these actionable mutations and should be going on these targeted pills don't respond as well to immunotherapy," say Rohs. "So, we may be finding the right treatments as well as avoiding the wrong ones by checking the genetics."
What's more, he adds, if you start on immunotherapy and then switch to a targeted drug after your doctor finds a related gene mutation, you may have more side effects. So, if your doctor is talking about immunotherapy – that's drugs like pembrolizumab (Keytruda), nivolumab (Opdivo), and atezolizumab (TECENTRIQ) – make sure you've had biomarker testing first.
Getting More People Access to Immunotherapy — A Very Personal Mission for Pharma Executive Adam Lenkowsky
"Taking chemotherapy without knowing your [tumor's genetic] profile is equivalent to not knowing your cancer diagnosis," says Patel. "Patients should be aware of what it is they're fighting and if they've had the appropriate testing."
Learn more about SurvivorNet's rigorous medical review process.