A Strong Foundation
'Country Ever After' reality star Criscilla Anderson, 40, who is fearlessly battling stage 4 colon cancer, shows the importance of pushing forward while living with cancer as she and her family celebrate the foundation of their new home they are building in Dallas.
Criscilla and her co-star on the Netflix show, country singer Coffey Anderson, 42, have been living life to the fullest as Criscilla goes through chemotherapy for a second time. The hip hop dancer even taught a dance class "for moms only" over the weekend.
Having advanced stage colon cancer is not a death sentence, and a top expert tells SurvivorNet the goal of managing and treating the disease to prevent it from spreading.
'Country Ever After' star Criscilla Anderson, 40, is not putting her life plans on hold during her battle with stage 4 colon cancer.
Instead, she is laying a new foundation with her family as they have their new home built in Dallas. The family shared a sweet and inspiring moment of the clan laying colorful scripture rocks etched with inspiring messages into the dirt of their new home.
Read More
Criscilla, along with her country singer husband Coffey, 42, and their three children, Ethan, 8, Emmarie, 6, and Everleigh, 4, read messages out loud on Instagram. Criscilla insists that her first rock be placed in the front entrance. It reads,  "For me and my house, we shall serve the Lord." Coffey read a special message from the second rock that serves as a message to his cancer warrior wife. "Stand firm in your faith, be courageous and be strong." The kids enjoyed the meaningful family activity, helping to lay the colorful rocks one-by-one.
Related: Coffey Anderson's Wife Criscilla, Battling Colon Cancer, Says She 'Won't Live In Fear'; How People Fighting Cancer Can Stay Safe During COVID-19
"We had a beautiful time today dropping scripture stones underneath the foundation of our home that is being built!" Criscilla says excitedly to the camera, with a big smile on her face. "We picked scripture stones for each room and then took the extra ones and let them go wherever they landed. Building in Dallas, Texas! We couldn't be more excited!"
View this post on Instagram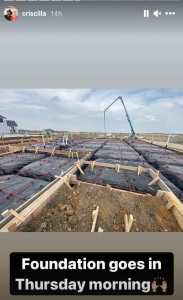 The hip hop dancer is currently undergoing her second round of chemotherapy. After an initial diagnosis of stage 3 colon cancer in 2018, the cancer advanced. However, Criscilla has shown nothing but strength and hope throughout the process, moving full steam ahead with life and not letting cancer get in her way.
Related: Criscilla Anderson Hip Hop Dances Through Stage 4 Colon Cancer: How Movement Can Help Heal Body And Soul
The Los Angeles native has also been doing dance classes during chemo, and just taught her first class after a year-long hiatus. It was a "moms only" class in Dallas that the energetic TV personality led with her choreographed moves.
View this post on Instagram
Criscilla has danced for pop stars such as Rihanna, Katy Perry, and Britney Spears.
She also recently vacationed in Mexico with her love and some friends. "Thankful for such an amazing few days in Cancun with friends to enjoy being adults and celebrate mine and Coffeys anniversary," she wrote on Instagram. "And I technically just finished my first round of chemo."
View this post on Instagram
The Goal of Treatment for Stage 4 Colon Cancer
Every cancer is different and every person's battle is uniquely their own, but it's important to understand treatment for stage 4 colon cancer, and what it means in most cases. There have been more people surviving stage 4 colon cancer in recent years; an advanced stage cancer diagnosis does not mean that you give up.
"When someone comes in with cancer that has spread outside the colon, it's called stage 4 colon cancer or metastatic colon cancer," Dr. Paul Oberstein from NYU Langone Perlmutter Cancer Center tells SurvivorNet. "The primary goal of therapy, and we discuss this in great detail with patients and their families, is to manage the cancer, is to try to control the cancer, to turn it into what we call a chronic disease, so to prevent it from growing, spreading, and causing problems."
Dr. Oberstein says that options for treatment are complicated and unique to each person. There are different surgery, chemotherapy and immunotherapy treatments depending on where the tumor is in the body.
Determining Treatment for Stage 4 Colon Cancer
The Power of Mindset
SurvivorNetTV Presents: Breaking the Cycle 
Learn more about SurvivorNet's rigorous medical review process.