Criscilla Andserson, 40, is a choreographer and dancer who has appeared in music videos with Katy Perry and Rhianna. The mom of three and wife of country singer, Coffey Anderson was first diagnosed with colon cancer in 2018. After a brief remission, Criscilla reported a stage 4 metastatic colon cancer diagnosis in November 2019.
Through the ups and downs of treatment, Anderson's never stopped dancing.
Read More
RELATED: Country Music Star Coffey Anderson's Wife, Criscilla, Proves There's Hope For Young People With Serious Colon Cancer
Just last week, she shared a nurse accessing her port for a blood draw. But today, she's hitting the floor, doing what she loves best: "Cause as soon as treatments over, this is where u can find me," she wrote on Instagram (below).
Dancing After Surgery: "So Good For My Soul"
Anderson's not the only one who's found joy in dance during cancer treatment. Breast cancer survivor Vera Trifunovich, was back at her Zumba class four weeks — to the day — after her breast cancer surgery.
RELATED: Mom of 5 Dances Through Acute Myeloid Leukemia Treatment in Hospital Isolation: "Choosing To Stay Happy Through This"
"As I was recovering from my surgeries, it was very, very important for me to stay connected to my body," Vera says. "Through movement, the dance. The dancing actually really helped my rehab."
Zumba class helped breast cancer survivor, Vera Trifunovich, reconnect with her body after surgery. 
Vera, who has always enjoyed dancing for fitness, says she had to take it easy when she first returned to Zumba. "I couldn't really move my arm yet, because I was just starting PT (physical therapy). I remember I would just dance with one arm," she explains.
RELATED: 19-Year-Old Ballerina Kiara Valley Will Return to Dancing After Doctors Tailor Her Treatment To Fit Her Profession
"Dancing was good for my body, and it was also so good for my soul. It was in those moments when I was dancing, and listening to fun music, and being with my friends, it would all melt away."
Hip-Hop Chemo
When Tiffany Dyba was diagnosed with stage 1 breast cancer in 2018 at 35, she looked for inspiration but found little on the internet for younger women facing cancer.
RELATED: Former Miss Universe Dayanara Torres' Dazzling Dance Performance Gives Metastatic Melanoma Patients Reason to Cheer
She started dancing to her favorite hip hop jams and posting videos to show her followers that, while she may be sick, she still has plenty of days when she feels good. "It's important for people to see that I'm OK," Tiffany told SurvivorNet.
Breast cancer survivor Tiffany Dyba on dancing to hip hop during treatment
"I decided to start my blog which is C.D.R.E.A.M — Cancer Doesn't Rule Everything Around Me — because I sort of want to bust through those stereotypes and that stigma and say, 'I'm out here dancing because I feel good. I'm not going to act sick if I don't feel sick.'
"And on the days that I feel tired and I don't feel good," she says, "I'm going to post about that, too."
The Dancing Doc: "It Soothes My Mind"
Survivors aren't the only ones turning to dance for self-care. Tony Adkins, a pediatric neurosurgery physician's assistant who sees patients at CHOC Children's Hospital in Orange, Calif, says, dances with kids in cancer treatment.
RELATED: The Tiny Dancer Living Her Nutcracker Fairytale After Cancer: "Hold On To Your Dreams"
"I'm doing the same things I do to take care of myself to take care of them," he told SurvivorNet. Adkins says he grew up watching music videos "or 'Soul Train' early Saturday morning to see how people were dancing."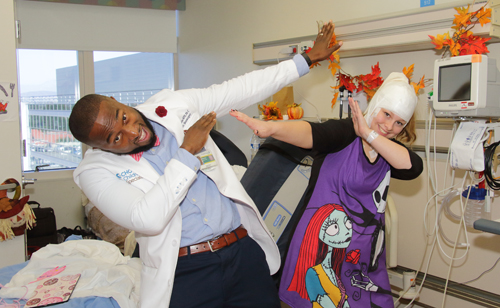 Music and dancing have been a part of Adkins' life since he was young.
The reason, he says, is because he "couldn't go outside because I was the youngest [with] two older brothers in gangs. So I'd turn on VH1 and emulate all the dance steps."
Adkins' connection with the kids comes from a deep well of empathy.
He recalls one patient diagnosed with a brain tumor. When she was too sick to sit up, she danced by moving her arms in the bed.
"I saw her mom there every day, and [the little girl] was my little girlfriend," he says. "I danced with her because I wanted to be close with her, and give the parents a memory of her having a good time while she was in pain."
RELATED: Kids with Cancer Get a Thrilling Surprise — a Diddy Dance Party on 'The Ellen Show'
The father of two girls, Adkins says he understands what the parents of his young patients are going through: "I've learned to relate to parents [because] I would feel devastated — just how they feel."
Learn more about SurvivorNet's rigorous medical review process.
---