A Healing Journey
Country Ever After star Criscilla Anderson, wife of country crooner Coffey Anderson, had an emotional homecoming with her family after seeking  treatment in Mexico for her stage 4 colon cancer.
Anderson's family greeted her at the airport as she wiped tears from her face at the show of love and support, with her husband and kids wearing custom T-shirts.
The goal of treatment for advanced stage colon cancer is to control the cancer and treat it more like a chronic disease, as a leading expert explains to SurvivorNet. A change in bowel habits is one of the main symptoms of colon cancer.
Country Ever
After
star Criscilla Anderson, wife of country crooner Coffey Anderson, had an emotional homecoming with her family after seeking treatment in Mexico for her stage 4 colon cancer.
As most moms know, being away from your kids even for one or two days can be highly emotional; add an advanced cancer diagnosis to the mix and it's all the more trying. While this 3-week healing journey was rewarding for Anderson, it was also challenging for the mom of three.
Read More
Related: 'Country Ever After' Star Criscilla Anderson Seeks 'Alternative' Care in Cancun for Stage 4 Colon Cancer: 'I'm Combining Western Medicine with Natural Cures'
In a video posted on Instagram, Anderson, 41, wiped tears from her eyes as she arrived at the Dallas airport to balloons and her kids running to embrace her. Criscilla and Coffey have three children: Ethan, 9, Emmarie, 7, and 4-year-old Everleigh. Husband Coffey, 43, wore a shirt that said "My Wife is My Hero," while the kids sported their own adorable "My Mom is My Hero" shirts. Some supportive friends also showed up with their own T-shirts for their friend.
View this post on Instagram
In a recent post from Cancun—where she sought alternative treatment for her cancer —the hip hop dancer reflected on dealing with the toxicity of living in Los Angeles.  She and her family now live in Texas, but she travels to LA for conventional chemotherapy treatment.
Criscilla's Mexico trip was just as much about her mental healing as her physical healing, and she appears to have come to an even better place as she had time for reflection and personal growth without the distractions of daily family life.
Related: 'Country Ever After' Star Criscilla Anderson, 40, Builds Dream Home, Shows the Importance of Continuing Family Life Plans During Stage 4 Cancer
"As natural as I come. Learning to love myself without all the extra," she wrote in a smiling post out in the sun. "I must say…living in LA for so long took me to some crazy places mentally & emotionally. years of being told no for your gift or your look. The ratio of auditions u book vs don't book can wear you down. Even when your successful. Your constantly critiqued and it's so unhealthy. And I didn't realize it until I left."
She has learned what is important, and what isn't. "I choose the simple life … Enjoy today. I sure am." She ended the post with a "Don't waste your days" hashtag. In other words, life is short, don't waste time wallowing in what doesn't serve you.
View this post on Instagram
Anderson was initially diagnosed with stage 3 colon cancer in 2018, then it had advanced to stage 4 in 2019. She recently finished a second round of chemotherapy treatment after giving up the first time because it was so tough on her body. But she pushed through, and got some promising results.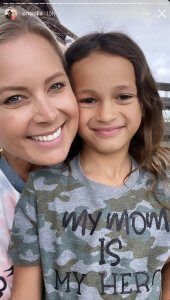 "Great scan results!" she wrote on her Instagram stories on top of a photo giving a thumbs up. "All tumors shrunk to normal lymph node size."
Her blood work was also within the normal range. "I'm taking it in," she expressed of her big news. "My Dr. reminded me this chemo doesn't eradicate cancer but this is the best I could have asked for. My God is bigger than chemo."
Learning About Advanced Stage Colon Cancer
The goal of advanced stage colon cancer is to reduce the amount of cancer in the body and control it.
Dr. Paul Oberstein from NYU Langone Health's Perlmutter Cancer Center explains this concept in a previous interview with  SurvivorNet.
"When someone comes in with cancer that has spread outside the colon, it's called stage 4 colon cancer or metastatic colon cancer," Dr. Oberstein says. "The primary goal of therapy, and we discuss this in great detail with patients and their families, is to manage the cancer, is to try to control the cancer, to turn it into what we call a chronic disease, so to prevent it from growing, spreading, and causing problems."
Related: Indy 500 Speedway Announcer, Lindy Thackston, 40, Battles Colon Cancer– Initially Thought Symptoms Were Colitis
Dr. Oberstein says that options for treatment are complicated and unique to each person. There are different surgery, chemotherapy and immunotherapy treatments depending on the location of the tumor and the patient's genetic testing status.
One of the most common signs of colon cancer, and the top thing to look out for, is a change in bowel habits. This ranges from constipation or diarrhea to changes in the size or shape of bowel movements. A change in stool color, particularly black or tarry stools, can indicate bleeding from a tumor that lies deep in the colon.
"One of the most important facts about colon cancer is that the earlier and smaller it's detected, the easier the treatment is and the more likely it is to be cured," Dr. Oberstein explains. "Because colon cancers grow in the lining of the colon, they sometimes can cause problems with digestion. So someone may have constipation or diarrhea or problems going to the bathroom. Sometimes, they'll cause pain if they're growing large. Rarely, they can grow large enough to be felt as sort of a firm growth in the abdomen, but that's uncommon."
Related: Colon Cancer Symptoms to Look Out For
Other symptoms can be harder to pinpoint, such as abdominal pain and unintentional weight loss. Finally, some tumors bleed a small amount over a long period of time, resulting in anemia (low red blood cell count) that is picked up on blood work.
"Imagine a wound on the surface of the skin," Dr. Oberstein says. "It can bleed a little bit and ooze blood. And if that happens, one person– a person might see what's called black tarry stools. So they might see darkness in there bowel movements. And that's a sign of bleeding in the stool that's caused by the cancer."
If a person has significant bleeding, they can develop what's called anemia, which is low blood counts, and be tired or have trouble with normal activities because of those blood counts.
"We often recommend to patients that if they see a change in their bowel movements and they feel more fatigued than usual, or they have new issues, it's something to be concerned about and to be pursued with their physician."
Getting Genetic Testing for Your Kids, A Tough But Crucial Call
Learn more about SurvivorNet's rigorous medical review process.