Positive News for the Anderson Family
Country Ever After star Criscilla Anderson shared some good news with followers after anxiously awaiting her latest scan results.
The mother of three has been battling stage 4 colon cancer and reported to fans that all of her tumors have shrunk.
Leading experts explain the goal of treatment for advanced stage colon cancer, which is to manage the cancer. In Criscilla's case, the chemo will not completely eradicate her cancer.
Country Ever After
star Criscilla Anderson, wife of singer Coffey Anderson, has received the news that all cancer patients want to hear: Her chemotherapy is working.
The mother of three has been battling stage 4 colon cancer and recently flew back to L.A. from Dallas for her chemotherapy treatment. Anderson, 41, has anxiously been awaiting the results of her first scans since going back on chemo in January. (She was initially diagnosed with stage 3 in 2018, then it had advanced to stage 4 in 2019.)
Read More
Related: Reality Star Criscilla Anderson Vacations, Takes Dance Class After Starting Chemo Again for Stage 4 Colon Cancer
"Great scan results!" she wrote on her Instagram stories on top of a photo giving a thumbs up, clearly smiling behind her surgical mask. "All tumors shrunk to normal lymph node size."
The hip hop dancer also reported that her blood work is within the normal range. "I'm taking it in," she expressed of her big news. "My Dr. reminded me this chemo doesn't eradicate cancer but this is the best I could have asked for. My God is bigger than chemo."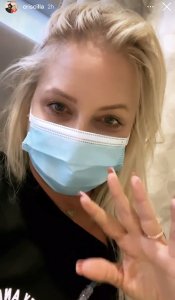 "Scanxiety" is a popular term used these days in the cancer world, describing those impatient, uncomfortable feelings of anxiety while waiting on test results. For those who are able to block it out of their heads and think positive, more power to you, but the reality is that many cancer patients report that waiting on test results is even worse than the initial cancer diagnosis.
Anderson's husband Coffey, 43, has been sharing loving videos and messages in support of his wife to make the wait a little more bearable.
To calm her nerves, he took a video of himself at their construction site to show her progress of their new Dallas home that is nearly all framed. "So while Criscilla is getting the results of her test," he said, "She sent me to do some recon on the house so here we are. Now we're going to keep praying for you."
Related: Criscilla Anderson Builds Dream Home, Shows the Importance of Continuing Family Life Plans During Stage 4 Cancer
She re-posted the country star's video with a message saying, "I love this man." Coffey had also taken a photo of their son Ethan, 9, who offered some sweet words for his beautiful mom. "Father God, please give Criscilla good test results today." The Netflix stars also have two daughters,  7-year-old Emmarie and 4-year-old Everleigh.
View this post on Instagram
"This is like my last few minutes before I start to feel sick," she told followers from her chemo chair. "So I'll be in here for a couple hours and then my mom will pick me up and I'll go home and be sick for a few days at my mom's and then I get to go home."
Learning About Advanced Stage Colon Cancer
As Anderson mentioned when presenting her results, her doctor had to remind her that this treatment will not eradicate her cancer.
Dr. Heather Yeo, a surgical oncologist and colorectal surgeon, tells SurvivorNet that advanced stages of colorectal cancer aren't always curable, but do have many treatment options.
It is always best to stay as hopeful as possible like Anderson, which can help you stay stronger both physically and emotionally during treatment.
Dr. Paul Oberstein from NYU Langone Perlmutter Cancer Center explains the goal of treatment with stage 4 colon cancer, which is to reduce the amount of cancer in the body and control it, so it's more like a chronic disease that you have to live with.
"When someone comes in with cancer that has spread outside the colon, it's called stage 4 colon cancer or metastatic colon cancer," Dr. Oberstein tells SurvivorNet. "The primary goal of therapy, and we discuss this in great detail with patients and their families, is to manage the cancer, is to try to control the cancer, to turn it into what we call a chronic disease, so to prevent it from growing, spreading, and causing problems."
Dr. Oberstein says that options for treatment are complicated and unique to each person. There are different surgery, chemotherapy and immunotherapy treatments depending on where the tumor is in the body.
Determining Treatment for Stage 4 Colon Cancer
Learn more about SurvivorNet's rigorous medical review process.