After performing his "Mindfreak" show on the road in Indiana, illusionist Criss Angel shared a sweet video of his family gathered together in a hospital room for his 5-year-old son Johnny Crisstopher's cancer treatments. Little Johnny is currently dealing with a cancer recurrence, his second bout with childhood leukemia.
RELATED: Criss Angel Shares Heartbreaking Photos as His 5-Year-Old Son Undergoes Cancer Treatment
Read More
"A quarter of the way home to my beautiful family. See you in the hospital later tonight my loves. I love and miss you all," Angel wrote in the caption of a video shared to Instagram. The video shows Angel's wife, Shaunyl Benson, and the couple's other son, 11-month-old Kristos, in Johnny's hospital room as he undergoes cancer treatment — Benson mentions how much the whole gang misses dad as they wait for him to get home from tour.
A few hours later, Angel shared an update, posting another video of himself sharing a hospital bed with Johnny, along with the caption: "Finally."
RELATED: Criss Angel Shaves His Son's Hair in Heart-wrenching Video Documenting the 5-Year-Old's Cancer Journey
Angel has been keeping his fans updated throughout Johnny's cancer journey. The illusionist first confirmed that his son's cancer had returned in a brief interview with TMZ in early December 2019. Johnny was first diagnosed with acute lymphoblastic leukemia (ALL) in October 2015, when he was under 2 years old, according to E! News. Johnny was in treatment for some time; Angel only announced that his son was in remission in earlier in 2019.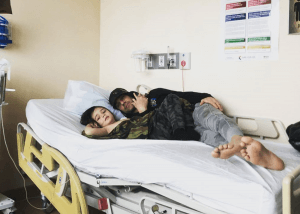 After going public with Johnny's cancer recurrence, Angel has shared some really heartbreaking updates about the family's experience with the disease. The day after Christmas, the illusionist shared some images that really showcased the realities of childhood cancer. Angel posted some photos of he and Johnny resting in a hospital bed while Johnny is hooked up to the wires and tubes that administer his treatment. Another photo included a caption explaining how Johnny was handling the treatment: "Sad! ANGRY! But we WILL get through this!"
Along with the heartbreaking images, Angel has also shared some heartwarming updates — such as how he and his wife tried to ease the emotional blow of Johnny losing his hair during chemo. Earlier this month, Angel shared a video showing Johnny making the decision, with some help from his mom and dad, to cut his hair off since "very heavy" treatment would likely make it fall out. After the hair cut, Angel shared a sweet snap of Johnny with his newly shaved head, smiling for the camera.
What Is Acute Lymphoblastic Leukemia?
While childhood leukemia is rare, leukemia is the most common cancer diagnosed in children and teens. About three out of four leukemias diagnosed in children are ALL, according to the American Cancer Society. Leukemias start in the bone marrow, where cancerous cells build up and crowd out normal cells. These cells then spill into the bloodstream. Pediatric ALL is most commonly diagnosed in children between the ages of 2 and 5.
Learn more about SurvivorNet's rigorous medical review process.