Magician and illusionist Criss Angel recently announced that his 5-year-old son, Johnny Crisstopher, was facing a cancer recurrence and would need to begin treatment again. Johnny was diagnosed with leukemia for the first time before his second birthday.
On the day after Christmas, Angel posted heartbreaking photos to Instagram that really showcase the reality of childhood cancer.
Read More
RELATED: Criss Angel Presents Make-A-Wish Award As Young Son Battles Cancer
Some of the photos were of he and Johnny laying in a hospital bed together during a chemotherapy session, along with the caption, "Back today for a long day of chemo."
View this post on Instagram
The magician also shared photos of his young son to his Instagram stories with a message of encouragement: "Sad! ANGRY! But we WILL get through this!"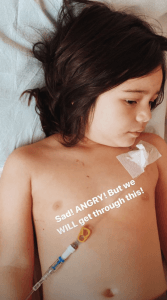 During a recent event, the famed magician spoke a bit more about his son's treatment as he presented the Make-A-Wish Foundation's Magic Wand Award.
"I was somebody who used to just work with children that were sick. Then I had a son who was diagnosed with pediatric cancer," Angel told Entertainment Tonight at the event. "I understand, with a son who just had a relapse, what it's really like, moment by moment, and how difficult it is to look at your child who should be worrying about what toy they're playing with. Instead, they're worrying about treatment that's literally putting poison into their body."
When Angel announced in an interview with TMZ that his son was experiencing a cancer recurrence, the magician also said that he would be organizing a massive charity to raise money for childhood cancer at some point in 2020 in Las Vegas, where he performs his "MINDFREAK" show.
"We're going to try to reach $5 million in one night at Planet Hollywood," Criss told TMZ, saying he'd soon have more details.
This won't be the first charity event Angel has held since his son was diagnosed. After Johnny was first diagnosed in 2015, Angel set a goal of raising $1 million for pediatric cancer research and treatment, and launched the Johnny Crisstopher Children's Charitable Foundation.
A charity event the magician held in September 2016 boasted a star-studded lineup and achieved Angel's fundraising goal of $1 million.
Johnny Chrisstopher's Experience with Cancer
Johnny was first diagnosed with acute lymphoblastic leukemia (ALL) in October 2015, according to E! News. Angel announced on social media at the time that he would be canceling some shows due to a family emergency. Johnny was in treatment for some time; Angel only announced that his son was in remission earlier this year.
While childhood leukemia is rare, leukemia is the most common cancer diagnosed in children and teens. About three out of four leukemias diagnosed in children are ALL, according to the American Cancer Society. Leukemias start in the bone marrow, where cancerous cells build up and crowd out normal cells. These cells then spill into the bloodstream. Pediatric ALL is most commonly diagnosed in children between the ages of 2 and 5.
Learn more about SurvivorNet's rigorous medical review process.