Finding Purpose Amid Health Challenges
Sherry Pollex, the former longtime partner of NASCAR driver Martin Truex Jr. and co-founder of the Martin Truex Jr. Foundation, passed away following a brave nine-year battle with ovarian cancer. She was 44.
Tributes from many NASCAR racing legends have poured in honoring Pollex for her ovarian cancer advocacy. Racecar drivers, including Martin Truex Jr., Dale Earnhardt Jr., Danica Patrick, and Denny Hamlin, are among the names who shared heartfelt tributes to Pollex. Pollex's family expressed gratitude for the kind words and vowed to continue her legacy.
Pollex was first diagnosed with ovarian cancer in 2014 at age 35. In 2016, the cancer returned. While she beat it both times, Pollex was told in late 2020 that her cancer had returned. Recurrence is typical for this type of cancer.
Pollex and Truex Jr., co-founders of the Martin Truex Jr. Foundation, have raised millions of dollars for its "Catwalk for a Cause" charity since its inception in 2010, its website says.
Beloved philanthropist and cancer advocate Sherry Pollex left a lasting mark on the world of racing and for numerous cancer survivors before she passed away at age 44 following a brave nine-year battle with ovarian cancer. Heartfelt tributes from racing greats and beyond have poured in honoring the ovarian cancer advocate, including her longtime former partner and NASCAR driver Martin Truex Jr.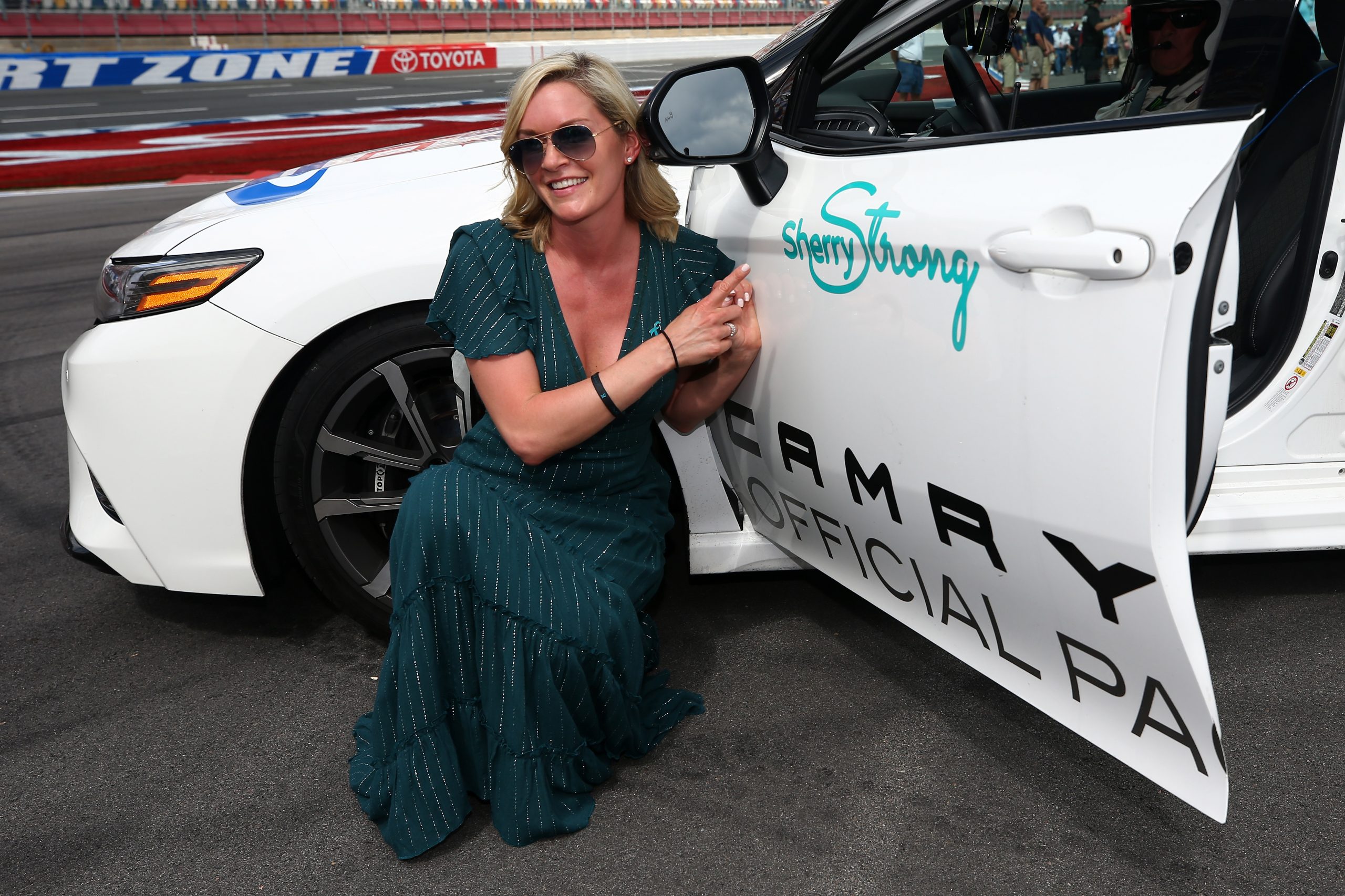 "From the very minute of her diagnosis, Sherry was determined to not only fight ovarian cancer with everything she had but also make a difference in the lives of others battling this terrible disease," Truex said in a statement.
Read More
"Sherry's passion for making a difference in the lives of others was inspiring to everyone. Through her tireless charity work for so many years, her legacy will live well beyond our lifetimes and continue to help countless families who are battling ovarian and childhood cancer," Truex continued.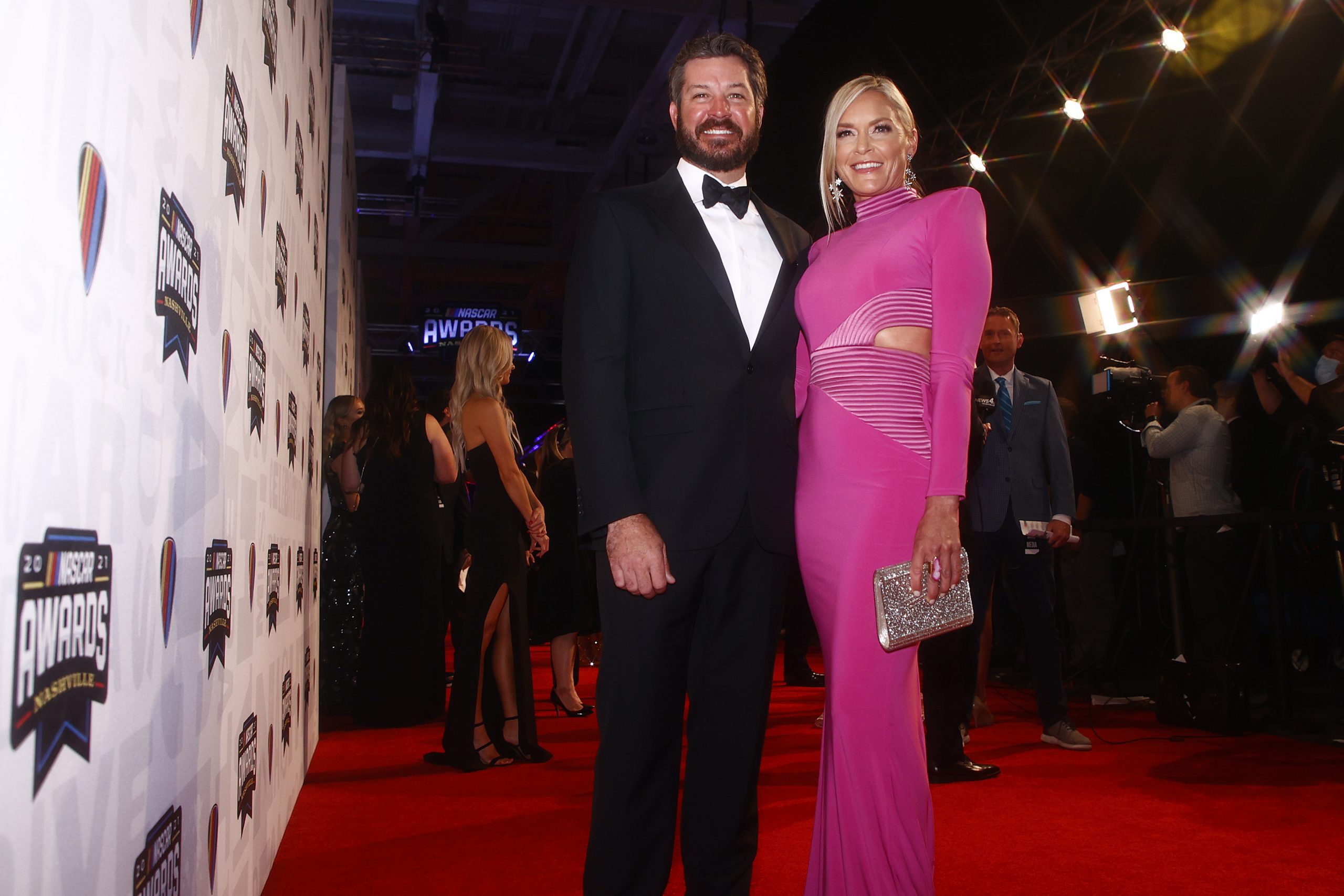 Earlier this month, Pollex and Truex Jr., co-founders of the Martin Truex Jr. Foundation, were recognized at the foundation's signature charity event, "Catwalk for a Cause," which has raised millions for cancer initiatives since its inception in 2010, its website
says
. Former NASCAR star Danica Patrick, 41,
wrote
in an Instagram story, "…She helped so many. She gave so much. After I left NASCAR, we touched based here and there and I loved her curiosity for the deeper layers of this human experience. I hope she is in one of those layers that's perfect, peaceful, pure, and whole."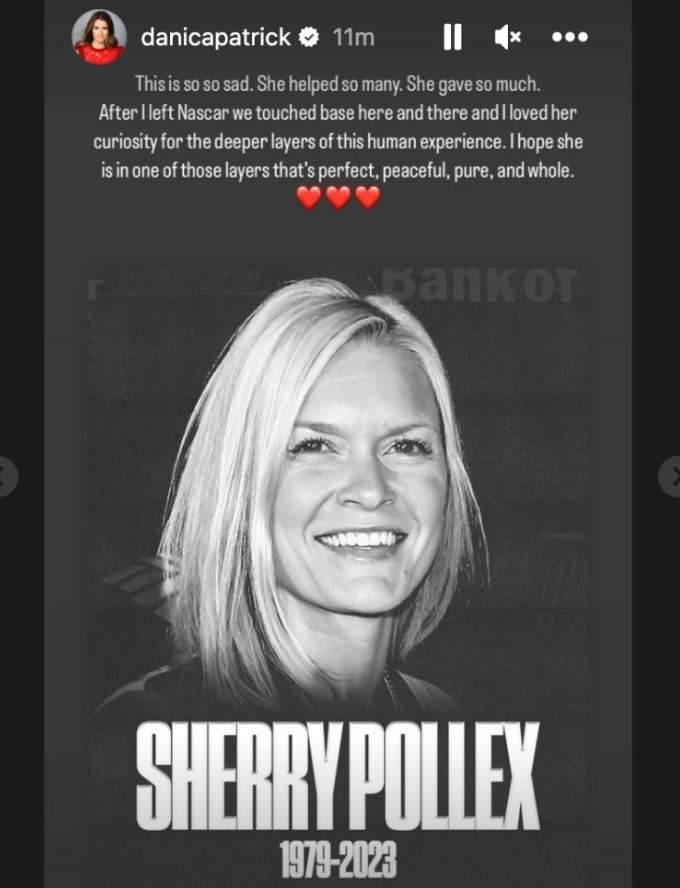 Son of racing legend and current driver Dale Earnhardt Jr. wrote in a social media post, "She was such a fighter. Inspiring in how she went about her own challenges but also how she learned to live every day to its fullest. Amy and I were lucky to have known her and call her a friend."
She was such a fighter. Inspiring in how she went about her own challenges but also how she learned to live every day to it's fullest. Amy and I were lucky to have known her and call her a friend. https://t.co/wVzIxlK9LK

— Dale Earnhardt Jr. (@DaleJr) September 17, 2023
NASCAR racecar driver Denny Hamlin, 42, said on the "Actions Detrimental" podcast, "She's been a huge advocate for cancer survivors and those who are battling cancer for so many years now. She's been a staple in our sport and done a lot of great things for a lot of great causes for many, many years."
Pollex has been in and around the sport of racing for decades. According to NASCAR, her father, Greg, was a racecar driver for Late Models and eventually went into team ownership in NASCAR. His PPC racing team won the 2000 championship in what would become the NASCAR Xfinity Series. Meanwhile, Sherry worked with the sport's public relations department.
Pollex's relationship with Martin Truex Jr. began in 2005, dating for 18 years. The couple split just before the 2023 racing season began.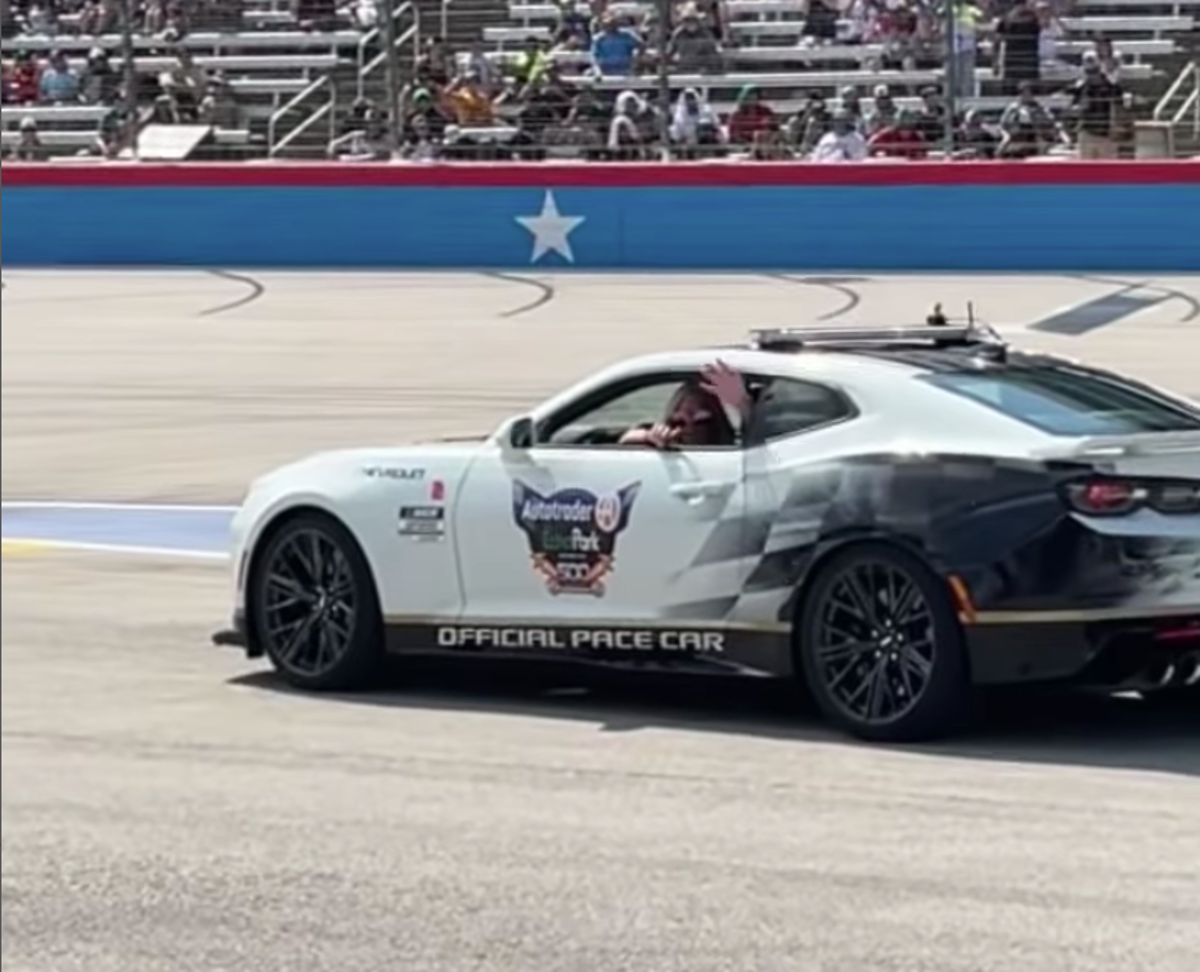 Pollex's family also expressed their sadness in a statement acknowledging Pollex's wide-ranging support.
"Although there are no words to express our sadness, we take solace in the fact that Sherry is no longer suffering and has been taken back in the arms of the Lord. As we all know, Sherry lived her life to the fullest, as she influenced thousands, if not millions, of people through her own personal journey," the statement read in part.
"We will continue her legacy of love and caring for those in need, as she will always be alive in our hearts," the family continued.
Sherry Pollex's Ovarian Cancer Journey
Sherry Pollex was diagnosed with stage 3C ovarian cancer in 2014 when she was just 35 years old. Stage 3C means the cancer had spread from her ovaries to her abdomen. Her doctors told her that her chances of survival were just 30% over the next five years, TobyChristie.com previously reported.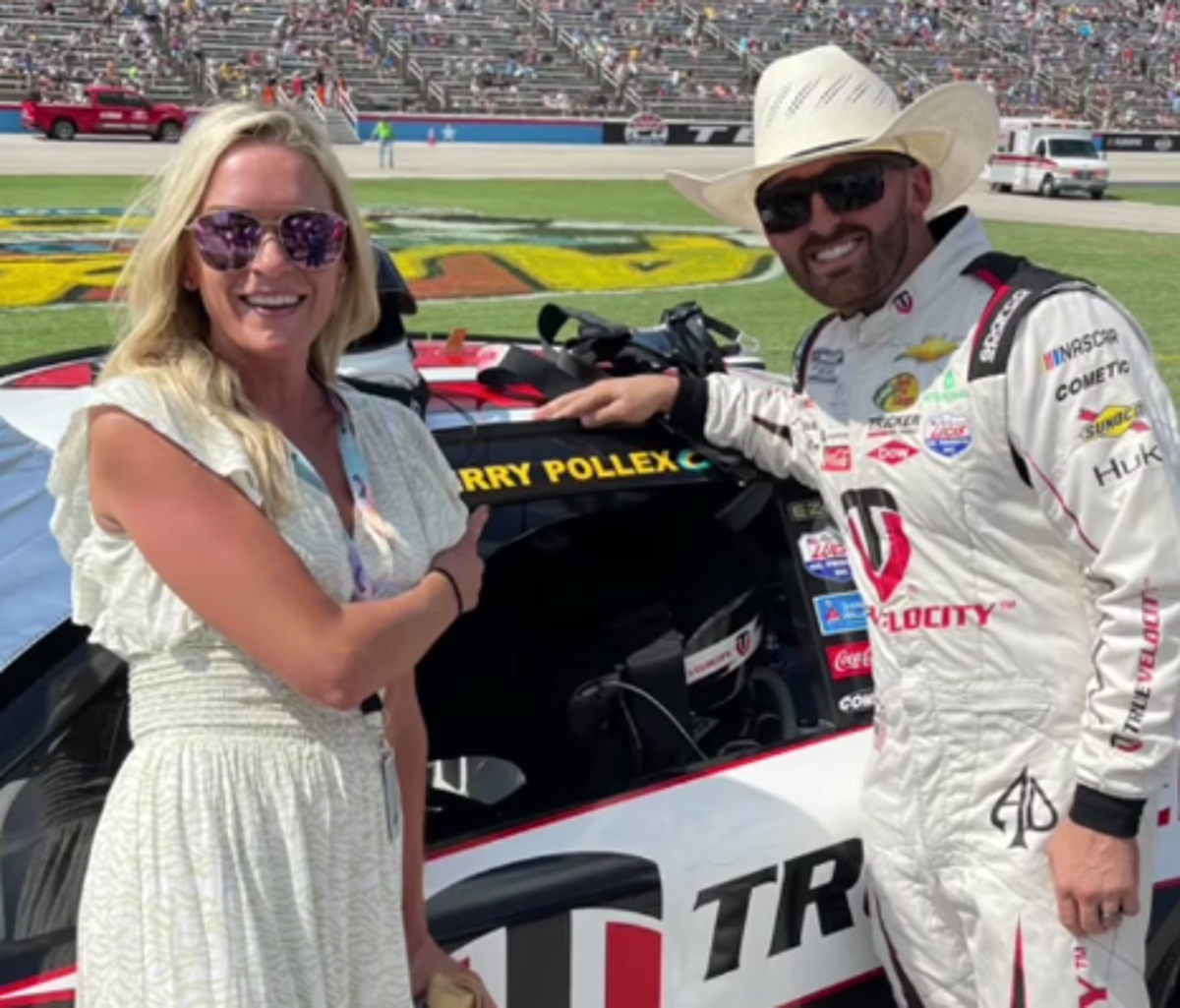 Ovarian cancer is a type of cancer that starts in the ovaries, which are the female reproductive organs that produce eggs. Women don't often experience symptoms until it has reached later stages. Hence, the cancer is nicknamed the "cancer that whispers." Signs of the disease often mimic your menstrual cycle, making it even harder to detect.
There is no screening test for ovarian cancer, but if you are experiencing symptoms, your doctor should do a workup to determine if you have cancer. This includes a health history check, a physical exam, and a transvaginal ultrasound.
Despite the odds, Pollex fought to live a full life for nearly a decade. She entered remission several times over the years. However, her cancer returned in July 2022 and spread to her lungs and esophagus.
The last time Pollex underwent chemotherapy, a few months before her latest recurrence, was when she discovered her cancer was what they call "platinum-resistant."
Ovarian cancer is sub-categorized into two groups.
Platinum-Sensitive Ovarian Cancer: Your cancer does not return for more than six months after treatment with platinum-based chemotherapies, like carboplatin and cisplatin.
Platinum-Resistant Ovarian Cancer: Your cancer returns within six months of treatment with platinum-based chemotherapies, like carboplatin and cisplatin.
WATCH: Debulking surgery or ovarian cancer.
Pollex had her first debulking surgery, which took eight hours, in August 2014 at Novant Health in Charlotte.
"Many women with newly diagnosed ovarian cancer will be offered a primary debulking surgery," says Dr. Adam Elnaggar, gynecologic oncologist at the West Cancer Center in Memphis, Tennessee.
"That is the initial step towards treating the ovarian cancer." Primary debulking surgery is when the surgery is given as the first treatment after an ovarian cancer diagnosis. The most common alternative is neoadjuvant chemotherapy, in which the first treatment is instead of chemotherapy.
"If you picked up a handful of sand, it was like that plaque-like tumors blanketing my peritoneal area. I had a radical hysterectomy, liver resection, colon resection, appendectomy, stomach scraped. It was intense. Waking up after that surgery, was like, 'Whoa. You've gotten cut from your sternum to your pubic bone," Sherry Pollex described her situation.
She underwent six rounds of IV chemotherapy using a port near her rib cage.
"For eight hours, they chemo-wash you. They turn you around. Every 8 hours. That was the toughest six months of my life," she said.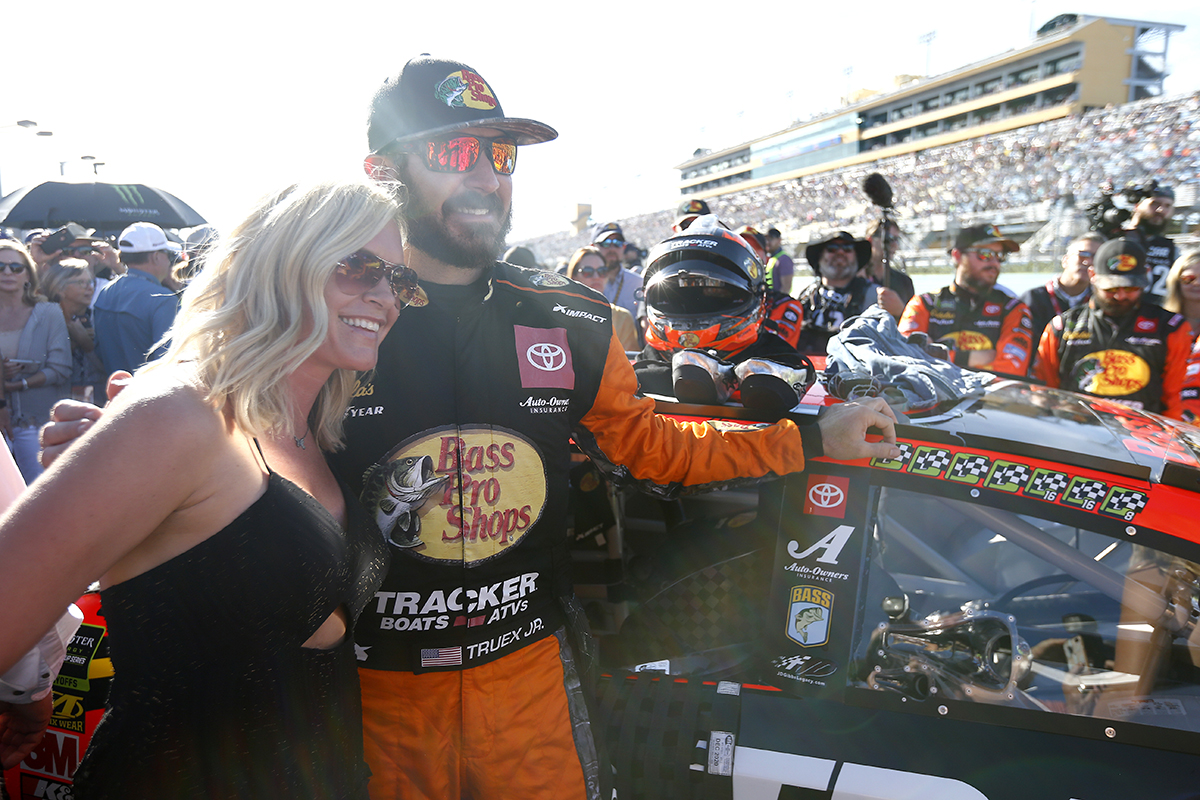 The impact of chemo eventually took its toll on the brave and beloved NASCAR figure. Pollex said she could barely recognize herself during treatment.
"You weigh 80 pounds, no hair, no eyelashes," she described.
Chemotherapy stops cancerous cells from growing, dividing, and spreading to other organs within the body. As it travels through the bloodstream, chemotherapy drugs kill cancerous cells. This treatment has side effects, including fatigue, nausea and vomiting, and hair loss.
"A common question that we get is whether or not chemotherapy will cause a lot of nausea and vomiting," says Dr. Amer Karam, gynecologic oncologist at Stanford University in the San Francisco Bay Area. "That may have been true a number of decades ago, but we've gotten very good at being able to prevent nausea and vomiting, particularly right after chemotherapy."
The resilience of Pollex aided her in recovery, and she even had a reprieve until the cancer returned 15 months later in her spleen and liver. Another surgery was on the horizon, and six more months of chemotherapy.
In 2017, she started taking a PARP inhibitor, which prevents cancer cells from repairing their damaged DNA and multiplying.
WATCH: Using PARP inhibitors during treatment.
Pollex also got into integrative modalities and noticed another area for improvement in the cancer world.
"There's such a breakdown in our system of teaching cancer patients how to take care of themselves after we pump them full of drugs. You cannot be in the same environment you got sick in. We need to be teaching patients that," she said.
Integrative medicine for Pollex meant eating healthy foods, doing yoga and meditation, and spending time in a hyperbaric chamber. (A hyperbaric chamber is an enclosure where a user breathes in oxygen at levels above normal atmospheric pressure.)
She followed a ketogenic diet and got "mistletoe injections" in her body weekly. The National Cancer Institute describes mistletoe injections as mistletoe plant extracts given to the patient to help manage conditions including headaches, menopausal symptoms, and arthritis, among other ailments.
To help make sure patients have access to integrative medicine, she opened the Sherry Strong Integrative Medicine Oncology Clinic in November 2020, which offers services such as oncology massage, acupuncture, meditation, yoga, and nutrition counseling to patients regardless of their ability to pay.
Questions for Your Doctor
If you have been diagnosed with ovarian cancer and need guidance to further educate yourself on the disease and treatment, consider these questions for your doctor.
What type of ovarian cancer do I have?
What stage is my cancer in?
Do you recommend I get genetic testing for any gene mutations, such as the BRCA gene mutation?
What initial treatment options do you recommend?
What are the possible side effects of the recommended treatment, and how to cope with them?
Will insurance help cover my recommended treatment?
Learn more about SurvivorNet's rigorous medical review process.
---