Olympian Faces Health Challenge Head-On
Dara Torres, 55, has psoriais, a skin condition related to an immune system problem.
Torres proudly owns her skin condition, which she's had for decades.
Psoriasis is often asymptomatic, so people who have the disease will not be dealing with constant outbreaks.
12-time Olympic medalist Darra Torres, 55, knows what it's like to face difficulties as the result of a health challenge; Torres has had psoriasis for decades.
The former competitive swimmer and former world record-holder has this skin condition in which skin cells build up and form dry, itchy patches. She first discovered patches of it on her elbows while training for the 1992 Olympics.
Dara Torres's Skin Care Battle & Taking Care of Your Mental Health During Health Issues
Read More
Psoriasis is a skin disease that causes a rash with
itchy, scaly patches
, most commonly on the knees, elbows, trunk and scalp, reports The Mayo Clinic.
Torres went to a dermatologist
who believed stress was impacting her skin and leading to psoriasis; the doctor also thought that the combination of sun and chlorine made her condition worse.
"This is who I am. If I have psoriasis, I have psoriasis."
Torres has tackled her skin problem head-on, and proudly worn swimsuits while having this condition. We love to see Torres owning who she is, and not paying too much attention to what others might think. The Beverly Hills, CA, native is an inspiration to so many people.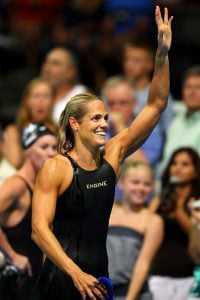 In an interview with Future of Personal Health, Torres says, "[My psoriasis] really just had to do with my stress levels. I had to figure out how to maintain the levels of cortisol in my body and not get so stressed, but also put some ointment on that was going to help reduce the inflammation."
She continues, "Be proud in your own skin. My business suit was a swimsuit so I couldn't cover up and I realized I don't really need to. This is who I am. If I have psoriasis, I have psoriasis."
"Psoriasis is a common, long-term (chronic) disease with no cure. It can be painful, interfere with sleep and make it hard to concentrate. The condition tends to go through cycles, flaring for a few weeks or months, then subsiding for a while. Common triggers in people with a genetic predisposition to psoriasis include infections, cuts or burns, and certain medications," says The Mayo Clinic.
It's clear that Torres has a lot of inner confidence and comes at life from a place of groundedness. If you, like Torres, are facing physical health challenges, it's important to care for your mental health throughout that challenge. Formal resources like therapy, meeting with a social worker, or joining a support group, can all help.
"Therapy Saved My Life": After Losing A Loved One, Don't Be Afraid To Ask For Help
Understanding Psoriasis
Psoriasis is a skin condition that causes red, itchy patches to develop on the skin. It is a chronic disease, which means that it does not have a cure. Fortunately, symptoms can often by managed with different treatments and, for some, even lifestyle adjustments. The disease is rare; only about 3.2% of the U.S. population has it, according to the American Academy of Dermatology. Still, there have been major developments when it comes to treating psoriasis in recent years.
"Psoriasis is a chronic, auto-immune skin condition where you have red, scaly patches on the skin," Dr. Saakshi Khattri, a dermatologist/rheumatologist at Mount Sinai Health System, tells SurvivorNet. "It is a chronic condition, which can ebb and flow. You can have good days and bad days."
Dr. Saakshi notes that while anyone can develop psoriasis, the disease is more common in people between the ages of 30 and 50. Researchers believe genetics, as well as environmental factors, may play a role in the development of psoriasis.
Dr. George Han, a dermatologist at Northwell Health/Lenox Hill Hospital, tells SurvivorNet that psoriasis is also connected with many internal comorbidities. "The most obvious of which is psoriatic arthritis, which is an inflammatory arthritis that if left untreated is debilitating…as well as a number of other comorbidities that we're learning more and more about, such as inflammatory bowel disease, metabolic syndrome. So there's a lot of different connections, also with psychiatric comorbidities."
What are the Symptoms of Psoriasis?
Psoriasis is often asymptomatic, so people who have the disease will not be dealing with constant outbreaks.
"Some patients report itching [or a] burning sensation, but that doesn't tend to be the norm. It certainly can happen," Dr. Khattri explains. "Then if you have psoriasis in the genital area, it can feel uncomfortable just because it's in a very sensitive part of the body. But for the most part, it tends to be asymptomatic."
Dr. Han says he sees many patients with itching.
"It's interesting because if you look at the older dermatology textbooks, there was this concept that psoriasis is not supposed to itch. And so they made this distinction between the itchy rash, which is eczema dermatitis and psoriasis, which is supposed to be not itchy," Dr. Han says. "But if you actually ask patients and in some of the literature now, upwards of 80, 90% of patients do have itching associated with psoriasis."
Symptoms associated with the disease include:
Red patches of skin covered with silvery scales
Small scaling spots
Dry, cracked skin that may bleed or itch
Itching, burning, or soreness
Thickened or ridged nails
Swollen or stiff joints
Dr. Khattri recommends seeing a dermatologist if you notice red, scaly spots on the body so a doctor can make a proper diagnosis. Psoriasis patches can vary in how they appear on the skin. The disease may present as just a few spots with dandruff-like scaling or as rashes that cover large parts of the body. The most commonly affected areas are the lower back, elbows, knees, legs, soles of feet, scalp, face, and palms.
Dr. Han says most types of psoriasis can be diagnosed clinically, meaning the doctor can determine psoriasis on sight. With more atypical forms of psoriasis, a biopsy may be needed.
What is Psoriasis? Understanding the Different Types and Symptoms of This Rare Skin Condition
SurvivorNet staff reporters contributed to this article. 
Learn more about SurvivorNet's rigorous medical review process.