Man Thanks Deadpool for Helping Him Find His Cancer
An NHS worker in England detected his testicular cancer after watching a video featuring Deadpool encouraging men to look for lumps and perform self-checks.
Testicular cancer is most common in young men. The average age of diagnosis is 33 years old. This cancer often presents as an unusual lump; testicular cancer is treated with chemotherapy, surgery, and radiation.
"Invest in your health by eating well and exercising regularly," say our experts on how to lower testicular cancer risk; additionally, perform regular self-checks after showering.
Deadpool is a superhero on the big screen, but it turns out he's saving lives in real-life, too.
In a video shared to YouTube, the character Deadpool — played by Ryan Reynolds in the eponymous film — encouraged men to look for lumps in their testicles. A then-26-year-old Rishiel Gudka was watching in England and it led to his early diagnosis of testicular cancer. Today, he's cancer-free at 31.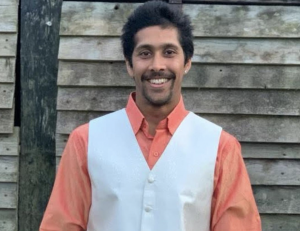 Read More
In the video, Deadpool says to "tweak your tomatoes," a not-so-subtle way of suggesting men check their testicles for cancer. And he says, "It's time to fight back." He also describes in detail how to do a self-check for testicular cancer, and says to speak with a doctor if a lump is detected. "Check those bad boys at least once a month after the bath or shower."
Gudka is a National Health Service (NHS) physiology assistant from Harrow, just outside of London, and he says the video clip featuring Deadpool talking about testicular cancer "essentially saved my life," reports Sunday World. 
"If I hadn't watched that Deadpool video then I would not have checked and I would not have caught the cancer so early," says Gudka.
Related: Did You Know Comedian Tom Green Had Testicular Cancer? How The Funnyman Used Humor to Spread Awareness
The NHS worker says he barely had symptoms of the disease. "So there was nothing alerting me that there was anything wrong," he says. Watching the video inspired him to give himself a self-examination of his testicles, during which he found a lump and contacted a doctor. He was directed to a specialist who diagnosed him with the earliest possible stage of testicular cancer.
Gudka wants men like him to take care of their health and speak up when something is wrong. "Men dismiss things because there is a societal expectation to be tough all the time," he says. "Men are expected to just get on with things and don't want to admit when something is wrong or look weak."
Thanks to taking charge of his health, Gudka caught his cancer at an early stage.
Understanding Testicular Cancer
Each year, approximately 10,000 new cases of testicular cancer are diagnosed in the U.S. This is a cancer that primarily affects young men aged 15 to 35. The average age at the time of diagnosis of testicular cancer is about 33, according to the American Cancer Society.
Dr. Edwin Posadas, the medical director of the Urologic Oncology Program at Cedars-Sinai Cancer, tells SurvivorNet in an earlier interview that this disease often presents as an unusual lump. "It's not uncommon to see men come in with masses on their scrotum and have inflammation of the scrotal wall; they develop pain as a result. A lump is the most common symptom of testicular cancer."
Related: 5 Important Facts About Testicular Cancer, Including How to Screen for the Disease
Dr. Posadas also says that testicular cancer doesn't often present with pain, but it can. "Most men will present with some sort of mass on their testicle. A sexual partner or spouse may feel the mass when they're being intimate." He also says some men may notice blood in their ejaculate as a result of testicular cancer, which is a less common symptom.
In an earlier interview, Tripp Hornick reflects on the potential embarrassment some men might feel after a testicular cancer diagnosis, as with other intimate-body-part cancers, such as anal cancer. He tells SurvivorNet, "Shame is an important topic when it comes to cancer. And I think we as men have an awful lot that we can learn from what women have had to go through in breast cancer."
"The most important thing is to never become the victim and not to empower yourself as a victim," says Hornick. "There's nothing good and nothing positive about sending a message as a victim and a culture of victimhood. The way to turn the shame upside down, if you have it, is to show how strong you are."
"Those of us, the vast majority of people who have had [testicular] cancer and gone on to live very successful and happy lives– listen to those people. Listen to us. Listen to yourself."
Dealing With the Shame That May Come With Testicular Cancer
Treatment for Testicular Cancer
Five years after his diagnosis, Gudka is cancer-free, thanks to treatment. He underwent chemotherapy and had one of his testicles removed as well.
Related: 10 Things I Wish I Knew Before I Was Diagnosed With Testicular Cancer
The treatment path will depend upon the stage at which the cancer is diagnosed. Common treatments for testicular cancer include chemotherapy, surgery, and radiation.
When it comes to risk mitigation for testicular cancer, maintaining a healthy lifestyle is important, says Dr. Posadas. "When your body is young, you want to invest in the future – the same way we think about saving money – you want to save health," says Dr. Posadas.
"Invest in your health by eating well and exercising regularly. The epidemic of obesity is dangerous. Due to the lifestyle of convenience," he says, "some men are not taking the best care of themselves, and not seeing a physician. One has to invest in their long-term future."
Losing a Testicle to Cancer Doesn't Mean You'll Lose Out on Love
Learn more about SurvivorNet's rigorous medical review process.