James Makes Time for Family Amid Bowel Cancer
BBC's Deborah James is fighting bowel cancer but she's been able to enjoy some time off treatment, and spending time with her family, too, during the holiday season.
James was diagnosed with stage four bowel cancer in December 2015.
Many people find comfort in spending time with family and loved ones during a cancer battle. Faith communities can also be of assistance.
BBC podcaster Deborah James, 40, is fighting bowel cancer but her cancer isn't standing in the way of spending time with her children during the holidays. She was first diagnosed with the disease in 2016 and has been an outspoken advocate for bowel cancer awareness, even dubbing herself "Bowel Babe" on Instagram, where she regularly updates fans on her cancer journey.
Related: BBC Podcaster Deborah James, 39, Faces 12th Surgery for Bowel Cancer: 'I Worry That I Won't Wake Up'
Read More
In a new video shared on her Instagram story, James speaks directly with fans and followers and gives them an update about her cancer journey. "I am spending a lot of time with my children," she says.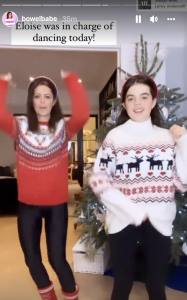 She also notes her "hideous scan anxiety" and says that after Christmas she'll have more information about "what is going on with my cancer," and if there will be any alterations to her treatment plan. "I've been off treatment for three months now," says James, who doesn't go into detail as to why the break in treatment.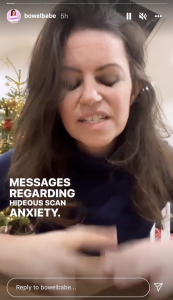 James also shares some adorable videos of dancing with her children and explains how they're spending the Christmas holiday watching all eight of the Harry Potter films.
What is Bowel Cancer?
James was diagnosed with stage four bowel cancer in December 2015. Bowel cancer is a general term for cancer that begins in the large bowel, says the National Health Service. Depending on where cancer starts, bowel cancer is sometimes called colon or rectal cancer, or colorectal cancer.
Related: Singer Adele's Estranged Father Died from Bowel Cancer at 57; Why Reconciliations are Complex
In the UK, where James lives, bowel cancer is one of the most common types of cancer diagnosed. And it typically presents in people over the age of 60. And in the U.S., colorectal cancer is the third most commonly diagnosed cancer in both men and women, excluding skin cancers. The American Cancer Society (ACS) estimates that in 2021 there will be 104,270 new cases of colon cancer and 45,230 new cases of rectal cancer.
Treating a Bowel Obstruction Caused by Colon Cancer
Time with Family During Cancer Battle
Many people find that spending time with loved ones, like children or partners or other family members, is helpful during a cancer battle. In an earlier interview, ovarian cancer survivor Beverly Reeves stresses how critical it is to have a supportive, loving community guiding you during your cancer battle.
Reeves tells SurvivorNet, "f I had one piece of advice for someone who had just been diagnosed with ovarian cancer, it would be to get a strong support group together. Get your close friends. If you're connected to a faith community, get your faith community."
"Get your family," says Reeves. "Let them know what's going on and let them help you. And sometimes that's the most difficult thing to do, but just know that they are there. If they love you, they're there to help you. And don't be embarrassed."
She continues, "Because this is a cancer that not a lot of people want to talk about. But it's real and we need to talk about it, and we do need that help. So talk to your family and your friends and your faith community, and get that network together so they can support you and be there for you."
'Faith, Family, and Friends' Helped Beverly Reeves Get Through Ovarian Cancer Treatment
Learn more about SurvivorNet's rigorous medical review process.