Know the Signs of the Cancer that Whispers
Sandi Holland, 54, says she was misdiagnosed with irritable bowel syndrome for years until scans revealed she was battling ovarian cancer.
Many ovarian cancers begin in the fallopian tubes. As the fallopian tubes brush over the ovary, cancerous cells stick to the ovaries and eventually grow to form a tumor.
Irritable bowel syndrome (IBS) is a gastrointestinal disorder that affects your digestive system according to the Cleveland Clinic.
Ovarian cancer and IBS symptoms are different diseases but can lead to similar symptoms like bloating, pain and changes in bowel habits.
Holland stresses that it's important to stand up for yourself if you feel your condition is not being addresses appropriately, and that's something experts that SurvivorNet spoke to agree with. Seeking a second (or even third) opinion can also help you get the answers you need.
For years, doctors told Sandi Holland, 54, that the constipation, pain and bloating she was experiencing was because of a common intestinal condition. It wasn't until she developed two lumps in her abdomen that tests finally revealed the true cause of her issues: advanced ovarian cancer.
"Please don't tell me this is IBS," Sandi Holland, in an interview with the U.K. news outlet StokeonTrent Live, recalled telling a doctor.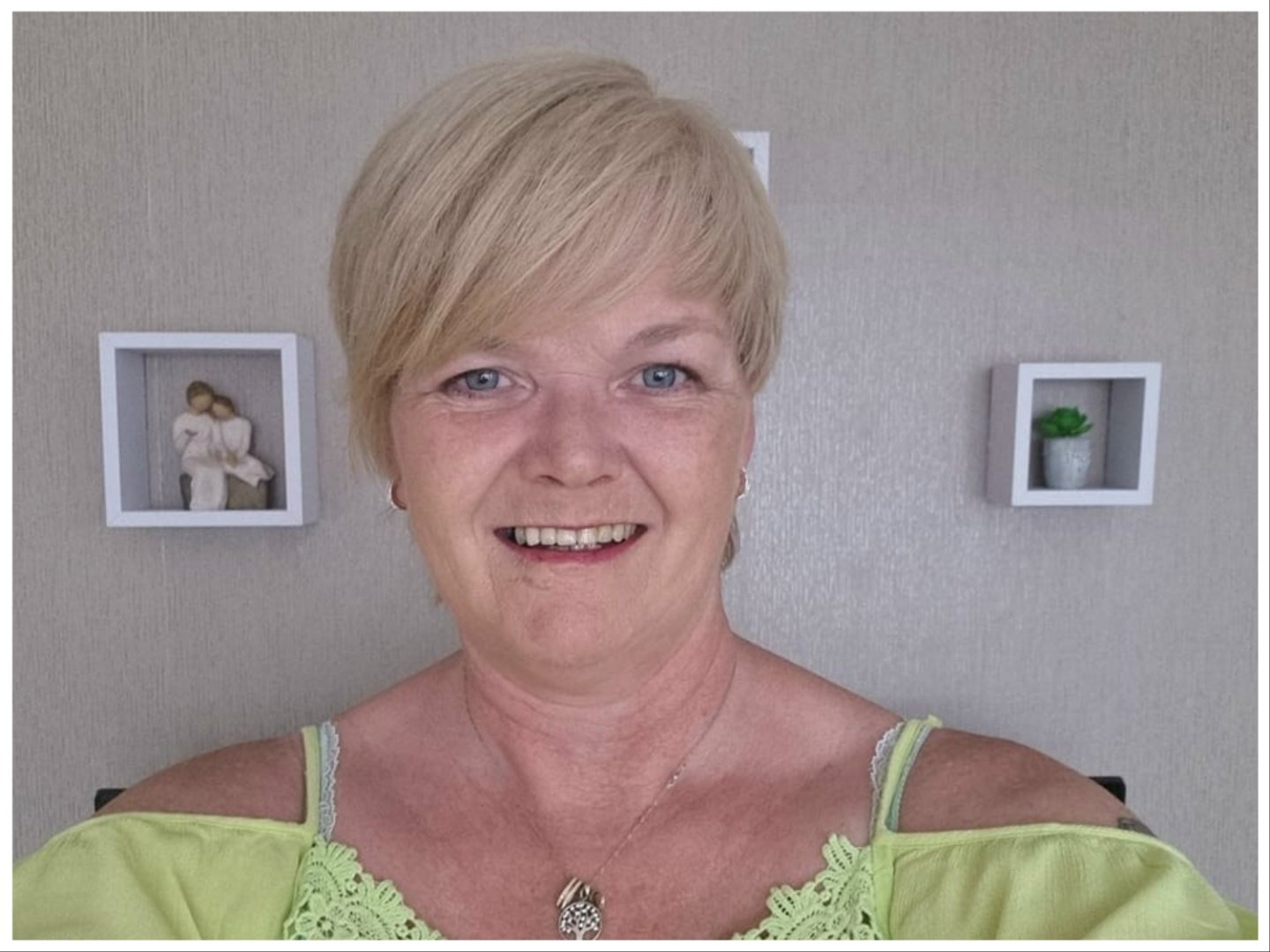 Read More
Holland said she had been dealing with symptoms for 40 years. "I was having constipation, the runs, and constantly looking like I was pregnant when I knew I wasn't. All the years, and all the problems with stomachache, and they said it was IBS," Holland explained. Irritable bowel syndrome (IBS) is a gastrointestinal disorder that affects your digestive system,
according
to the Cleveland Clinic. I can lead to pain, bloating and bowel changes like constipation or diarrhea, just like Holland was experiencing.
She would often go to the doctor to try to figure why she often felt the way she did, but the answer was always the same.
"At the doctors, they always said it was IBS, IBS, IBS, until last February," she said.
That's when she "felt a lump inside my stomach. I noticed it while I was in bed. I knew something wasn't right.
This time around, she went back to her doctor with a stern message.
"Please don't tell me this is IBS," she recalled.
Scans helped reveal what was going on.
"They found I had two cysts one of 4 cm and one 3 cm. The doctor said 'I don't like the look of these, they look like they're growing tails. I'm going to transfer you to a specialist," she said.
She was diagnosed with advanced ovarian cancer.
"How long do you think I've had it?" Holland asked her oncologist, who couldn't say with certainty.
"They said everybody misdiagnoses IBS. I was gobsmacked. At first, the oncology team said they could operate but then they couldn't," Holland explained.
Since her diagnosis, Holland started palliative chemotherapy last May.
Palliative care is focused on symptom relief and improving quality of life, and it can be given alongside regular treatment of the disease.
Holland is also urging other people to stand up for themselves when they feel something isn't right.
"I just want to make people aware that IBS might not be IBS. Make sure that with any signs or symptoms, you just go and see the doctor," Holland said.
What Are the Symptoms of Ovarian Cancer and Irritable Bowel Syndrome?
The symptoms of ovarian cancer may include the following, according to SurvivorNet experts.
A feeling of bloating or fullness
Pain in the pelvis or abdomen
Nausea
Vomiting
Changes in bowel habits
These can be similar to symptoms many women experience monthly with their menstrual cycle, which makes distinguishing this cancer so difficult.
And as Sandi Holland demonstrated, they can also be similar to symptoms experienced with other health conditions, such as IBS.
According to the Cleveland Clinic, irritable bowel syndrome symptoms may include:
Abdominal pain and cramps
Bloating
Bowel movements that are harder or looser than normal
Diarrhea and constipation
Excessive gas
Mucus in your stool
As you can see, boating, abdominal pain and changes in bowel habits are similar symptoms the two conditions share.
If you are experiencing symptoms that aren't normal for your body and feel doctors aren't addressing them appropriately, SurvivorNet experts urge people to advocate for the answers they feel they need.
Seeking a second (or even third) opinion can also help in getting your condition assessed.
Ovarian Cancer Basics
Ovarian cancer has been called the "cancer that whispers," because women often don't experience symptoms until their cancer has already reached its late stages. The symptoms that do appear at first are hard to identify as cancer.
Many ovarian cancers begin in the fallopian tubes. A few cancerous cells first grow on the fallopian tubes and then, as the fallopian tubes brush over the ovary, these cells stick to the ovaries and eventually grow to form a tumor.
A few factors might increase the risk of ovarian cancer. Having these factors doesn't mean you will get this cancer, only that your risk is slightly higher.
Your risk for ovarian cancer may be increased if you:
Have gone through menopause. Ovarian cancer is rare in women younger than 40.
Have a gene mutation. The BRCA1 and BRCA2 genes help cells repair their DNA damage. Having a change, or mutation, in one of these genes increases your risk of getting ovarian cancer. These gene mutations are commonly passed down in families.
Are overweight or obese. Being very overweight might not only affect your risk of getting ovarian cancer but also your survival if you are diagnosed.
Had your first pregnancy after age 35, or never carried a pregnancy to full-term. Of course, this doesn't mean that women should have children just to protect themselves.
Have family members with cancer. Your risk might be higher if you have close family members who have had ovarian, breast, or colorectal cancer.
Used hormone replacement therapy. Women who take estrogen and progesterone after menopause are at slightly higher risk than women who don't use these hormones.
No routine screening tests are recommended for women who are at average or low risk for ovarian cancer. Since symptoms can be subtle and hard to distinguish from everyday ailments like a stomach bug, SurvivorNet's medical experts say women need to know their family history, be vigilant for symptoms, and ask their doctor for testing if they have any unusual or persistent symptoms.
WATCH: Palliative Care in Ovarian Cancer
Palliative Care in Ovarian Cancer Treatment
While we don't know the exact stage of Holland's ovarian cancer, we do know it is advanced and that she is receiving palliative care.
In stage 4 ovarian cancer, the cancer cells have spread beyond the abdominal cavity to other organs. There may be tumors inside the liver, inside the spleen, in and around the lungs or other organs outside the abdomen and pelvic region, and possibly in the bones, according to SurvivorNet's experts.
Stage 4 ovarian cancer can be treated like stage 3, with surgery to remove the tumor and debulk the cancer. Surgery is then followed by chemotherapy.
In other instances, chemotherapy may be conducted first to shrink the tumors before surgery. It is important to talk to your doctor to learn the best treatment method for you.
As part of Holland's treatment, she's undergoing palliative chemotherapy. Palliative care during ovarian cancer treatment is a "holistic approach," says Dr. Daniel Metzinger, a gynecologic oncologist at the University of Louisville.
"It's an area of medicine that focuses on supporting an ovarian cancer patient's quality of life," Dr. Metzinger added.
Many people confuse palliative care with hospice care, which deals strictly with end-of-life issues. While both palliative care and hospice care aim to make patients as comfortable as possible, patients in hospice care are no longer receiving treatment for their disease.
Palliative care, by contrast, is designed to work alongside a patient's treatment regimen to keep them as comfortable as possible so they can continue living. Palliative care simply provides another level of treatment for patients.
Learn more about SurvivorNet's rigorous medical review process.
---