Robin Roberts Winds Down 'Dream' Italy Vacation With Partner
GMA anchor Robin Roberts, 61, is wrapping up her extended summer vacation in Italy with partner Amber Laign, 47.
The two are on a 'dream' getaway to Capri, Italy, as Laign recovers from breast cancer treatment.
Laign was diagnosed with breast cancer earlier this year, while Roberts was diagnosed in 2007 after discovering a lump.
Roberts has been taking some time off work to be there for Laign, as Amber was there for Robin when she battled breast cancer followed by MDS, a secondary blood cancer officially known as myelodysplastic syndrome
Breast cancer survivor turned breast cancer caregiver Robin Roberts, 61, appears to be enjoying the last days of her extended vacation to Italy with her partner Amber Laign, 47.
On Instagram, the 'Good Morning America" host posted a picture-perfect video of clear blue skies and white cumulus clouds above an endless ocean view from the bow of a sailing cruise ship.
View this post on Instagram
Read More
The video was set to rapper Pitbull's song "I Feel Good" featuring DJ Anthony Watts.
"I don't know 'bout you, but I feel good!" are the lyrics to the song posted with the video and shared by Roberts with her nearly 800-thousand followers on Thursday.
She ended her post with the hastags "Thankful Thursday" and "Happy Friday Eve."
Both are common phrases used by the emmy-winning broadcaster as a way to spread her message of positivity and hope.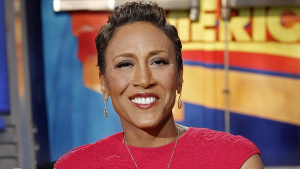 The "Brighter By The Day" author recently celebrated 20 years of hosting GMA, and has been posted dreamy pictures and videos on Instagram of Capri's famous Blue Grotto, gorgeous panoramic views and mouth-watering food.
Robin And Amber Take Turns Fighting Breast Cancer
Roberts, a Tuskegee, Alabama, native, went through treatment for breast cancer in 2007.
Then in 2012, she underwent a bone marrow transplant after developing a secondary blood cancer called myelodysplastic syndrome (MDS).
Robin's initial diagnosis came after she discovered a lump while preparing for a news segment on performing self-checks.
"At first I thought, 'This can't be. I am a young, healthy woman,'" Roberts said on 'GMA' at the time.
Her partner, Amber or "Sweet Amber" as Robin calls her, helped Robin by discovering various oils to manage her symptoms.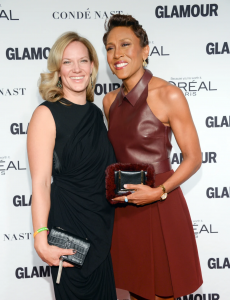 Now it's Robin's turn.
Amber has been battling breast cancer for months, with Robin serving as her caregiver.
Related: Robin Roberts, 61, Says Partner 'Sweet Amber' Laign, 47, Had 'Challenging Week' Fighting Breast Cancer, Thanks Fans For Supporting Robin's Time Off
The NYC journalist has been taking some time off work to be there for her love, as Amber was there for Robin when she battled breast cancer followed by MDS.
Roberts credits early detection and her faith for getting her through both of her cancer battles, and now she is continuing to lean on her faith as she helps Amber through her own journey.
Amber is a bit more private in her life, but Roberts, as a public figure, has felt compelled to continually raise awareness for what she has been through.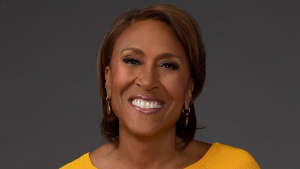 "When you're the patient you know what you're doing—by your treatment, you have your doctors, you have people watching over you that are helping you," Robin began, addressing how her own battle was much different than what she is experiencing now.
"When you're on the other end as a caregiver, you feel helpless," she admits. "And that's what's been so difficult."
An Important Message for Caregivers
While it is undeniably difficult to be diagnosed with and treated for cancer, the family members and friends who care for cancer patients also face their own set of challenges.
"Caregiving is the most important job in the universe, because you are there through the highs and lows," Julie Bulger, manager of patient and family-centered care at Vanderbilt-Ingram Cancer Center in Nashville, TN, tells SurvivorNet.
"You are there to support your loved one, to manage all of the daily tasks as everything is changing in your life."
Related: 'A Sacred And Blessed Calling': Managing Life As a Caregiver
Caregiver burnout—the stress, anger, fatigue, and illness that can come from putting another person's needs ahead of your own—is real. It can sneak up on you if you don't take care of yourself.
"It is important to have some things that you can do outside of the focus of caring for somebody that you love with cancer," Bulger says.
She suggests that you take a walk. Get a massage. Visit a support group for cancer caregivers, either online or in person. And see a therapist if you're struggling to cope with all of your new responsibilities.
Joining a support group and building your support team is often a very important strategy and can help prevent or reduce the risk of caregiver burnout.
Research also finds that caregivers who take good care of themselves provide the best quality of care. "So you are helping your loved one in more ways than you know.
Learn more about SurvivorNet's rigorous medical review process.
---