Treating Late-Stage Prostate Cancer
Former guitarist of English rock back Duran Duran Andy Taylor, 62, is currently facing stage 4 prostate cancer.
Duran Duran member John Taylor revealed a positive update for fans: "I talk to him and he had hope, he's been introduced to this new treatment."
There are many avenues of treatment to explore for late-stage prostate cancer with advancements being made all the time.
Targeted therapy, hormone therapy, chemotherapy, radiation therapy, immunotherapy and treatment given in clinical trials are all options, so it's important to talk with doctors about what makes sense for you.
Former Duran Duran guitarist Andy Taylor, 62, who is reuniting with the English rock band for a new album, may be facing stage 4 prostate cancer but his bandmate says he still has "hope" in his journey.
Taylor has been dealing with prostate cancer – a disease that starts in the walnut-shaped prostate gland located between the rectum and bladder – for quite some time now. But he chose to keep his diagnosis private until late last year.
Read More
"Just over four years ago, I was diagnosed with stage 4 metastatic prostate cancer,"
he wrote in a letter read at the rock band's induction into the Rock and Roll Hall of Fame
in November 2022. "Many families have experienced the slow burn of this disease and of course we are no different. "Although my current condition is not immediately life-threatening, there is no cure."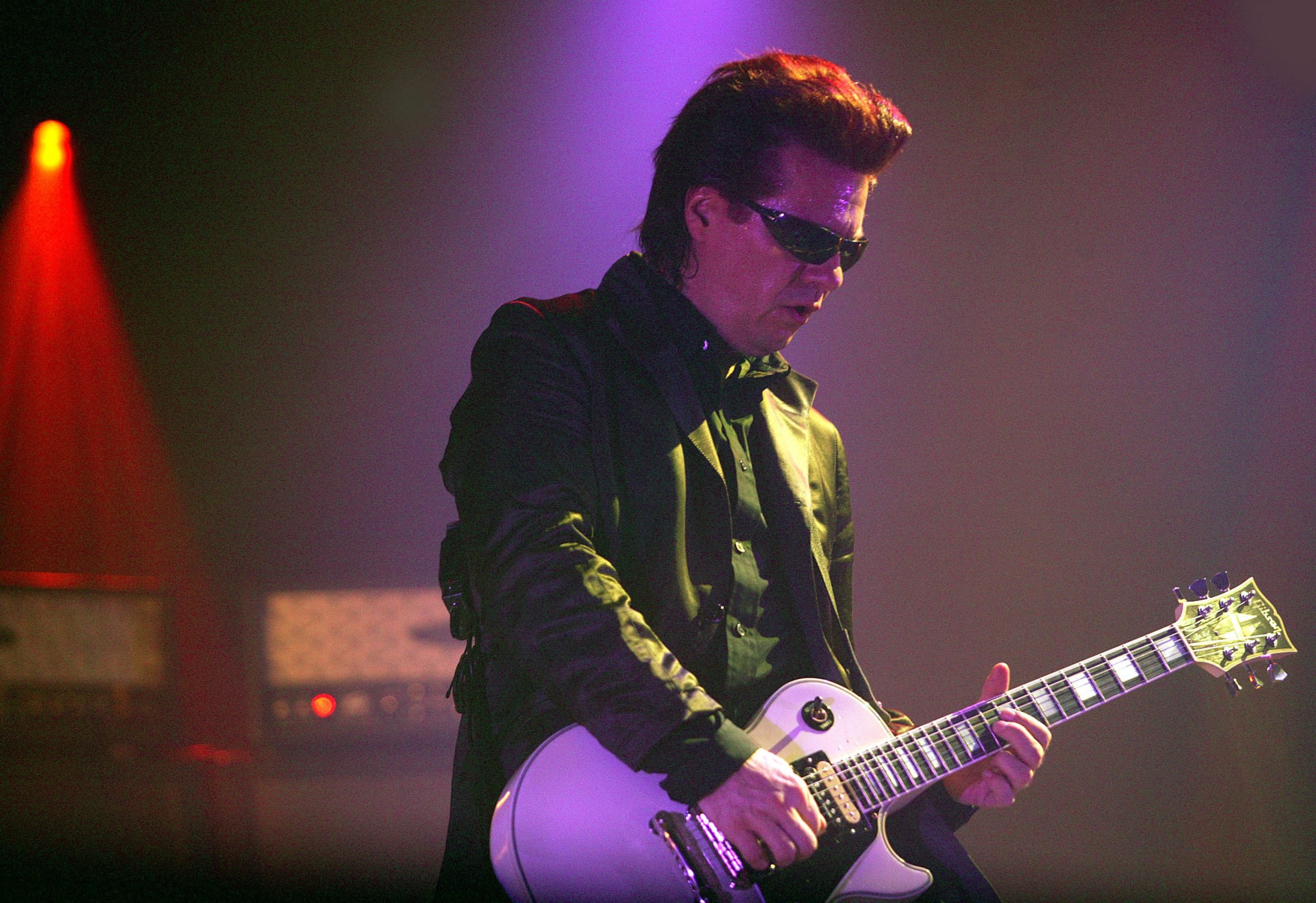 RELATED: Prostate Cancer: Overview
We don't know exactly what Taylor's treatment regimen looks like, but
a recent morning show interview
with current Duran Duran bassist John Taylor, 62, gave fans a positive update. "He's doing okay," John said. "Simon [Le Bon] was with him for a week, they did a bunch of recording on songs for [their new] album," John said. "I talk to him and he had hope, he's been introduced to this new treatment, this new therapy that he's going to be undertaking."
RELATED: Duran Duran Fans Rejoice! English Rock Band Reuniting With Former Member and Cancer Warrior Andy Taylor, 62, For New Album
Taylor is set to release his second solo album, "Man's a Wolf to Man,"
this spring
, but – as John mentioned above – he's also been working with Duran Duran lead singer Simon Le Bon, 64, on tracks for the band's new album. "It's fantastic what we've done," John said of the upcoming album. "It's a different kind of project, there's a lot of cover songs which is unusual for us and then there's some old Duran songs that have been rebooted. Andy sounds phenomenal." Duran Duran has a U.K. tour coming up, but – at least for now – it looks like Taylor won't be able to tag along. "I don't think so, maybe down the road but not yet," John said at the prospect of Taylor joining them on the road.
Late-Stage Prostate Cancer Treatment
We don't know what treatment Duran Duran star Andy Taylor is receiving.
But people with late-stage prostate cancer typically undergo a combination of treatments for their disease.
Some people may receive treatments that are palliative, meaning they're designed to help relieve symptoms rather than cure the disease or stop/slow cancer growth.
While there is no curative treatment for stage 4 prostate cancer, patients have more options than ever with ongoing research.
How to Treat Late-Stage Prostate Cancer: New Treatment Developments
One area being explored for prostate cancer treatment is targeted therapy. In general, targeted therapy is a type of cancer treatment that uses drugs or other substances to precisely identify and attack certain types of cancer cells.
PARP inhibitors are a specific type of targeted therapy that have shown promise in treating late-stage prostate cancer. These drugs work by stopping the activity of poly (ADP-ribose) polymerase –a protein involved in DNA repair.
This causes DNA to be unable to repair itself in cancer cells, which then leads to the death of these cancer cells.
The two PARP inhibitors currently approved by the Food and Drug Administration are:
Lynparza (generic name olaparib)
Rubraca (generican name rucaparib)
When Lynparza was approved by the FDA to treat men who have a form of advanced prostate cancer that is not responding to therapy with hormones – metastatic castration-resistant prostate cancer (mCRPC) –  in 2020, Dr. Stephen Freedland of Cedars-Sinai Medical Center called it "an important drug with life-prolonging properties."
RELATED: New Hope For Later Stage Prostate Cancer Patients: The PARP Inhibitor Olaparib Approved By The FDA
"This FDA approval will benefit patients by providing a new option that delays progression and prolongs life in a subset of patients," Dr. Freedland told SurvivorNet.
"More importantly, for the many men with mCRPC, more active drugs means more hope — that it can delay progression and prolong life, allowing them to live longer and better and continue to hope for even more breakthroughs in the future."
Another recent development for late-stage prostate cancer treatment arrived with the FDA approval for a radiopharmaceutical called Pluvicto (lutetium Lu 177 vipivotide tetraxetan) in March 2022.
This targeted therapy was approved to treat patients with PSMA (prostate-specific membrane antigen) positive metastatic castration-resistant prostate cancer (mCRPC).
RELATED: New Hope for Patients: FDA Approves New Treatment for Certain Types of Advanced Prostate Cancer
Radiopharmaceutical therapy, in general, involves the targeted delivery of radiation to tumor cells or to the tumor microenvironment.
Pluvicto works by identifying the presence of the PSMA protein in a patient's cancer cells and then delivering radiation treatment directly to those cells.
It is considered "theranostic" because it combines diagnostic and therapeutic capabilities.
"The approval of lutetium is a major step in the development of personalized treatment for advanced prostate cancer," Dr. David Penson, of Vanderbilt University Medical Center, told SurvivorNet in a previous interview.
"This agent specifically targets PSMA-positive metastasis and represents the first theranostic agent for use in castration-resistant metastatic prostate cancer."
Another expanding realm of late-stage prostate cancer treatment comes in the form of hormone therapy.
Androgen deprivation therapy is one type of hormone therapy that uses surgery or medicines to lower the levels of androgens, or sex hormones, made by the testicles.
These therapies are effective because prostate cancer feeds off testosterone, one type of androgen.
How Does Androgen Deprivation Therapy Help Shrink Prostate Cancer Tumors?
"The traditional standard of care for metastatic prostate cancer is androgen deprivation therapy, or hormone therapy," explains Dr. Jeff Tosoian, a urologic oncologist at Vanderbilt University Medical Center.
More common types of androgen deprivation therapy include:
Orchiectomy, a surgical procedure to remove one or both testicles
Drugs called luteinizing hormone-releasing hormone (LHRH) agonists, which prevent the pituitary gland from secreting a hormone called luteinizing hormone
Drugs called LHRH antagonists, which prevent LHRH from binding to its receptors in the pituitary gland to prevent the secretion of luteinizing hormone
"Prostate cancer feeds off testosterone," Dr. Mary K. O'Keeffe, a medical‌ ‌oncologist‌ ‌specializing‌ ‌in‌ ‌genitourinary oncology at‌ ‌NYU Langone Health's Perlmutter‌ ‌Cancer‌ ‌Center, told SurvivorNet.
"When you lower testosterone with androgen deprivation therapy, it's no longer feeding the cancer."
As metastatic, or stage 4, prostate cancer progresses, the cancer cells can adapt and become resistant to therapy. Dr. O'Keeffe says this is true for most cancer treatments.
"You have some men that are on it for many years and some men can progress in less than a year if they have a more aggressive type of cancer," she said.
Androgen deprivation therapy works to lower the levels of androgens made by the testicles, but there are other types of hormone therapy that work to lower androgen levels from other parts of the body such as the adrenal glands.
One such drug is called Zytiga (abiraterone). It blocks an enzyme (protein) called CYP17, which helps stop  androgen production.
A Devastating Prognosis and a Revolutionary Treatment for Prostate Cancer with Zytiga
"What Zytiga does is it goes to actually the root of where testosterone is made," Dr. Freedland explained.
"It actually blocks the enzyme that actually is responsible for making testosterone.
"So, when you take Zytiga, any cells that are able to absorb it… those cells won't be able to make testosterone."
RELATED: Abiraterone Boosts Survival Rates, but Brings Additional Side Effects
Other treatment options for late-stage prostate cancer include but are not limited to:
chemotherapy
radiation therapy
immunotherapy
treatment given in clinical trials
Additionally, bone-targeting medicine like Xgeva (denosumab) may be used to prevent bone loss and fractures in those whose cancer has already spread to the bone.
If you or a loved one has been diagnosed with late-stage prostate cancer, talk with your doctor about all available options. And don't be afraid to seek out multiple opinions.
Learn more about SurvivorNet's rigorous medical review process.