Actress Renee Ridgeley Gets Candid About Life After Breast Cancer
Actress Renee Ridgeley voices a new, one-breasted cancer survivor character on The Simpsons.
She spoke to SurvivorNet about why the character, which gives an honest look at life after breast cancer, was such a big deal in the community.
Ridgeley is also an advocate for normalizing "going flat," the decision to not have reconstruction surgery after a mastectomy.
Last October, during Breast Cancer Awareness month,
The Simpsons
aired an episode titled "Lisa's Belly," which was applauded for unveiling a new character, Dr. Wendy Sage, a one-breasted cancer survivor and hypnotherapist. The character won praise from critics and the huge army of cancer survivors and fighters. Actress/writer Renee Ridgeley, the voice behind Dr. Wendy Sage, is a cancer survivor, who had a double mastectomy and now leads the charge to normalize aesthetic flat closure.
Related: New Episode of 'The Simpsons' Features Breast Cancer Survivor Character Who Had Unilateral Mastectomy; Embracing Your Look after Breast Cancer
Read More
After
The Simpsons
episode aired, the reaction from the cancer community was overwhelming. Renee Ridgeley's husband, Matt Selman, an executive producer and writer on the show, got many private messages about it on Twitter — but one stood out. A woman wrote, "I want you to know that I'm watching
The Simpsons
from my hospital bed, and I just had a double mastectomy. I'm crying because I see myself on television. Thank you." Ridgeley tells
SurvivorNet
that the message meant so much to her. "When you can make a profound difference for people with pop culture it's a beautiful thing," she says. Due to the pandemic, Ridgeley was forced to record her voice over for the character from her home. "We recorded it in my closet," she explains. "It was interesting to do a remote voiceover because usually you go into a soundstage, where it's quiet and you get direction. I was in my closet with my phone and about four suitcases of audiovisual equipment I had to hook up and then I was directed from my closet."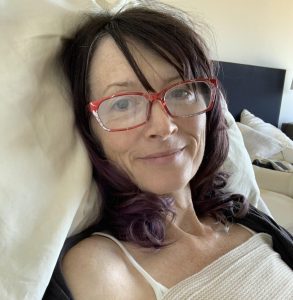 The decision to cast a cancer survivor in the role is one that is not lost on the community. She says, "It had to be someone who was a cancer survivor and specifically breast cancer and, you know, half flat or flat.  So, it was pretty easy for me to step into that role."
Dr. Wendy Sage will be a recurring role on the long-running series and will next appear on the April 24 episode.
A Long and Painful Cancer Journey
It was a long and painful road from her diagnosis to voicing this character, Renee Ridgeley says. In 2016, she was diagnosed with grade 3 Ductal Carcinoma in Situ (DCIS). She explains, "Breast cancer is an epidemic, and you don't realize breast cancer is many, many diseases, it is not one disease. I was diagnosed with DCIS and there was no option for a lumpectomy because DCIS is like spider webs in a way. It goes in the ducts all over, but it doesn't escape the ducts."
Ridgeley had to have one breast removed and was told she would either need to take Tamoxifen for five to ten years or have a bilateral mastectomy. "Tamoxifen is a harsh drug to take, and I don't think it's always presented that way to patients," she says. "It puts you in instant menopause and you need monitoring to make sure you don't get uterine cancer." So, Ridgeley opted for a bilateral mastectomy. What followed was a painful road full of complications and health issues, stemming from reconstruction, not the mastectomy itself.
Dr. Elizabeth Comen explains when a woman might want to consider going on Tamoxifen.
Ridgeley told us that initially she wanted to go flat but got no support from her medical team. At the time there was no word for going flat, it was simply called "no reconstruction," which Renee Ridgeley calls a "pejorative" term. In 2020, the National Cancer Institute officially defined it as "aesthetic flat closure." She adds, "there was no enthusiasm" from her doctors about going flat and when she began to entertain the thought of reconstruction, she was met with excitement from her surgeon. "I got put on a conveyor belt for reconstruction without knowing my risks," she says. "Unfortunately for me I had a tremendous number of complications, so I arrived at this place where I don't [want this to] happen to other women."
Reconstruction Complications
Ridgeley had a double mastectomy and since she received little to no support for going flat, she opted for breast reconstruction surgery. Her surgeon chose Allergan Biocell 410s, which are textured implants, and later learned they have been linked to anaplastic large cell lymphoma. They have since been taken off the market in Europe, Israel, Brazil, Japan, and Russia. Along the way, not one doctor informed her of the chances of these implants causing lymphoma, which is reportedly as high as 1 in 2,832. "You know this information was suppressed, there were hundreds of thousands of adverse event reports to the Food and Drug Administration (FDA) over the years and they were not made public until 2019 or 2020," she explains. "So, this information is made public now, it's buried on a lot of websites, but it's still there so they're aware of it."
After her surgery, as she sat up in her hospital bed for the first time, her pectoral muscle tore off her sternum. She and her doctors didn't realize what happened at the time, though. The pain was excruciating and Ridgeley says she was shamed by a nurse for not taking pain medication as prescribed. She got a second opinion from a different physician who discovered the tear in her pectoral muscle, which would require another surgery to reattach.
While undergoing the procedure, Ridgeley decided to swap her textured implants for smooth ones. What followed was an avalanche of painful complications, including fever, flu-like symptoms, a rash on her chest, new allergies and systematic joint pain. The breast reconstruction surgery also cost her the ability to use her full range of motion in her arms. "I can't swim," Ridgeley admits. "It sucks, but that was all for something I didn't have to do."
Related: Flat, Fit & Thriving – 33-Year-Old TikTok Star Bares Her Post-Mastectomy Chest with Pride As She Battles Metastatic Breast Cancer
Ridgeley, who was diagnosed with connective tissue disorder 10 years before her cancer diagnosis, was suffering from breast implant illness. She decided to have her implants removed. "Three months before my explant, I had a fever," she says. "I had a rash from my neck to just above my navel. I felt like I had the flu, and I emailed my plastic surgeon, who was not my original plastic surgeon and said, 'I don't know what's going on.' She knew I had been considering taking them out completely." Her body was so inflamed that she was forced to wait nearly four weeks to have the implants removed.
After she recovered from her 2018 explant surgery, her fever, flu-like symptoms, and rash went away, but her connective tissue disorder, which had been kept at bay, was triggered. Ridgeley says, "That manifests in lupus-like and rheumatoid arthritis-like symptoms. I still get flares. I get them every few months. I have been on Plaquenil off and on to kind of control it, but there's not a day goes by that I'm not thankful I took my implants out. I have no doubt in my mind that I would have just gotten progressively sicker from my implants."
Knowing Your Options
Renee Ridgeley has made it her mission to help women navigate their options when battling breast cancer so they can choose the best course of action. She states, "I think that a real shift needs to happen from both breast surgeons, who are often recommending the plastic surgeon that breast cancer patients go to, and the plastic surgeons." She adds, "You know most women are not going to get sick from implants but every single one of their bodies will be fighting that the entire time they're in there. Everyone has an immune reaction to it, but that reaction doesn't always make people sick."
Related: Comedian and Breast Cancer Survivor Tig Notaro, Who Embraced Her New Body after Surgery, Continues to Inspire with New National Tour
Ridgeley is now a proponent of aesthetic flat closure, but admits it's not for everyone. "I walk women through their journey and their options and many of them get implants and I think that is the right choice for them. But every single one of them that chose implants knows about their risks. They assume them and they are making a choice and an informed decision. So, if you get complications down the road, it's not so traumatic."
'The Conversation is Changing'
In April, Las Vegas will host the American Society of Breast Surgeons Conference — and Dr. Deanna J. Attai will lead the first session ever on aesthetic flat closure.
Ridgeley says, "The time is right for the recognition of aesthetic flat closure in the cancer world as a valid healthy choice because bodies come in all different shapes and sizes. Part of being human is looking different and not trying to fit into cookie cutter pictures in magazines. The conversation is changing. Everybody can go flat. Because that is the safest closure after a mastectomy, it's the easiest with the least complications and then the quickest recovery. So, everyone that wants to go flat can go flat."
Over 200,000 women in the U.S. have mastectomies each year. Approximately half choose Aesthetic Flat Closure, remaining flat instead of opting for breast reconstruction, according to Ridgeley's body positive campaign LessThanTwoBreasts.org.
"As a breast cancer patient when you're going to these consultations you get shown photographs that are headless torsos. You start seeing yourself in this kind of sick body. I don't have a head, I don't have anything below the waist, here's my value right here… just a headless torso."
She adds, "My goal is to show the whole woman and I chose that word specifically because so many times you will hear surgeons say they're making a woman whole by giving her breasts."
She also wants to make the distinction that it's completely fine to feel whole again after getting reconstruction. Her goal is to show women that they don't have to get it. "If a woman gets breast reconstruction and says it makes her feel whole again, that's fine," she says. "That's on her. She gets to define what makes her feel good and what her body image is but for a surgeon to say 'whole,' it's super cringy."
'Nothing Looks as Good as Healthy Feels'
Ridgeley came up with the quote "Nothing looks as good as healthy feels," following a terrible experience with one of her surgeons that made her feel a medical professional was sexualizing her cancer experience.
"I went to my plastic surgeon about a month after my mastectomy with implant reconstruction and I was in pain and holding back tears. I said to the doctor (pointing at my chest), 'You made these bigger than I asked you to make them.' and he said, 'I bet your husband likes them.' That was the last time I saw him. The fact that he dismissed my pain and my disappointment that I didn't even look like what I asked to look like, and he threw back that line."
She adds, "I really think we need to stop sexualizing cancer. It's wrong. There are women who are put into chemical menopause, they're on hormone suppression, they've had radiation, they've had chemotherapy and stop sexualizing them. It's just wrong. Women can decide what they want to do for themselves."
Ridgeley also has some sage advice for anyone going through the cancer journey. "Give yourself time and take time for yourself after being diagnosed. It's hard to find the right thing for you in the onslaught of information and the choices that you need to make, so if you can find time and stillness for yourself it's going to be really helpful for your journey."
Learn more about SurvivorNet's rigorous medical review process.
---