Handling Fear
Maria Menounos knows fear all too well. She recently lost her mother to brain cancer and has been open about her grieving process.
Menounos invited celebrity doula and lifestyle guru Latham Thomas onto her podcast to talk about handling fear. Thomas says fear is immobilizing, and it's important to lean into faith and courage when facing scary times.
Fear and cancer often go hand-in-hand. But making sure fear does not stop you from moving forward in your cancer journey and finding the right support systems is immensely important.
Maria Menounos knows a thing or two about fear. The 42-year-old lost her mother, Litsa, last month to a type of brain cancer called glioblastoma after a five-year battle with the disease. Given everything she's been through, it's no wonder a recent episode of her podcast,
Better Together
, was about leaning into your courage and faith when times get scary.
In a post on her podcast's Instagram page, Menounos described the episode by saying that "fear is crippling" but there are ways to work through it.
View this post on Instagram
Read More
"Now is a time more than ever, to step into our courage and faith," she wrote. "It's an opportunity that even though we may feel small or incapacitated, we still take actions that are aligned with our greater purpose and vision. Let courage guide you to step into the fear."
Celebrity doula and lifestyle guru Latham Thomas was a guest on the episode. Like many people, she has had to face fear head on. In fact, her relationship with fear was also impacted by cancer that hit too close to home – twice. Once supporting her grandmother through her death from cancer, and a second time supporting a previous partner "who was at the threshold of death" for many years but is still living today.
1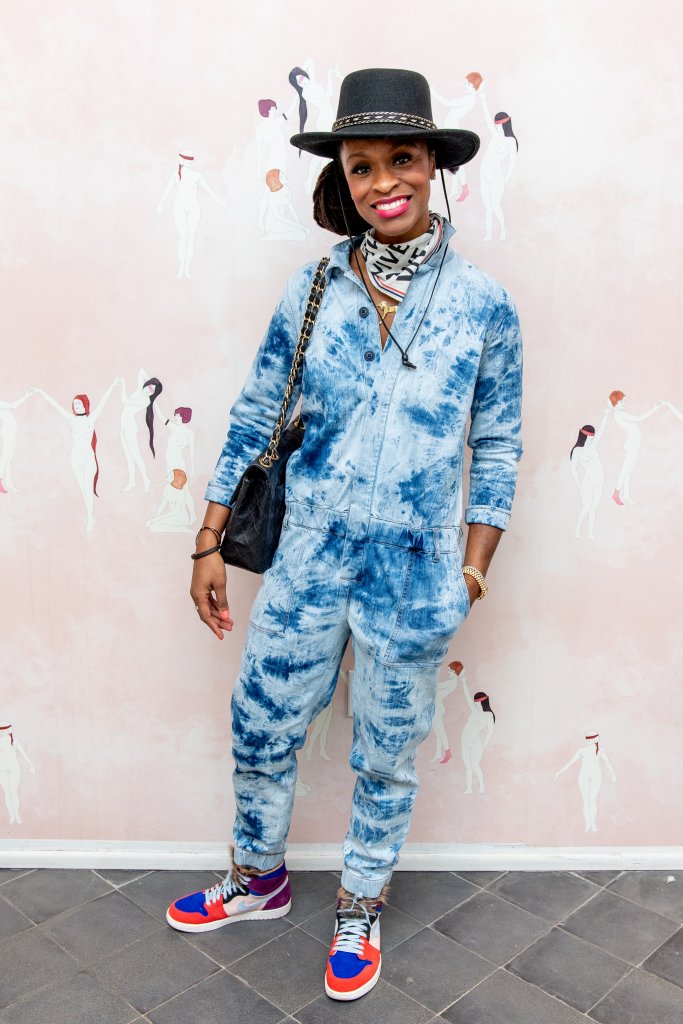 "What I like to do when we're faced with challenge, when we're faced with fear, is to understand that fear in and of itself, takes away your power," Thomas said. "Fear in and of itself, it strips you of power – It like bottoms you out. And so you don't have hope when you're afraid, right?"
Thomas says understanding that fear is limiting can facilitate a move towards courage.
"Courage is actually living into the sensation of what fear is and still being mobilized to take action," Thomas said. "Courage is moving with that feeling inside of you that you're afraid, but still walking one foot in front of the next anyway."
One way to do that, according to Thomas, is to lean into faith. And not faith in a specific religious sense, but really any kind of faith that allows you to contextualize what you're going through at this point in your life.
"It really doesn't matter sort of what your lens on belief is," she said. "You can look to nature, right? Like it doesn't have to be that we're looking at religion. You can go outside, and you watch how a tree moves through the seasons… How can you not believe in the beauty and the magic and the majesty of what's greater than us when you see things like that?"
Thomas believes that if we can connect to whatever humbles and connects us to our surroundings while also making us feel significant, we can handle whatever life throws at us.
"[That connection] can provide a safety net emotionally and mentally to contextualize the things that are happening," Thomas said. "So, if I remind myself that I'm sort of like a little tiny fly on the backside of a cow in the grand scheme of things… I can focus on the things that I actually have the ability to impact."
Fear during a Cancer Battle
Fear and cancer go hand in hand. Given that there are a lot of unknowns and so many factors out of your control when dealing with cancer, it's understandable to be afraid.
In a previous interview with SurvivorNet, TV host and mother Ananda Lewis spoke about refusing to let fear control her during her battle against stage 3 breast cancer.
"I've always believed that fear is pretty debilitating," Lewis said. "It freezes you, it stops you from being able to take action, and I've never seen it as useful."
TV Host Ananda Lewis Refuses to Let Fear Control Her During Breast Cancer Battle 'It Freezes You. It Stops You From Being Able to Take Action'
Instead of letting fear stop her from getting the right treatment, Lewis decided to focus on her next steps. As a cancer patient, it might be hard to always ignore the fear that bubbles up from time to time, but recognizing that fear is not beneficial can help you move forward in your cancer journey.
"I just never had that fear," Lewis said. "I was able to go forward and be proactive and start taking action against, you know, these malfunctioning cells."
Leaning on Faith
Faith can help guide you through the fear of a cancer battle. And like Latham Thomas said, faith does not have to mean religion.
Monica Layton, an ovarian cancer survivor, believes in the power of faith during a fight with cancer. She turned to her church congregation for support as she battled cancer during the COVID-19 pandemic and then went through recovery.
"[I've] gone to the same church for a long time, so it's like another family that really supports me," Layton told SurvivorNet in a previous interview. "We're Episcopalian, and when I was having surgery my priest came to the hospital and stayed and prayed with my family the whole time – and it was a long surgery. And then he came back to the hospital every day to pray with me."
Ovarian cancer survivor Monica Layton shares how her church was her biggest support system
In addition to praying for her, Layton's church also sent flowers, cards and a prayer blanket and often visited her.
"They were so kind," Layton said. "I think my faith has been very important, crucial for me. Just the prayer really helps, I think."
Learn more about SurvivorNet's rigorous medical review process.