John McCain's Cancer Battle through His Wife's Eyes
Cindy McCain's new book, Stronger: Courage, Hope & Humor In My Life With John McCain shares an intimate look into how her husband, former Senator John McCain, handled his battle with brain cancer.
Cindy shares that humor, happiness, privacy and gratitude all played a huge part in helping the McCains during John's battle with cancer.
Cindy reminds readers that "you are never really prepared to lose the person you love," a sentiment shared by many people who have lost loved ones to cancer.
By Abigail Seaberg
Former Senator John McCain (R-Arizona) has a legacy that speaks for itself, but his wife's new memoir shares an intimate look on how he handled his battle with brain cancer before his death in August 2018. Here's five lessons we learned from Cindy McCain's Stronger: Courage, Hope & Humor In My Life With John McCain, available today.
Lesson #1: Gratitude Is Everything
Read More
John McCain was diagnosed with glioblastoma (GBM), a type of brain cancer, in 2017. Shortly after his diagnosis, John was contacted by Lesly Stahl, a reporter for CBS's
60 Minutes
. They agreed to do an interview, and John was blunt pretty blunt about his current condition. "It's a very poor prognosis," Cindy remembers him saying. Hearing his honest words shook her to the core.
RELATED: New John McCain Biopic In the Works Has Great Opportunity to Showcase What So Many Battling Brain Cancer Experience
"I tried to stay composed and not break into tears–but I was thrown by what John said next," Cindy writes. "He gave a smile and explained that while he would get good doctors and do the best he could, he also planned to celebrate a life well lived."
After all the cameras were gone, Cindy felt that she had to revisit this topic of gratitude with John.
"He told me he was grateful that he had been able to serve his country in the Senate for three decades. When he looked back to years of torture and imprisonment in Hanoi, he was grateful for the close friendships he had made with the other POWs. He felt gratitude to me and the children for the love and support and closeness we had shared for so long. I listened carefully. I had learned so much from John over the years. Maybe I could take this lesson too."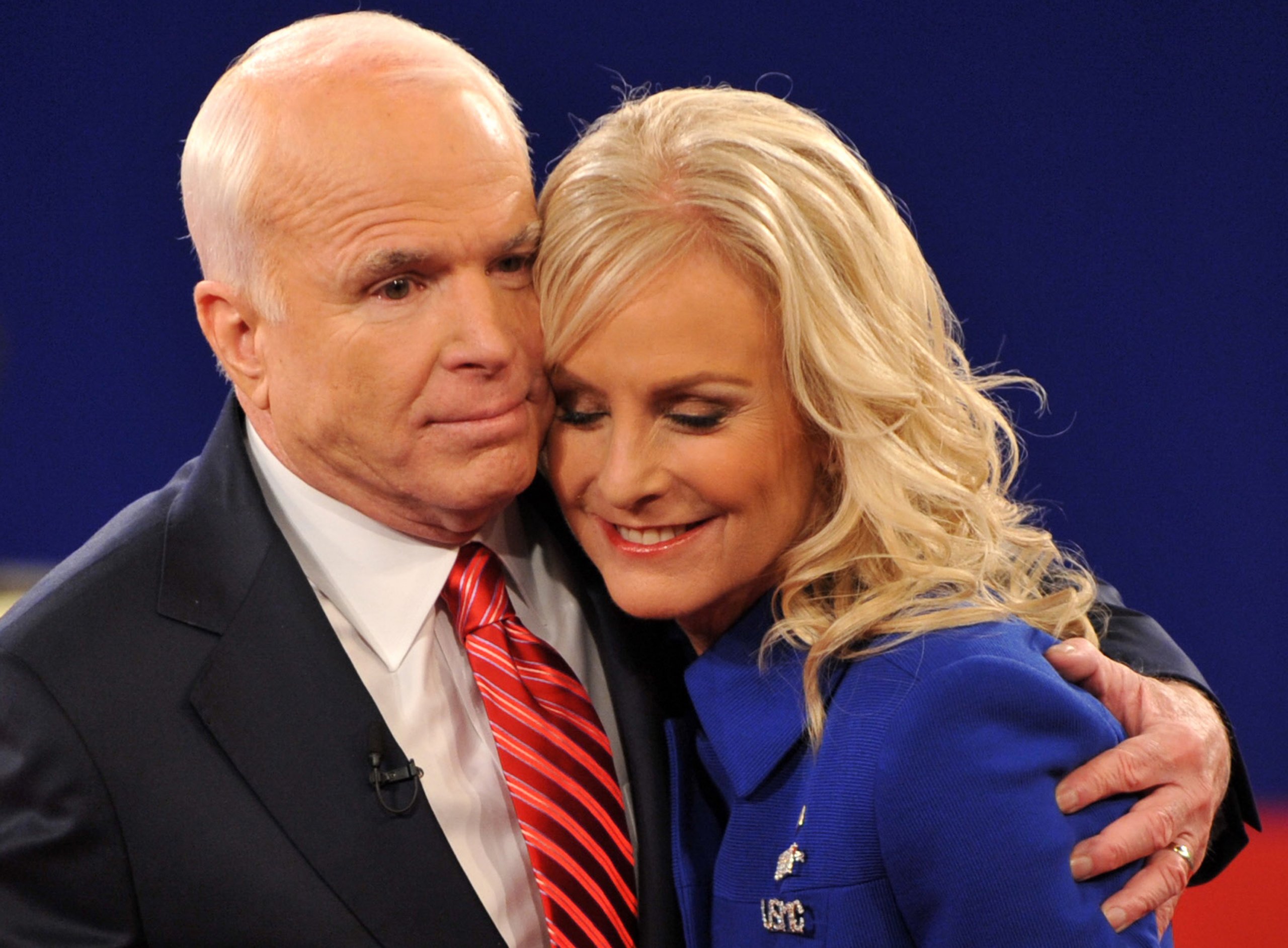 Lesson #2: Humor Always Helps
Cindy shares that her husband's tenacity and resolve allowed him to accomplish a lot during his battle with cancer. She tells readers that just a few weeks after his cancer diagnosis and emergency surgery to remove a tumor the size of an egg, John was determined to attend a conference on international security in Italy.
Doctors said he couldn't go because flying was too dangerous since "the change in air pressure could essentially cause his brain to explode." But after 38 years of marriage, Cindy knew better than to try and stop him.
"Knowing his iron will, I shouldn't have been surprised," Cindy writes. "This was John McCain. He was going."
Instead of putting up a fight she got on the plane with him "toting various medicines and emergency numbers in [her] carry-on bag." She nervously watched her husband as the plane took off, and John asked what she was staring at.
"I've never seen a brain explode," she told him. "I'm wondering how much of a mess it will be."
She recalls John answering with the wit she knew better than most.
"'Don't worry. I packed the dustbuster,' John said, cracking the wry smile I knew so well."
RELATED: 'Stronger' Author & Widow of John McCain, Cindy McCain, Recalls Her Late Husband's Sense of Humor in New Book
Cindy tells readers that many people assume she only learned "honor, courage, and integrity" from John, but his use of humor taught her a valuable lesson on handling life's challenges.
"I also loved him for his humor," Cindy writes. "For the example he set on how to laugh even when the world doesn't seem to be going your way."
Lesson #3: Seeking Solace Is Okay
The McCains stayed at their ranch in northern Arizona seeking peace and comfort for John's final months.
"We wanted to fill his last months with the gentle sounds of birds and animals and rustling leaves," McCain writes.
John loved watching the plentiful hawks that roamed their 20 acres of woods and creeks referring to them as "his special companions."
And although the McCain estate was a great source of solace for the couple, Cindy says that fake hikers with telephoto lenses and camera drones were a regular occurrence at their property.
"In his final days, the line between public and private wasn't hard for me to draw," Cindy writes. "I told the caretaker that this was private property. If he saw drones, he could shoot them down."
John wanted to keep his condition as private as possible. Cindy stepped in to do everything she could to make that happen with 24-hour security and a no-phones policy for visitors.
"I knew I could be a viper when necessary," Cindy writes. "It was necessary now."
Lesson #4: Try To Make Happiness
Channeling your inner Great Gatsby during a time of great distress might not be everyone's cup of tea, but Cindy says it helped the McCains.
"Despite the metaphor, there is a limit to how much you can 'fight' cancer," Cindy writes. "Sometimes all you can do is resolve to be cheerful and strong rather than miserable and scared."
So that's exactly what the McCains did. Cindy decided to create some joy for John and his loved ones by throwing a Great Gatsby themed party complete with swinging twenties tunes and a glamorous dance floor.
"I wanted John to feel normal for a little bit and to remember what it was like to be the old John McCain, having fun and being at the center of a good time," Cindy writes.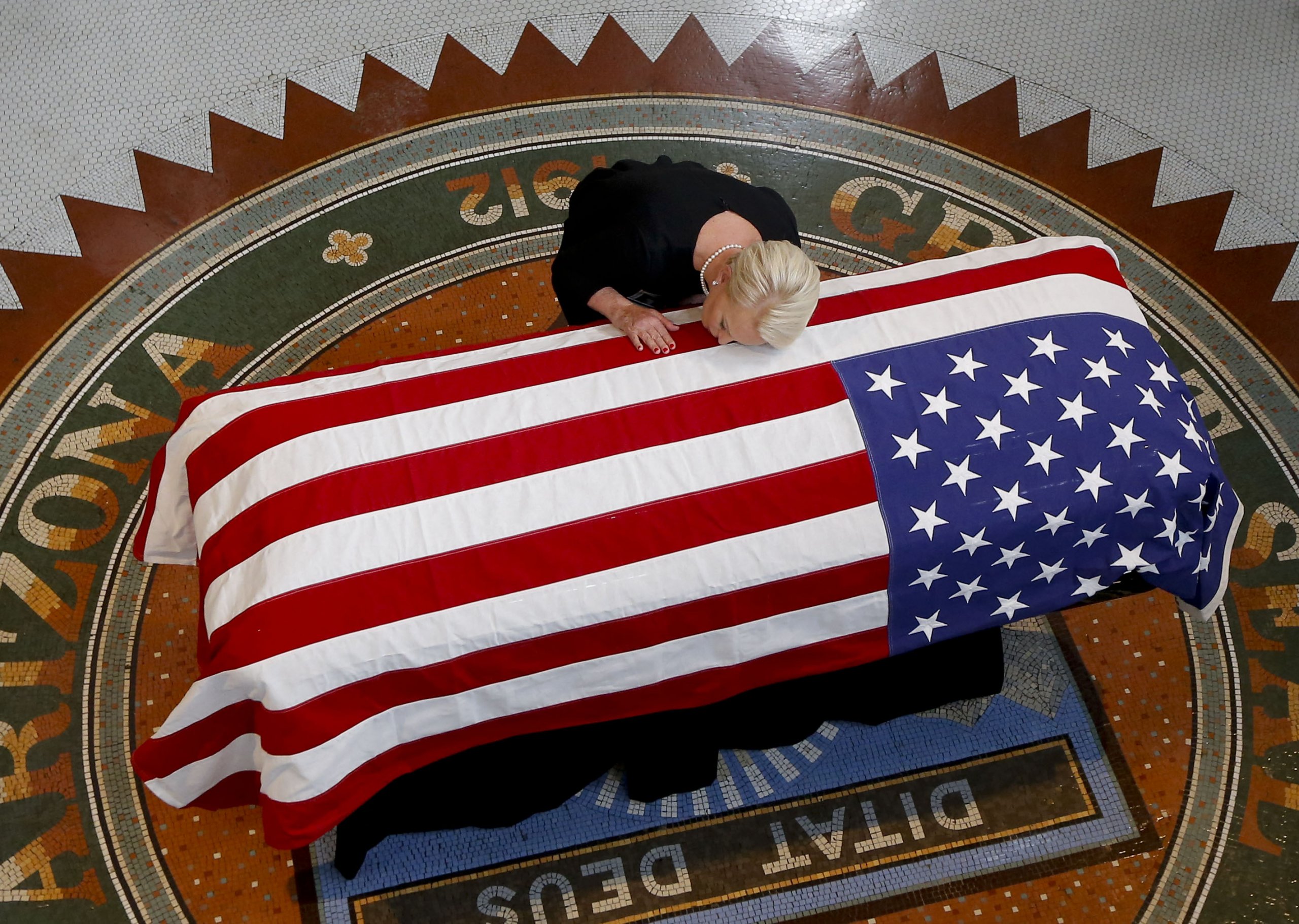 Lesson #5: You're Never Truly Ready
Cindy's book gives readers a glimpse into the final moments of her husband's life.
Three days before he died, John lapsed into a coma. When his doctor told her John was nearing his death, Cindy hurriedly pushed his hospital bed to the back deck of their secluded home. He spent his final moments with the woman he loved listening to music from his favorite Frank Sinatra playlist and enjoying their spectacular view.
RELATED: 'Live for the Little Things': Meghan McCain Remembers Her Father, John McCain, Who Died of Brain Cancer
"Out on the grounds in front of us, one of the hawks flew across the house, then flew back and settled on a branch not far from the bedroom. I like to think that he and John exchanged a glance," Cindy writes. "Then with the sun shining, the hawk looking on, and I Did It My Way filling the air, John drew his final breath."
The feeling of not being ready in those final moments is how Cindy remembers his death. It's a common sentiment among people who lose their loved ones to cancer.
"I had been preparing for this moment for fourteen months," Cindy writes. "But you are never really prepared to lose the person you love."
Progress Being Made for GBM
Glioblastoma is an aggressive primary brain tumor. But Dr. Henry Friedman, a neuro-oncologist from Duke University Medical Center, has some good news to share. In an earlier interview with SurvivorNet, Dr. Friedman says there is progress being made in the treatment of the disease. Dr. Friedman and his colleagues at Duke are investigating a new therapy that combines the modified poliovirus and immunotherapy.
Could a New Treatment Have Saved John McCain? Fighting Brain Cancer With Electric Fields
"The modified poliovirus is used to treat this tumor, by injecting it directly into the tumor, through a catheter. It is designed to lyse the tumor and cause the tumor cells to basically break up," Friedman says. "I think that the modified poliovirus is going to be a game-changer in glioblastoma, but I should also say that its reach is now extending into melanoma, soon to bladder cancer."
RELATED: There Is New Hope for Those Fighting the Same Cancer That Took John McCain & Ted Kennedy; Using Polio & Immunotherapy to Fight Brain Tumors
Losing a Loved One to Cancer
Grief is inevitable – and essential – when saying goodbye to a loved one who is battling cancer. Giving yourself –and your loved ones – privacy, like Cindy McCain did for her husband, can be hugely beneficial. But opening up to others like she did in her recent memoir can also allow for better healing. Everyone's journey of grief looks different, but therapy and support groups can be wonderful options to explore. It's also important to keep in mind that time does not heal everything, but it certainly helps.
In an interview with SurvivorNet, Doug Wendt shared his thoughts on the grieving process after losing his wife Alice to ovarian cancer.
"I Don't Want to Move On; I Do Want To Move Forward": Doug Wendt On Being A Caregiver and Tragically Losing His Wife to Ovarian Cancer
"We're never gonna move on, I don't even think I want to move on, but I do want to move forward," Wendt said. "That's an important distinction, and I encourage anybody who goes through this journey as a caregiver and then has to face loss, to think very carefully about how to move forward."
Learn more about SurvivorNet's rigorous medical review process.
---