Learning about Male Breast Cancer
Florida veteran Phillip Harms didn't think men could develop breast cancer. But he was diagnosed with stage 4 disease after finding a lump near his left breast.
After a double mastectomy, chemotherapy and radiation, Harms' latest scan showed no evidence of the disease. Now he's raising crucial awareness about breast cancer in men.
A two-time male breast cancer survivor also wants to encourage men to speak up about potential symptoms before its too late. He says "if you feel something, say something."
Music mogul Mathew Knowles, the father of Beyonce and Solange, is also a proud "male chest cancer survivor" who urges men to learn about the disease.
When Arm veteran Phillip Harms noticed a lump in his breast, cancer wasn't on his mind. In fact, he said he wasn't even aware you 
could 
get breast cancer if you were a man. However, after being diagnosed with stage 4 breast cancer and receiving treatment (including the removal of both his breastS), he's raising crucial awareness for other men.
Harms' cancer journey began when he noticed a lump near his left breast two years ago.
Read More
"I didn't really think much of it. Because I didn't think you could have breast cancer if you were a male,"
Harms said to WESH2
.
Recognizing it shouldn't be growing, Harms eventually made an appointment at a Veterans Affairs clinic. "[The medical professional] said, 'Whoa.' He goes, 'That's pretty big,'" Harms explained. "And he said, 'You need to have a mammogram.' I'm like, what? I'm like, that's for girls."
RELATED: How Tough Guy 'Shaft' Actor Richard Roundtree, 80, Beat Male Breast Cancer: What Has Changed Since His Diagnosis 30 Years Ago?
After a mammogram on Harms' 53rd birthday, he received a stage 4 male breast cancer diagnosis. For treatment, he's undergone a double mastectomy (the removal of all breast tissue), chemotherapy and radiation.
"I got to the point where I didn't think I was going to wake up for like two days in a row. I just thought, 'This is (it). Lord, I'm coming to see you,'" Harms said.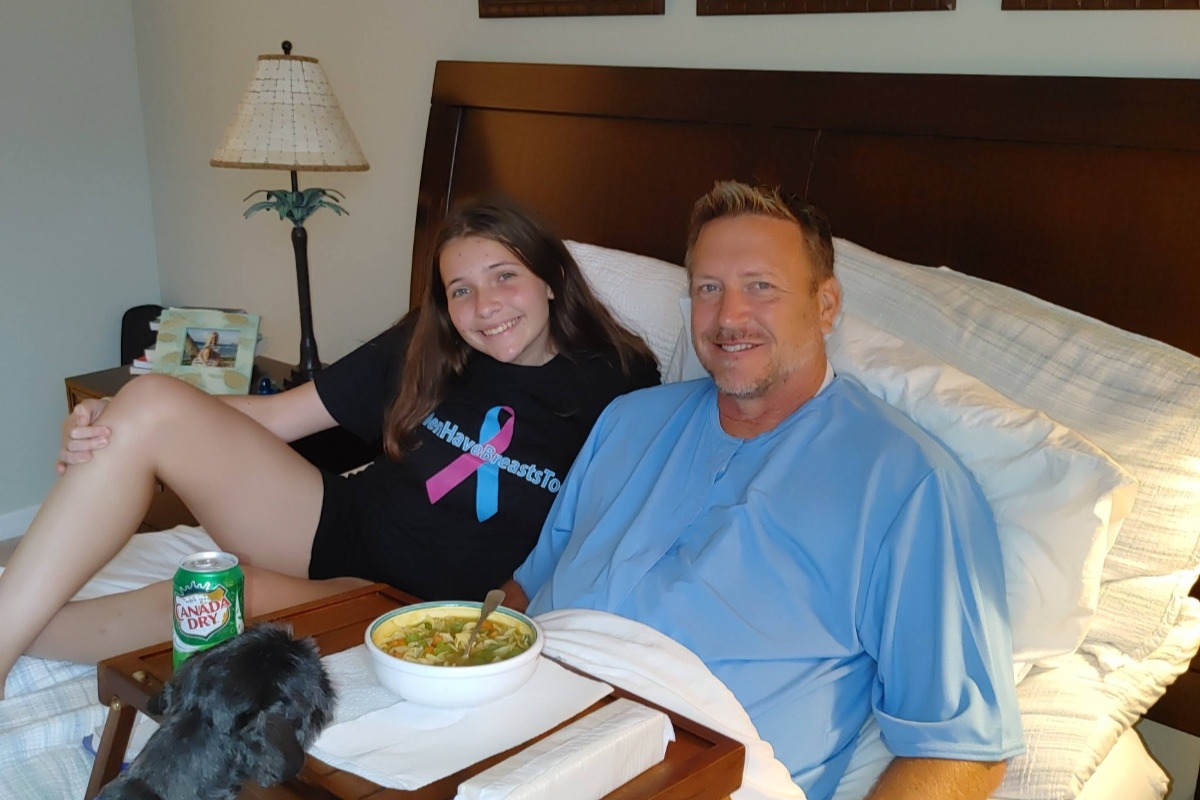 But, miraculously enough, Harms' most recent scan a few weeks ago found no evidence of the disease.
Stage 4 breast cancer is not something that usually has a cure, but this a hugely positive step in his cancer journey.
RELATED: What are the Treatment Options for Late-Stage Breast Cancer?
He's now trying to get back to life as normal with a newfound appreciation for what matters to him. He just accepted an offer from a former employer to be a minister in Indonesia again, and the avid board game developer is even working on releasing a new board game.
The loving husband and father is also cherishing precious time with his family.
"I tell you what, cancer in some ways, even though it's so terrible, [cancer] can actually be a blessing because you learn what's really important in your life," he said.
Understanding Male Breast Cancer
Male breast cancer is rare, but as we saw in the case of Phillip Harms it certainly can happen. And because it makes up less than 1% of all breast cancers, male breast cancer poses a unique challenge to awareness and early detection.
According to the Centers for Disease Control and Prevention, the most common signs of breast cancer in men include:
A lump in the breast.
Swelling in the breast.
Redness on the breast.
Flaking skin of the breast.
Irritation of the breast skin.
Dimpling of the breast skin.
Nipple discharge.
Pulling in of the nipple.
Nipple pain.
Always talk to your doctor if you notice any changes to your breasts. Even if you feel like a change to your health is attributable to something benign, don't hesitate to seek out a professional opinion. You never know when speaking up can lead to a crucial diagnosis.
"Don't be afraid. It feels weird at first when they put your breast tissue in a press because there's, honestly, there's not a lot there," Phillip Harms said.
"But they find a way and and you get through it, and it's OK. And hopefully, you don't have cancer, but if you do, let's try and find it early so that you don't have to be one of the stage 4 guys."
MORE: If You Feel Something, Say Something Men Ignore Symptoms Too Often
Two-time male breast cancer survivor Marc Futterweit says men ignore symptoms all too often.
"The problem with men is that they wait and they think things are going to go away," he said. "And once they're diagnosed, sometimes it's too late because it's metastasized and it's gone elsewhere.
"If you feel something, say something. Go get it checked."
Erasing the Stigma
If you are dealing with a male breast cancer diagnosis, know you're not alone and many survivors are working to erase the stigma that often comes with the disease. One such survivor is music mogul Mathew Knowles, the father of Beyonce and Solange.
Knowles became a proud "male chest cancer survivor" and advocate after his journey began in 2019. The diagnosis came about after tiny black dots of blood started appearing on his T-shirts and sheets.
Breast Cancer Survivor Mathew Knowles, Father of Beyoncé and Solange, Urges the Black Community to 'Take Control of Your Health' and 'Know Your Self-Worth'
"Oddly enough, I sold the leading modality for breast cancer detection from 1980-1988 at the medical division of Xerox, so I had some knowledge of breast cancer," he previously told SurvivorNet.
"I knew from years ago what [the blood] meant, and I immediately went to my physician who immediately referred me to get a mammogram that led to an ultrasound that led to a biopsy that led to surgery."
Today, Knowles is still cancer-free and determined to promote health advocacy within the Black community.
"It's like everything else in life. It's about knowledge," he told SurvivorNet. "And knowledge is power."
"The more information we have, the better we can educate men and women about early detection."
Learn more about SurvivorNet's rigorous medical review process.