Philadelphia Flyers' forward Oskar Lindblom will not be playing for the rest of the hockey season after he was diagnosed with Ewing's sarcoma, the team announced. Lindblom is just 23 years old.
The star player will undergo further testing, and begin treatment shortly after, the team said in its announcement. The Flyers also shared a photo of Lindblom donning his Hockey Fights Cancer purple jersey to Instagram, along with a new hashtag: "Together we are #OskarStrong."
Read More
RELATED: Steelers Cancer Survivor James Conner Has Emotional Meeting with Fan
View this post on Instagram
Ewing's sarcoma is a cancer that grows in the bone or soft tissue, and can develop in the bones in many different parts of the body. It's most common in adolescents and young adults, from teen years to the mid-20s, according to the National Cancer Institute.
The Flyers did not announce what stage Lindblom's cancer was diagnosed at, or what type of treatment he'll be undergoing — but did say the team is behind him every step of the way.
"The Flyers will do everything to support Oskar and assist him in securing the best care available," the team said. "Out of respect for Oskar and his family, the team will have no further comment at this time and asks that Oskar be afforded a period of privacy so that he may focus his efforts on his treatment and a return to full health."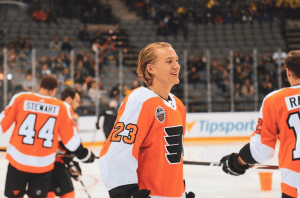 How Ewing's Sarcoma Is Treated
The typical treatment for Ewing's sarcoma may involve a combination of chemotherapy, radiation and surgery. Surgery can be done to remove cancer that may be left over after chemotherapy or radiation, according to the National Cancer Institute. Certain factors will affect what type of treatment is given and the prognosis for the disease, such as whether the cancer has spread, whether it began in the bones or the soft tissues, and how large the tumor is at the time of diagnosis.
If cancer is caught early, in a localized stage, the 5-year survival rate for Ewing's sarcoma is around 83%, according to the American Cancer Society. However, neither the Flyers nor Lindblom himself have commented on where his cancer was found or whether it had spread.
Philly Sends Love to Lindblom
Lindblom is quite the young star on the Flyers. Before his diagnosis, he was tied as team lead for goals with 11 in 30 games, according to CBS Philly. He also has seven assists.
After the announcement, fans rallied for Lindblom, sending the Sweden native well-wishes and prayers in his cancer battle. Fellow Philadelphia sports teams even took to social media to send Lindblom love.
"We're with you, @oskarlindblom <3," the official Phillies Twitter account wrote.
"Flyers fam got your back, [Oskar]," tweeted a fan who goes by the handle @BroadStBoss.
Even fans from rival teams spoke up, putting any bad blood aside and sending hope to the young player.
"Sending love from Leafs Nation. Get well soon, Oskar," tweeted a user named Tim.
Learn more about SurvivorNet's rigorous medical review process.