On Thursday, after news of her health began spreading online, Fox News host Britt McHenry decided to take control of the narrative and shared with supporters that a tumor had been found on her brain.
McHenry, who says she'll be having surgery, hasn't stated whether doctors believe the tumor is cancerous. She had hoped to keep the news private, which many in the SurvivorNet community can certainly understand.
Read More
RELATED: From Brain Cancer Back to Broadway — 'Mean Girls' Star Stephanie Bissonnette Shares Her Story
"I was trying to keep this relatively private. But as usual, things are being said without my consent," the 33-year-old host shared on Twitter.
I was trying to keep this relatively private. But as usual, things are being said without my consent.

I have a brain tumor. I'm with an amazing medical team and surgery is imminent. Thank you for continued support and understanding at this time.

— Britt McHenry (@BrittMcHenry) February 27, 2020
A few days earlier, McHenry did hint at her challenges.
"I had good & bad news today," she posted, urging others to get their check ups.
I had good & bad news today. Overwhelmed by the support by friends & strangers alike. With the best surgeons and doctors. Just another thing to take on ????????.

Please I can't stress enough, make your check-ups. Get an MRI early. It could have saved me.

— Britt McHenry (@BrittMcHenry) February 26, 2020
McHenry is the host of Fox's "UN-PC," which airs on the network's on-demand streaming service, Fox Nation. She joined Fox as a contributor in 2018 after four years at ESPN.
The TV host received much love and support from her fan base, friends and colleagues after she shared the news, with many sending prayers or sharing their own experiences with brain tumors.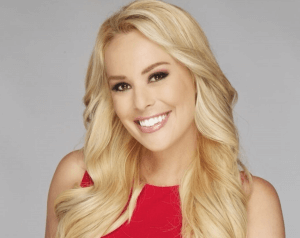 Former Fox News anchor Megyn Kelly was quick to offer her well wishes.
"Sending much love and strength. We are all behind you," Kelly wrote.
RELATED: Ellen's Amazing Surprise For Couple Who Went Viral With Serenade Before Brain Cancer Surgery
Meghan McCain, who whose father, Sen. John McCain, passed away after a year-long battle with brain cancer in 2018, also offered her support.
"Sending love and strength Brit. Please let me know if there's anything we can do," McCain wrote.
Not All Brain Tumors Are Cancerous
Naturally, a lot of people think "cancer" when they hear the word tumor. However, most brain tumors are actually not cancerous. Less than one third (around 32%) of brain tumors are considered malignant (cancerous), according to the American Brain Tumor Association (ABTA).
If a tumor is made up of normal-looking cells, then it is benign — but these tumors may still require treatment such as surgery — so they are often referred to as "non-malignant," since the word benign can be misleading.
RELATED: New Study Suggests That Immunotherapy May Be Useful For Some Types of Brain Cancer
The most common type of non-malignant brain tumors are meningiomas, however, there are 120 different types of brain and central nervous system tumors, according to ABTA.
Oftentimes after an MRI, a biopsy will be performed on a brain tumor to determine its type. Sometimes, the results of imaging tests show that a tumor is likely to be non-malignant, and a biopsy is not necessary. McHenry didn't disclose whether or not she had a biopsy, simply stating that her tumor would be removed with surgery.
Learn more about SurvivorNet's rigorous medical review process.