By Shannon Bream, Special for SurvivorNet
"There is no cure."
Read More
The moment I heard those words will forever be etched onto my heart.  Maybe you've heard them too, or listened as they were delivered to someone you love.  Serious illness presents all kinds of unwanted challenges when it lands in our lives, but also some unexpected gifts.
In my case, it drove me deeper into my faith, made me more empathetic and profoundly grateful for the positive things that happened along the journey.
My story started years ago when I began to awake with searing eye pain in the middle of the night.  For nearly two years I struggled along from doctor to doctor, trying various remedies and never finding relief.  Instead, I sank deeper and deeper into a medical mystery that slowly took over my life.  Excruciating pain eventually became my constant companion, leaving me exhausted and completely demoralized.  I spent many nights curled into a ball, silently weeping as I croaked out the only prayer I could whisper:  "God, please help me."
Related: Fox News Anchor Shannon Bream Says Faith, Family Lifted Her Through Her Husband's Brain Tumor Battle and Her Chronic Pain Struggles
Some nights that phrase became a mantra of sorts, repeated over and over again until the pain would temporarily subside.  For some, tragedy leads them to question their faith and the goodness of God. I had those moments myself, and I truly believe our Heavenly Father welcomes and understands them.  By pushing further into Him and to the promises all throughout the Bible, I found enough comfort to get me through one night at a time.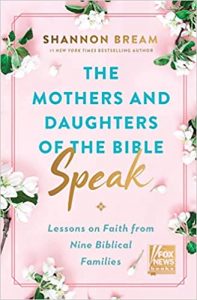 There was a spark in my simple, despondent prayers that left a tiny window of hope in my heart.  As a Christian, so many verses I'd read before became deeply personal to me.  I'd studied them with a head knowledge, but in my darkest hours they penetrated into my heart as well.
"My grace is sufficient for you, for My power is perfected in weakness." 2 Corinthians 12:9
In my very lowest moment, I cried out to God to ask how I could possibly continue on.  I felt Him say in my spirit, "I will be with you."  He didn't say, "I'm going to heal you and your life will be free from pain from this moment on."  But what I did hear that day was enough to keep me going.
One of my prayers was that if God chose not to heal me, that I would be given someone to help walk me through the undiagnosed disease that had crushed my spirit.  Within days I found that doctor who correctly diagnosed me with a genetic cornea condition that causes them to be torn over and over again.  Without proper medical intervention they never healed, each new cut digging deeper into the fragile tissue of my eyes.  And while he was correct that there's no formal cure, there are numerous treatment options that have given me relief.
Related: Fox News Host Laura Ingraham, 58, 'Never Wanted To Dwell' On Breast Cancer Diagnosis, But Credits Deep Faith, Power of Prayer for Survival
I'm often reminded of a women whose story is in the New Testament.  When we meet her in those pages she is penniless and without a diagnosis, having spent all she had to find a cure for her 12 years of bleeding.  She would likely have been considered "unclean" and not allowed to move about in society.  Yet, she broke all the rules to go find the man called Jesus.  He was known for miraculous healings, and she thought if she could just touch the hem of His garment she would be healed.
That's exactly what happened and when Jesus turned to ask who had touched Him, she fell down in "fear and trembling" and confessed what she had done.  Rather than berate or shame her, He simply called her "Daughter" and told her that her faith had made her whole.  What a beautiful expression of compassion and acceptance.
I write about her story and many others in my new book Mothers and Daughters of the Bible Speak.  (The book is currently #6 on the Amazon Bestseller List.) Going along on these women's journeys through all kinds of heartache and danger reminded me that struggle is universal.  We can not only lean into our faith for the courage or comfort we need in order to go on, but these stories also reminded me that we can and should cultivate relationships with each other based in encouragement and commitment.
About the Author
Shannon Bream hosts Fox News @ Night.  Mothers and Daughters of the Bible Speak is her third book. She has already written the New York Times Best Seller The Women of the Bible Speak: The Wisdom of 16 Women and Their Lessons for Today and Finding the Bright Side: The Art of Chasing What Matters.
Learn more about SurvivorNet's rigorous medical review process.