Moving Forward After Loss
Wolfgang Van Halen lost his father, legendary rockstar Eddie Van Halen, in October 2020 after he battled multiple cancers.
Ahead of the release of his second album, Mammoth II, on Aug. 4, Wolfgang spoke of how he keeps his father's legacy alive in his own way.
Moving forward after loss can be a long, hard process.
One woman told SurvivorNet therapy helped her immensely and added that the sadness she felt inspired her to create something positive – beautiful written works.
Wolfgang Van Halen, 32, has big shoes to fill. But he's honoring Eddie Van Halen – his late rockstar father – on his own musical terms.
Eddie died in October 2020 after multiple battles with cancer, which reportedly included tongue, throat and lung cancers. Widely regarded as one of the greatest guitarists of all time, he left behind quite a legacy in the music world. And Wolfgang's artistic pursuits with his solo band Mammoth WVH reflect his desire to continue the family tradition of making music.
Read More
"The name Mammoth is really special to me."
Wolf said of his band
. "Not only was it the name of Van Halen before it became Van Halen, but my father was also the lead singer. Ever since my dad told me this, I always thought that when I grew up, I'd call my own band Mammoth, because I loved the name so much. "I'm so thankful that my father was able to listen to, and enjoy the music I made. Nothing made me happier than seeing how proud he was that I was continuing the family legacy."
RELATED: Late Guitarist Eddie Van Halen's Son, Wolf, Was Just Nominated for a Grammy. His Ex-Wife and Mother of Wolf Says Eddie Would Be Even 'Prouder than Me'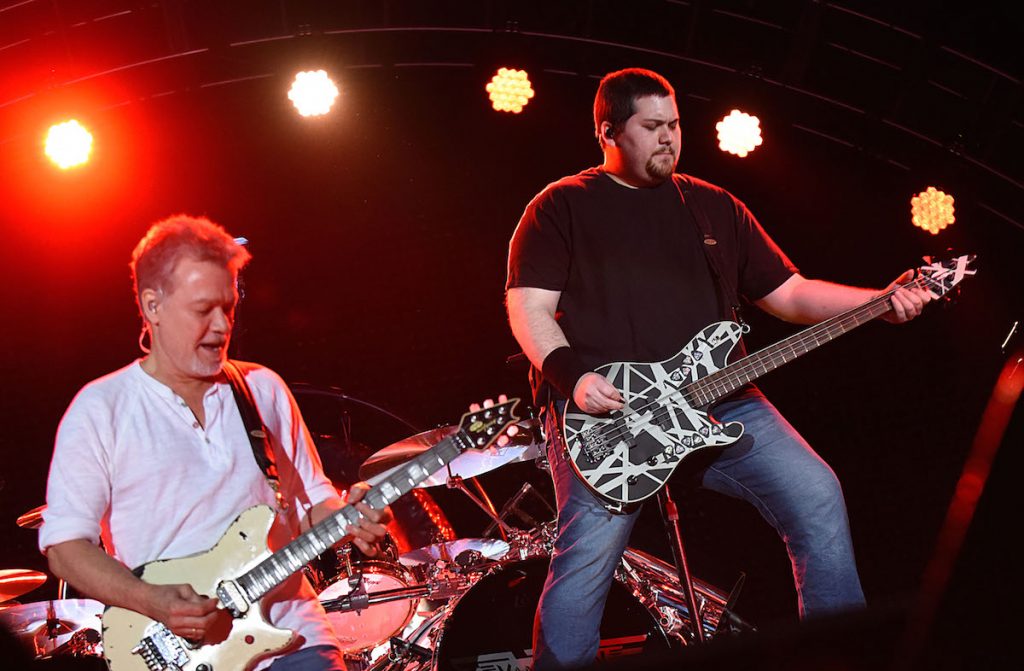 Ahead of the release of his second album, "Mammoth II," on Aug. 4, Wolf did an spoke with Audacy Check In and explained how he chooses to honor his father through music.
"He's the reason why I do what I do; I wouldn't exist if it wasn't for him, so that's certainly very important," he said. "I think just doing what I do is enough of a reference and tribute. Just me existing and continuing to be my own person in my own musical space, I don't think people realize that me just doing that is enough of a tribute and respect towards the life that he gave me, and the interests that he instilled in me.
"I don't have to play 'Panama' in order to respect him, you know what I mean?"
Sadness Is Not Always A Bad Thing — Coping After Losing A Parent To Cancer
The album of ten songs includes the current single "Another Celebration at the End of the World," but you will not find any Van Halen covers among the others titles that have yet to be released. In fact, Wolfgang says you will likely never see him record one of his dad's songs – or any cover for that matter – on an official album.
"I think I have too much of a desire to prove myself and kind of just figure out my creative process without trying to take from somebody else," he explained. "I know dad, he never wanted to play any of those covers, unless you fully transform it into your own thing, which I think they did with 'You Really Got Me' and stuff like that.
"But overall, I'd rather have covers just be like a fun thing instead of a 'record' thing. I mean, live on the last tour, or a couple of tours ago, we played 'Them Bones' by Alice In Chains and that was just a really fun time. Would I record that? Nah, it's just fun."
Though his father won't be around to hear the new album, Wolf does have the full support of his mother – Eddie's first wife Valerie Bertinelli, 62. Valerie and Eddie were married from 1981 to 2007, and, despite their separation, she still considers Eddie to be her "soulmate."
"I just don't feel like I've ever been loved like that, in that way, from anybody else," she's said of her late ex-husband. "I just feel a connection with Ed that I've never really felt with anyone else."
Losing a Loved One to Cancer
Moving forward after loss can be a long, hard process. There is no one right way to grieve, but some people like Doug Wendt says there's a big distinction between moving on and moving forward. He lost his wife Alice to ovarian cancer after spending 25 years by each other's side, raising two children and running a business together.
"I Don't Want to Move On; I Do Want To Move Forward": Doug Wendt On Being A Caregiver and Tragically Losing His Wife to Ovarian Cancer
"We're never gonna move on, I don't even think I want to move on, but I do want to move forward," Wendt said. "That's an important distinction, and I encourage anybody who goes through this journey as a caregiver and then has to face loss, to think very carefully about how to move forward."
If you're looking for support after the loss of a loved one, therapy and support groups can also be great places to turn to. In an earlier interview with SurvivorNet, Camila Legaspi shared how therapy had a huge impact on her after her mother died of breast cancer while she was in high school.
"Therapy Saved My Life": After Losing A Loved One, Don't Be Afraid To Ask For Help
"Therapy saved my life," Legaspi said. "I was dealing with some really intense anxiety and depression at that point. It just changed my life, because I was so drained by all the negativity that was going on. Going to a therapist helped me realize that there was still so much out there for me, that I still had my family, that I still had my siblings."
And though sadness is inevitable after the loss of a loved one to cancer, it's important to know good things can come again. Legaspi, for example, used her feelings of loss to help her create beautiful written works. When she went to Princeton, she got involved with the school's magazine and explored her emotions through poetry, fiction and whatever else she was inclined to write.
"I actually took this sadness and let it motivate me," Legaspi said. "I learned that it's OK to be sad sometimes. It's OK to carry sadness with you… it's not always a bad thing. It makes you who you are and it gives you a story to tell and it helps you teach other people to cope with their sadness.
"I've learned to have it impact me in a positive way and have it not just be a sad story… Instead, I'm using it for a better purpose."
Learn more about SurvivorNet's rigorous medical review process.