Hoda Kotb's Post-Breast Cancer Diet
'TODAY' show co-anchor Hoda Kotb is still very careful about what she eats some 15 years after beating breast cancer.
Kotb told her co-host Jenna Bush Hager on their show 'Hoda and Jenna' that she eats a ton of fruit and prefers to stick with predictable meals rather than mixing it up.
Kotb received her breast cancer diagnosis in February 2007 after doctors discovered lumps in her breast tissue during a routine exam.
She is the mother of two adopted daughters, Haley, 5, and Hope, 3.
As a breast cancer survivor of some 15 years, 'TODAY' show co-anchor Hoda Kotb, 58, takes time to enjoy the little things with her daughters Haley, 5, and Hope, 3.
She regularly posts family pictures on Instagram, including one just recently with her and her girls lining up for a summer tradition.
View this post on Instagram
Read More
"Lemonade stands.. chasing the last days of summer.. nice way to say goodbye . Until next year," she captioned with the picture.
Ever since her breast cancer diagnosis and treatment in 2007, Kotbe has been careful about what she eats.
"I eat a ton of fruit," Kotb told her co-host Jenna Bush Hager on their show 'Hoda and Jenna."
The two were having a discussion on-air about eating habits and whether Hoda likes to mix it up, or stay with the tried and true.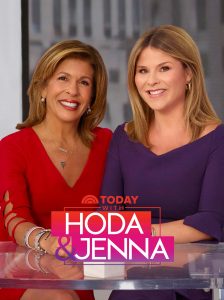 "I'm a real fad person. I go all in until I'm all out," Kotb said. "I love something until I hate it."
RELATED: Hoda Kotb, 57, Declares Her 50s Are Her 'Best and Most Confident Years' After Adoptive Mom Of Two Splits From Her Fiancé, Swears Off Dating For Now
Kotb also remembered her brief experience as an unconvincing vegan.
"Well I tried it. I wanted some energy. I just wasn't happy," she said jokingly.
Hoda Kotb's Breast Cancer Journey
Kotb received her breast cancer diagnosis in February 2007 after doctors discovered lumps in her breast tissue during a routine exam.
She was 43 at the time and underwent a mastectomy and reconstruction followed by five years of taking the drug tamoxifen (Nolvadex).
"Cancer shaped me, but it did not define me. It's part of me, but not all of me," Kotb said at an annual Breast Cancer Research Foundation New York Symposium and Awards Luncheon in 2017.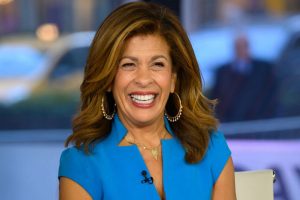 She's still cancer-free today, but Kotb has since opened up about her fertility struggles following her breast cancer battle.
"I remember that my oncologist called, and we were talking about freezing my eggs," Kotb told Good Housekeeping. "She basically said that given my age and (my breast cancer treatment), it was pretty close to a dead-end."
Her reaction was, understandably, filled with sorrow. And at that moment, she doubted she'd ever realize her dream of becoming a mother.
"I was in my room, and I just sobbed. I thought, 'Well, that's that, isn't it?,'" Kotb said. "Like, you almost blame yourself. 'Why didn't I do this? Why didn't I do that?' So I just pushed it away because the reality seemed impossible to bear.
"How do you survive knowing you can't have what you desire and what you feel like you actually physically need?"
Dr. Terri Woodard discusses your options for preserving fertility after a cancer diagnosis
Infertility can be a side effect of some cancer treatments, but there are options to consider. Fertility preservation, for example, is available to women of childbearing age. Options for women include:
Egg and embryo freezing (the most common practice)
Ovarian tissue freezing
Ovarian suppression to prevent the eggs from maturing so that they cannot be damaged during treatment.
Ovarian transposition, for women getting radiation to the pelvis, to move the ovaries out of the line of treatment.
How Does Chemotherapy Affect Fertility?
No matter what course of action you choose to take, it is important that all women feel comfortable discussing their options prior to cancer treatment.
In a previous conversation with SurvivorNet, Dr. Jaime Knopman, a reproductive endocrinologist at CCRM NY, says time is precious when dealing with fertility preservation for women with cancer. In other words, the sooner the better when it comes to having these important fertility conversations with your doctor.
"The sooner we start, the sooner that patient can then go on and do their treatment," Dr. Knopman said. "A lot of the success comes down to how old you are at the time you froze and the quality of the lab in which your eggs or embryos are frozen in."
When Should I Get a Mammogram?
Screening for breast cancer is typically done via mammogram, which looks for lumps in the breast tissue and signs of cancer. The American Cancer Society (ACS) says women should begin yearly mammogram screening for breast cancer at age 45 if they are at average risk for breast cancer.
It's also important to be on top of self breast exams. If you ever feel a lump in your breast, you should be vigilant and speak with your doctor right away. Voicing your concerns as soon as you have them can lead to earlier cancer detection which, in turn, can lead to better outcomes.
There are many treatment options for people with this disease, but treatment depends greatly on the specifics of each case. Identifying these specifics means looking into whether the cancerous cells have certain receptors. These receptors – the estrogen receptor, the progesterone receptor and the HER2 receptor – can help identify the unique features of the cancer and help personalize treatment.
RELATED: 'It's A Game Changer': FDA Approves Keytruda, Chemo Combo To Treat Aggressive Triple-Negative Breast Cancer
"These receptors, I like to imagine them like little hands on the outside of the cell, they can grab hold of what we call ligands, and these ligands are essentially the hormones that may be circulating in the bloodstream that can then be pulled into this cancer cell and used as a fertilizer, as growth support for the cells," Dr. Comen previously told SurvivorNet.
The ACS also says those aged 40-44 have the option to start screening with a mammogram every year, and women age 55 and older can switch to a mammogram every other year, or they can choose to continue yearly mammograms.
Learn more about SurvivorNet's rigorous medical review process.
---