Hoda Kotb Interviews Prince Harry
Hoda Kotb is a survivor of stage I breast cancer and recently interviewed Prince Harry.
Kotb treated her breast cancer with a mastectomy after her diagnosis in 2007.
Women aged 45 to 54 with a regular risk of breast cancer should get mammograms annually.
TODAY 
show host Hoda Kotb, 57, is a survivor of breast cancer and she sat down with the Prince Harry, 37, in an exclusive interview for the morning show which has royals fans all abuzz. Kotb is no stranger to big interviews, having been a former war correspondent and she even interviewed Oprah – not once, but twice.
The Egyptian-American sat down with Prince Harry in a wide-ranging interview. He expressed doubt s about if he would attend his grandmother's Platinum Jubilee celebrations in the UK in June, due to "the ongoing security row with the UK's Home Office," reports the Daily Mail.
Read More
Prince Harry tells the journalist and mother of two, "Home for me now is, you know, for the time being, it's in the States. And it feels that way as well."
 

View this post on Instagram

 
The prince also shared with Kotba about his desire to make the world a better place for his two young children. He praised his grandmother, the Queen's sense of humor, and spoke of their special relationship, too.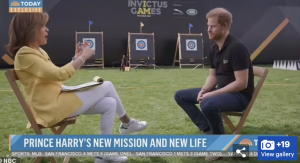 Hoda Kotb's Breast Cancer Journey 
After she was diagnosed with the disease in 2007, Hoda Kotb made the empowered decision to share her breast cancer diagnosis with her boss, her family, and a few close colleagues at NBC News. She credits those colleagues she did tell with helping her find the best medical team, led by Dr. Freya Schnabel, director of breast surgery at NYU Medical Center.
Together, they decided on a treatment plan. In Kotb's case, the cancer was stage one, so she underwent a mastectomy and then took anti-estrogen hormone therapy for five years.
Kotb admits luck played a significant role in her diagnosis since her gynecologist caught the disease after she had neglected to get a mammogram. "I was actually telling people to go get mammograms, and I didn't do it myself," Kotb said on NBC.
A mastectomy, like the kind Kotb opted for, is a common treatment for breast cancer. Other breast cancer treatment options include chemotherapy and radiation.
When Should You Consider a Mastectomy?
Screening for Breast Cancer
The current guidelines from the American Cancer Society (ACS) say that women aged 45 to 54 with a regular risk of breast cancer should get mammograms annually.
For women with an elevated risk of breast cancer (who have a family history of the disease or carry the BRCA1 or BRCA2 gene mutation), you should begin screening before age 45. Speak with family members about your family cancer history – it could save your life. Performing self-exams in the shower or at home is another good way to stay on top of breast cancer screenings; these should be done in addition to – not in place of – mammograms.
Related: Getting to Know Your Breasts with Self-Exams
Breast cancer is screened for via mammogram, which looks for lumps in the breast tissue and other signs of existing cancer, or cancer in its earliest stages. If a worrisome lump is detected, your radiologist or doctor will advise you on the next steps, which typically include a breast biopsy.
When Should I Get a Mammogram?
Learn more about SurvivorNet's rigorous medical review process.