A Bride's Journey To Diagnosis
Courtney Wilson-Calder followed her gut feeling and got a lump on her neck checked for cancer.  Following her cancer diagnosis on August 18, 2022, she is now urging others to pay attention to their lumps and seek medical advice when something seems wrong.
Symptoms of Hodgkin lymphoma include lumps on the neck or lymph nodes, swelling around the armpits or groin, persistent fatigue, fever, night sweats, unexplained weight loss, and severe itching.
Biopsies are performed as a way to evaluate a cancer and its makeup.
Courtney Wilson-Calder first noticed a lump on her neck as she was planning her wedding, but was relieved when a biopsy revealed no cancer cells were found. However, after marrying her husband Liam, she found another bump and was diagnosed with Hodgkin lymphoma just one day before her 28th birthday.
Following her cancer diagnosis on August 18, 2022, Wilson-Calder is now urging others to pay attention to their lumps and seek medical advice when something seems wrong.
Read More
"Lymphoma symptoms can be hard to diagnose and recognize. I first found a lump in my neck in March but the doctor thought it was a swollen lymph node. When it grew and became painful, I went to see a specialist who told me it could be cancer," Wilson-Calder explained in a
TikTok video
last month. "I spent time away from work with loved ones who helped me come to terms with what I could be facing. I spoke to my fiancé and I decided I wanted to get married before I started any treatment.
"After planning a wedding in five weeks, I was told my biopsy had no cancer cells. I relaxed, my friends planned me a hen do and I was so happy and relieved," she continued. "I married the man of my dreams but we didn't expect what was coming next. I found another lump and after another biopsy, I got a call to go to the hospital for my results a week earlier than expected."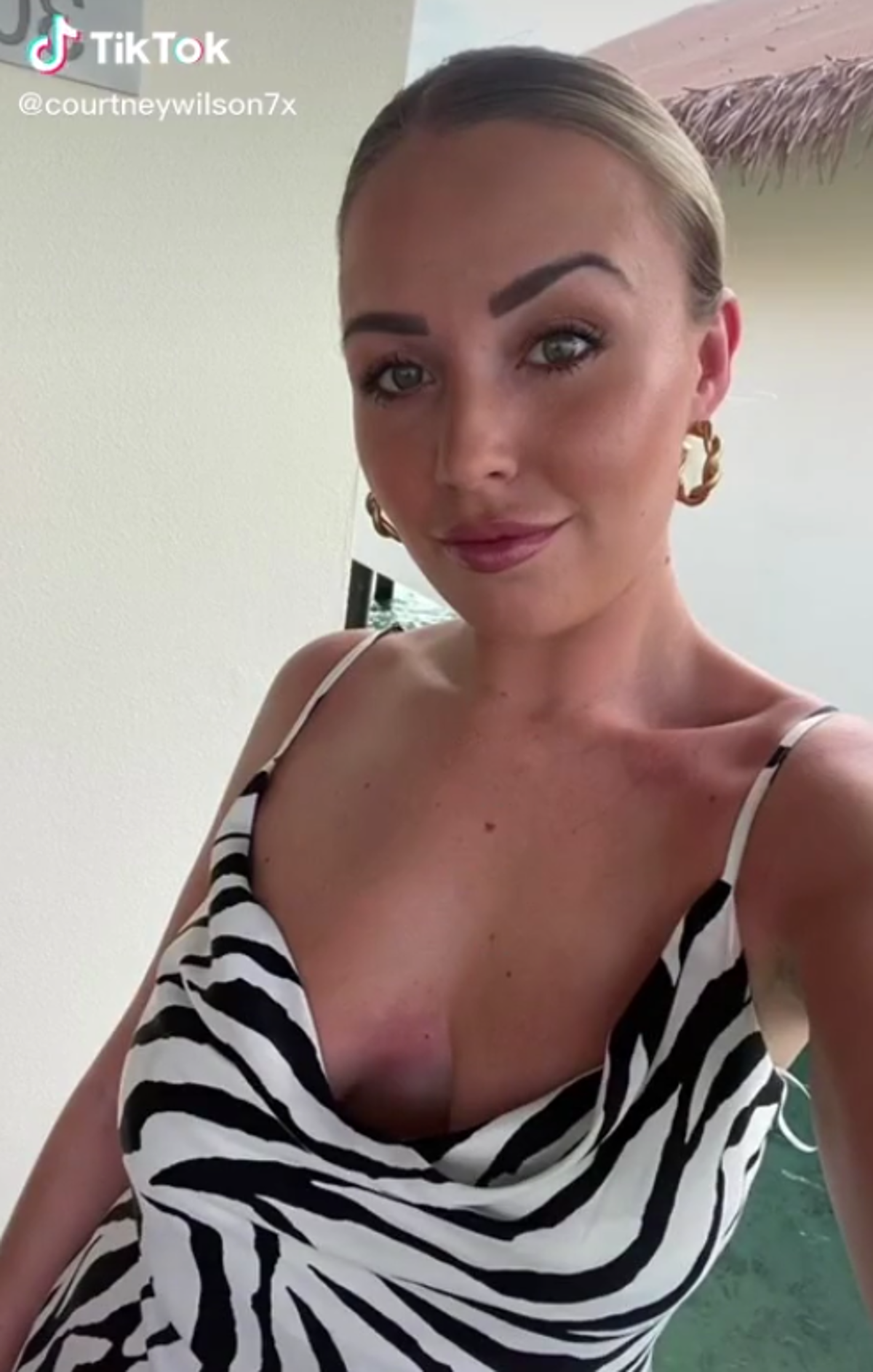 Wilson-Calder, who has since created a JustGiving page to raise money for Lymphoma Action, will soon be starting cancer treatment. "My friends and family will be taking part in a lot of sponsored events to get us through this hard time and raise money for the UK's only charity dedicated to lymphoma, the 5th most common cancer," the newlywed wrote.
Related: Gym-Going Newlywed, 33, Blamed Her Breathlessness On Pregnancy: It Turned Out To Be Cancer
September is Blood Cancer Awareness Month, and Wilson-Calder has already raised nearly $6,000 for Lymphoma Action, the UK's only charity dedicated to lymphoma.
"Everyone at Lymphoma Action is thinking of Courtney and wishing her the very best with her treatment," Lymphoma Action's community and partnerships manager Sarah Thorn, according to Leeds Live. "We want to say a huge thank you to her for so bravely raising awareness of lymphoma and fundraising for us, especially when she has only just received her diagnosis."
What is Lymphoma?
Lymphoma is different from cancers of specific organs like the lung or breast. It's not one cancer, but an umbrella term that encompasses several different types. "I always advise that people understand their specific type of lymphoma, because there are over 40 different types," Dr. Elise Chong, medical oncologist at Penn Medicine, tells SurvivorNet. "One of the best ways to wrap your head around lymphoma is to start thinking about the different ways we categorize lymphoma."
In general, lymphoma is a cancer of your immune system. It starts in the lymphatic system, a network of vessels, ducts, and nodes that runs throughout your body. This system drains excess fluid and waste from your tissues and drains them into your bloodstream. It also produces disease-fighting white blood cells called lymphocytes that defend your body against infections.
Lymphoma starts when lymphocytes develop a genetic mutation that makes them multiply much faster than usual. The mutation also makes older cells that would normally die stay alive. The quickly multiplying lymphocytes start to collect and build up in your lymph nodes, the small glands in your neck, armpits, and other parts of your body.
From there, the disease is divided into a number of different categories, Dr. Chong says.
Hodgkin and Non-Hodgkin Lymphoma: What's the Difference?
The first differentiator is whether you have Hodgkin or non-Hodgkin lymphoma. Hodgkin lymphoma has distinctive, giant cells called Reed-Sternberg cells. The presence of these cells, which can be seen under a microscope, will help your doctor determine which of the two lymphoma types you have.
There are a few other important differences to note. For one thing, non-Hodgkin lymphoma is much more common. And you're more likely to be diagnosed with it after age 55. People usually develop Hodgkin lymphoma at a younger age.
Another difference is that non-Hodgkin lymphoma is more likely to spread in a random fashion and be found in different groups of lymph nodes in the body, while Hodgkin lymphoma is more likely to grow in a uniform way from one group of lymph nodes directly to another.
What Kind of Lymphoma Do You Have? Why Your Type Matters
What to Expect from a Hodgkin Lymphoma Biopsy
In a previous interview, Dr. Elise Chong, a medical oncologist at Penn Medicine, says lymphoma symptoms can be difficult to detect. "The symptoms of lymphoma, especially if you have a low-grade lymphoma, often are no symptoms. People say, but I feel completely fine, and that's very normal," she explains.
Dr. Chong describes in an earlier interview what someone diagnosed with lymphoma, like Wilson-Calder, can expect from a lymphoma biopsy. She says, "The process of the biopsy depends on the type of biopsy that's being performed. If it's a surgical biopsy, usually the patient will either be put to sleep or in a twilight state, where you won't remember anything about the procedure," she explains.
Related: Beautician, 28, Was Told By Her Doctor A 'Moveable Lump' in Her Neck Was Due To 'A Cold:' It Turned Out To Be Cancer So She Froze Her Eggs
Dr. Chong says the biopsy will require general anesthesia or some sort of lighter anesthesia. "This is also done so that no one's remembering any discomfort associated with the procedure," she says. "Then the surgeon cuts through the skin, removes the lymph node or other section of organ that's being biopsied, and then this is closed back up either with skin glue or sutures or sometimes staples."
She also says that processing that tissue takes around one to two weeks, "because we need to do special stains for lymphoma, we need to do chromosomal tests to really have enough information to talk about the type of lymphoma."
Contributing: SurvivorNet Staff
Learn more about SurvivorNet's rigorous medical review process.
---