Advancements in Lung Cancer Treatment Are Improving Patient Lives
Actress Suzanne Pleshette, best known for her role on "The Bob Newhart Show," lost her longtime husband to lung cancer and then battled the disease herself.
While processing her grief, she reconnected with an old love, Tom Poston, who had also just lost his wife. The shared experience brought them close and they were married until his death in 2007.
Pleshetter was diagnosed with lung cancer in 2006 and received chemotherapy.
SurvivorNet experts say surgery has been the main treatment for early-stage lung cancer, sometimes combined with chemotherapy before or after surgery.
However, because of advancements in immunotherapy and targeted therapy, these options are starting to play a bigger roles in lung cancer treatment.
Patients today are encouraged to talk to their doctor about whether they have specific genetic mutations or proteins that can be specifically targeted with treatment.
Late actress Suzanne Pleshette is best known for portraying Bob Newhart's quick-witted and strong-willed wife in "The Bob Newhart Show." However, it was clear Pleshette's unwavering strength in relationships wasn't just on screen. Her real-life relationships endured cancer, grief, and rekindled love from decades past.
It was hard not to notice Pleshette in the 1970s sitcom "The Bob Newhart Show." The show chronicled the life of on-screen psychologist Dr. Robert "Bob" Hartley (Newhart) as he navigated life with the people he loved. Pleshette played his sharp wife, Emily Hartley, described as "confident and sexy" by The Los Angeles Times.
Read More
Her acting career began in the late 1950s and lasted until the 2000s. She earned several Emmy Award nominations for her roles in TV and film, including for "Bob Newhart."
Off-screen, Pleshette married three times. Her second husband was businessman Tom Gallagher, with whom she tied the knot in 1968. They shared marital bliss for over three decades until Gallagher passed away in 2000 after a brave battle with lung cancer.
Lung cancer is the second most common form of cancer, and the leading cause of cancer deaths in the U.S. Fortunately, advancements in lung cancer treatment have improved the quality of life for people diagnosed in recent years.
Pleshette, like too many spouses know, had to learn to continue living her life without her beloved husband.
It was during this time, as she grieved for Gallagher, that Pleshette reconnected in a meaningful way with an old friend and fellow actor Tom Poston.
Pleshette and Poston worked together – and dated – roughly 40 years earlier in the 1959 Broadway comedy "Golden Fleecing," according to the Los Angeles Times. Poston also made appearances on "The Bob Newhart Show."
Both Poston and Pleshette shared the loss of a spouse. Poston's wife, Kay Hudson, had passed away in 1998 according to The New York Times. When the two reconnected, they were both processing their own grief, and the shared experience clearly brought them close together.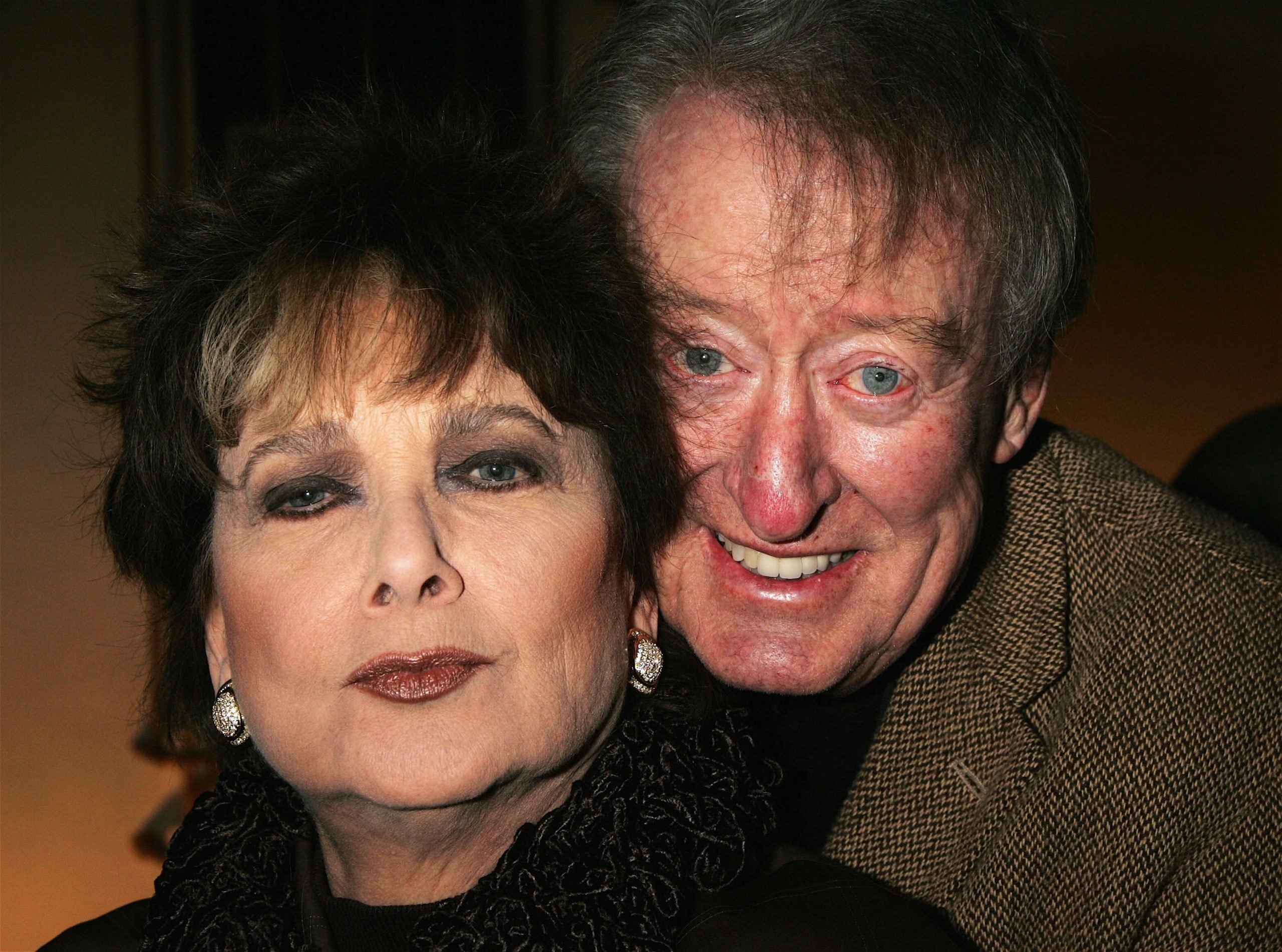 The two ended up marrying each other in 2001.
Then, just like her husband Gallagher before her, Pleshette was diagnosed with lung cancer in 2006. She had chemotherapy for treatment, though it's unclear how long it lasted.
Poston was able to support his new fie through her cancer diagnose before passing away in 2007 at age 85.
Pleshette passed just a year later in 2008 at the age of 70. Her lawyer, Robert Finkelstein, told The Associated Press at the time that Pleshette "died of respiratory failure."
The Impact of Lung Cancer
Suzanne Pleshette battled lung cancer in 2006 just a few years after her longtime husband passed of the same disease. According to NBC's "Today," her cancer was "caught at an early stage" and cancer the size of "a grain of sand" when it was found.
Lung cancer has two main types:
Non-small cell lung cancer (NSCLC) is the most common type and makes up about 85% of cases.
Small cell lung cancer (SCLC) is less common but can grow faster than NSCLC and is treated differently.
Lung cancer can be tricky to treat because oftentimes symptoms don't appear until the cancer has advanced to later stages.
Lung cancer symptoms may include:
A persistent cough
Shortness of breath
Fatigue
Chest pain
Loss in appetite
Weight loss
While most lung cancer cases can be linked to smoking, nearly 20% of people who succumb to the disease in the U.S. never smoked, the American Cancer Society says.
WATCH: The anatomy of lung cancer.
Losing a Spouse and Coping After Cancer Battle
Suzanne Pleshette's grief after losing her husband Tom Gallagher to lung cancer was undoubtedly difficult, as too many spouses know.
Grieving comes in five stages, and the stages can appear in any order. The stages are denial, anger, bargaining, depression, and acceptance.
"Grief comes in waves," says Dr. Scott Irwin, a psychiatrist, and Director of Supportive Care Services at Cedars-Sinai Medical Center.
"They're grieving the change in their life, the future they had imagined is now different."
If you find yourself filled with grief, your support group can help make all the difference. Support groups can be made up of family, friends, or strangers all sharing a common health challenge.
For Pleshette, Tom Poston was always a lifelong friend. When the two reconnected in 2000, they helped each other deal with the loss of their spouses. The bond and support they gave each other grew stronger, turning into a marriage.
Advancements in Lung Cancer Treatment
Suzanne Pleshette underwent chemotherapy after her early-stage lung cancer diagnosis in 2006. Since then, advancements in lung cancer treatment have improved outcomes for people diagnosed with the disease.
SurvivorNet experts say surgery has been the main treatment for early-stage lung cancer, sometimes combined with chemotherapy before or after surgery. However, immunotherapy and targeted therapy are starting to play bigger roles in lung cancer treatment.
WATCH: Immunotherapy for advanced lung cancer.
Immunotherapy uses your own immune system to recognize and target cancer cells. Doctors can use internal mechanisms like the body's proteins, white blood cells, tissues, and organs, or external mechanisms by synthesizing molecules in the lab.
"Using a patient's own immune cells is a very complex way to treat a cancer," says Dr. Steven Rosenberg, Chief of Surgery at the National Cancer Institute and a pioneer in immunotherapy research and treatment.
Generally, targeted and immunotherapies can include one of the following forms:
Small molecules: These can enter cells effortlessly, so they are utilized for intracellular targeting.
Monoclonal antibodies: These are proteins synthesized in the lab. Some of these monoclonal antibodies are made to mark cancer cells to be recognized by the immune system and destroyed, others can stop cancer cells from growing or cause them to self-destruct. These antibodies can also be loaded with toxic drugs to directly project them into cancer cells. This last form is called an antibody-drug conjugate and there have been many new advancements with this type of therapy.
SurvivorNet experts explain when doctors recommend immunotherapy for early-stage lung cancer, they're usually talking about checkpoint inhibitors.
The treatment works like this:
Checkpoints are proteins on the surface of T cells, a type of immune cell. T cells attack harmful substances such as bacteria, viruses, and cancer cells. PD-1 is an example of a checkpoint.
Lung cancer cells have their own protein, PD-L1, that activates PD-1 and tells the T cell to ignore them. You can think of PD-L1 as a cloak that hides the cancer cell from the immune system.
The interaction between PD-1 and PD-L1 is like a switch that shuts off the immune response.
Immunotherapy drugs called PD-1 and PD-L1 inhibitors flip the switch. They block these proteins to switch the immune response back on so that your immune system can kill the cancer cells.
The following immunotherapy drugs have been approved by the Food and Drug Administration within the last couple of years.
Nivolumab (Opdivo) can be combined with chemotherapy to shrink the cancer before surgery.
Atezolizumab (Tecentriq) may be used after surgery and with chemotherapy to destroy any cancer cells left behind.
Pembrolizumab (Keytruda) or cemiplimab (Libtayo) might be the first treatment you get if you aren't a good candidate for surgery, radiation, or chemotherapy, or if the cancer has spread.
Durvalumab (Imfinzi) can control the cancer's growth after you've had chemotherapy plus radiation.
And targeted therapy is a type of treatment that works by identifying specific markers on tumor cells. These markers allow doctors to target specific cancers with drugs or other treatments designed to attack them. Targeted therapy can also minimize side effects, increase efficacy, and improve survival rates.
At this time, researchers have successfully produced many non-small cell lung cancer targeted drugs that are specific for changes in genes and proteins found within cancer cells. They include drugs that target:
Blood vessel growth (also known as the angiogenesis process)
KRAS gene mutations
EGFR mutations
ALK gene mutations
ROS1 gene mutations
BRAF gene mutations
One example of a targeted therapy drug designed to target the EGFR mutation is osimertinib (brand name Tagrisso).
Tagrisso is approved for early-stage NSCLC with EGFR mutations, and an exciting new study revealed just how well it helps patients.
The study from lead author Roy Herbst, deputy director and chief of medical oncology at Yale Cancer Center and Smilow Cancer Hospital, showed that the risk of death was cut in half for patients with non-small cell lung cancer that can be removed with surgery and has the EGFR mutation.
This new data shows that Tagrisso can in fact help extend and improve lives the ultimate goal.
Lung cancer has a tendency to return, sometimes even despite successful surgery. So these new treatment options are providing much-needed hope for keep patients' cancer away.
What Are the Side Effects of Targeted and Immunotherapy?
Although the advancements in lung cancer treatment improve overall outcomes, they still have side effects patients should be aware of.
Targeted therapy and immunotherapy can have fewer side effects since they only target cancer cells, whereas chemotherapy or radiation therapy can damage both cancer and healthy cells.
Side effects vary depending on:
Type of targeted drug or immunotherapy
Dose of the drug
If there are any treatment combinations
Overall health
Method of administration
The following list has common side effects of targeted therapies that peopel may experience during or after treatment:
Fatigue or tiredness
Low immune cells count (white blood cells)
Breathing difficulties
Coughing
Diarrhea
Constipation
Change in taste
Loss of appetite
Flu-like symptoms
Nausea
Weight gain
Skin reactions (ex. rashes or itching)
Eye problems (ex., light sensitivity, dryness, redness, or impaired vision)
Remember to talk to your doctor about what to expect when undergoing targeted treatment for your cancer because some targeted therapies cause other serious side effects.
Questions to Ask Your Doctor
If you find yourself confronted with a lung cancer diagnosis, here are a few questions you can ask your doctor to help understand your situation and what treatment options may make sense for you:
Is my lung cancer in its early stages or more advanced?
Do I have a genetic mutation that can be targeted by specific treatments?
Does my cancer have a protein that can be targeted by specific treatments?
Am I a good candidate for immunotherapy?
What treatment options do you recommend?
What possible side effects should I expect?
How long do you expect me to be on treatment?
How long do you expect me to be unable to work or carry out normal activities during treatment?
Learn more about SurvivorNet's rigorous medical review process.
---