What to Know About Childhood Cancer
Liver cancer is relatively rare in children, as the Children's Hospital of Pittsburgh says hepatoblastoma only affects two to three people in a million.
Blood tests, ultrasounds, CT scans (X-ray images), MRIs (medical imaging) and angiograms are generally used to confirm a liver cancer diagnosis.
Treatment advances in recent decades have led to 84% of children with cancer now surviving five years or more.
Some childhood cancers might not develop any symptoms, but some signs that could be initially overlooked include flu-like symptoms, a "glow" in the pupil, itchy skin, trouble exercising and decreased appetite.
Helping your child cope with a cancer diagnosis can be one of the hardest things a parent can experience. And for Grammy Award-winning artist Michael Buble, helping his son battle liver cancer has taught him one thing: "be more present."
Buble, 47, is a father of four children who range in age from 8 months up to 9 years old. His eldest, Noah, was diagnosed with a rare type of liver cancer, hepatoblastoma, in 2016 when he was just 3 years old. In a reflective interview with "The Big Issue", a U.K.-based magazine, the music star spoke openly about his family life.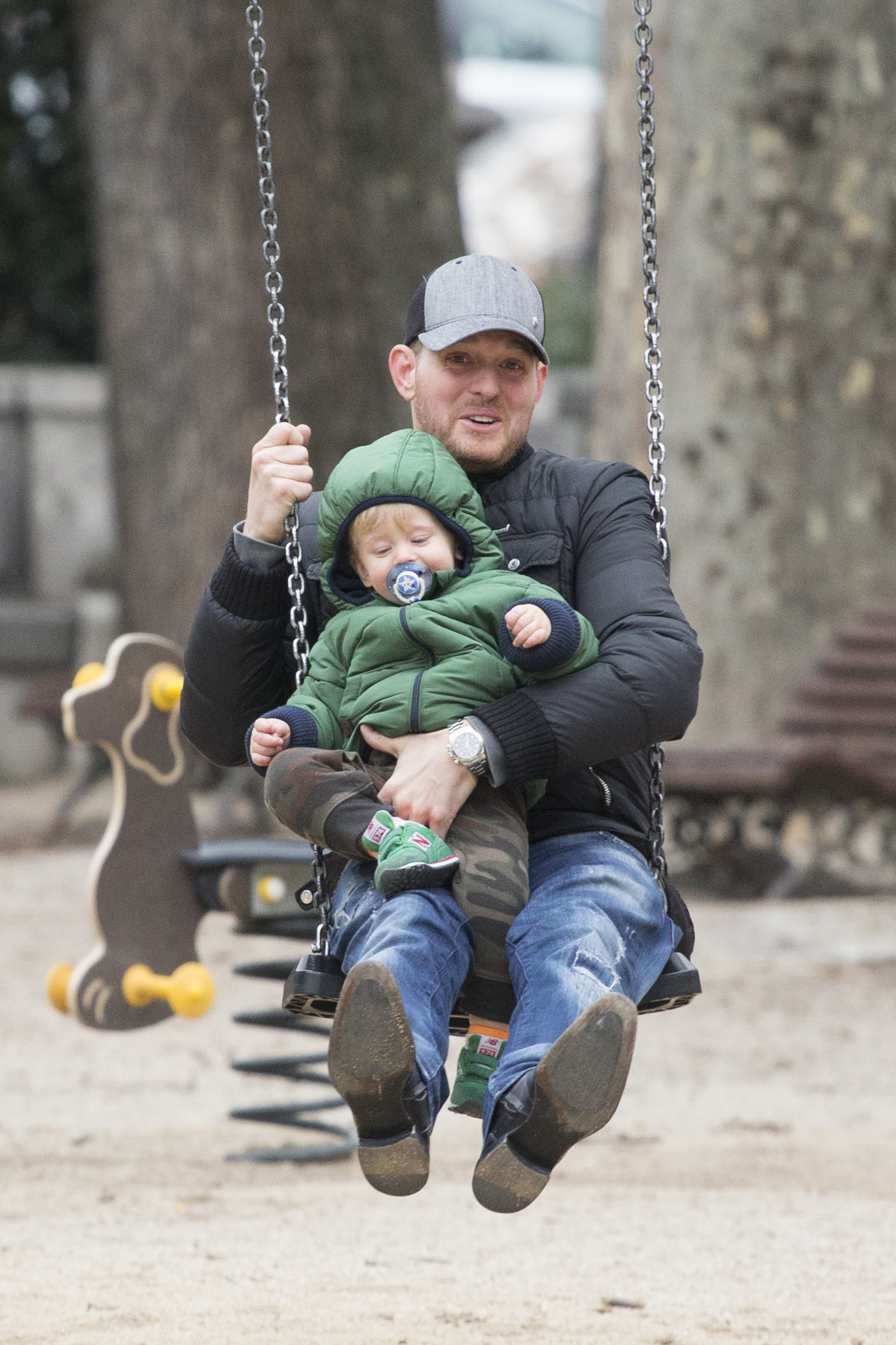 Read More
He shared his son's cancer diagnosis caused him to put his family ahead of his career, as he had to put their needs first. In doing so, he ended up cancelling a music tour, despite more than 75 million records being sold, just to be with his son battling cancer. He and his family were in the hospital on and off for seven months, The Evening Standard
reported
. "If I could give advice to my younger self at any point, through all of the good or bad times in my career and my home life, I'd say, be more present," Buble said. "I spent so much time worrying about the future, or even the past. Now I tell my kids all the time, we cannot change what we've done. And we have no control about what is going to happen in the future. So all we can do is be in the moment and be as present as possible," he continued.
In a previous interview, Buble said he and his wife felt a "sense of responsibility to help other parents" after sharing with fans the toll caring for a young cancer warrior was having on his family.
WATCH: When Someone You Love is Facing Cancer — Be Patient
A cancer diagnosis impacts the entire household and in the case of children, parents must be their child's biggest advocate. Family members caring for a child diagnosed with cancer can be incredibly stressed. Family support not only eases the anxiety of the cancer warrior, but the added support helps their loved ones too.
Understanding Hepatoblastoma
Hepatoblastoma, which is what Michael Buble's son Noah had, is a disease in which cancerous cells form in the tissues of the liver, according to the National Cancer Institute.
Liver cancer is relatively rare in children, as the Children's Hospital of Pittsburgh says. Hepatoblastoma only affects two to three people in 1 million.
Risk Factors for Hepatoblastoma
Children with certain syndromes or conditions are at higher risk of developing hepatoblastoma, according to the National Cancer Institute. The risk factors include:
Low birthweight
Aicardi syndrome, which is a rare genetic disorder marked by a lack of tissue connecting the left and right halves of the brain, seizures, lesions on the back of the eye (retina), and other brain and eye abnormalities.
Beckwith-Wiedemann syndrome, which is an overgrowth disorder where babies are large at birth and develop low blood sugar.
Hemihyperplasia, where one side of the body or part of one side is larger than the other.
Familial adenomatous polyposis, which is a disorder where many polyps form on the inner walls of the colon and rectum.
Glycogen storage disease, in which a form of glucose has problems being stored inside the body.
Symptoms of Hepatoblastoma
Children suffering from hepatoblastoma may experience:
A lump in the abdomen that may be painful
Swelling in the abdomen
Unexplained weight loss
Loss of appetite
Nausea and vomiting
Because children may not be able to express symptoms they may be experience, it's critical for parents to be vigilant of physical and behavior changes in their kids.
Diagnosis and Treatment
Blood tests, ultrasounds, CT scans (X-ray images), MRIs (medical imaging) and angiograms are generally used to confirm a liver cancer diagnosis. A liver biopsy, where a small piece of tissue is removed and analyzed for cancerous cells, may also be performed.
Michael Buble shared his son underwent surgery to remove the tumor from his liver and received chemotherapy and radiotherapy afterward as part of his recovery. The Evening Standard reported after the surgery, "no cancer cells remained on the edges of the tumor site."
Today, Noah seems to be doing very well and is even following in his dad's footsteps. Buble shared a video in July 2022 of young Noah playing the piano with his dad singing. Buble was getting choked up while singing, and the emotional video went viral, with fans praising Noah for his incredible music skills.
View this post on Instagram

Treatment advances in recent decades have led to 84% of children with cancer now surviving five years or more, according to the American Cancer Society. This is up from 58% from the mid-1970s.
Generally speaking, surgery and localized treatment options are used to treat liver cancer. According to Mayo Clinic, treatment options include:
Surgically removing the tumor
Liver transplant
Heating cancer cells
Freezing cancer cells
Injecting alcohol into the tumor
Injecting chemotherapy drugs into the liver
Placing beads filled with radiation in the liver
Radiation therapy
Targeted drug therapy
Immunotherapy
Chemotherapy
Signs of Childhood Cancer
Childhood cancers can display a wide variety of symptoms so it is important for parents to remain vigilant for anything unusual with their children. SurvivorNet has listed the top ten childhood cancer symptoms to help parents better detect symptoms early.
1.     Flu-like symptoms: Symptoms may include headache, nausea, vomiting, blurred vision, balance problems, personality or behavior changes, seizures, drowsiness or even comas.
2.      A "glow" in the pupil. Two of the more common signs and symptoms for retinoblastoma include white pupillary reflex (leukocoria) – when the pupil appears white or pink instead of red when you shine a light in the eye – and lazy eye (strabismus) – when the eyes don't appear to look in the same direction.
3.     Itchy skin. Early symptoms of lymphoma can be tricky to notice; they may include swollen lymph nodes, fatigue, unexplained weight loss or itchy skin.
4.     Trouble exercising. Symptoms vary depending on the type of leukemia, but general symptoms for the disease include: Fever or chills, persistent fatigue, weakness, frequent or severe infections, losing weight without trying, swollen lymph nodes, an enlarged liver or spleen, easy bleeding or bruising, recurrent nosebleeds, tiny red spots in your skin (petechiae), excessive sweating as well as bone pain or tenderness.
5.     Decreased appetite. Symptoms of hepatoblastoma can include a large mass in the abdomen, swollen abdomen, weight loss, decreased appetite, vomiting, jaundice (yellowing of eyes and skin), itchy skin, anemia and back pain.
6.     A swollen face. SVC syndrome which can lead to swelling in the face, neck, arms and upper chest (sometimes with a bluish-red color).
7.     Abnormal bleeding. Childhood rhabdomyosarcoma is a disease in which malignant (cancerous) cells form in muscle tissue. Possible signs of childhood rhabdomyosarcoma can include: a lump or swelling that keeps getting bigger or does not go away (it may be painful), crossed-eyes or bulging of the eye, headache, trouble urinating or having bowel movements and blood in the urine and bleeding in the nose, throat, vagina or rectum.
8.     A stomach lump. A Wilms tumor is the most common type of kidney cancer in children. These tumors often grow quite large before causing any symptoms, but signs and symptoms can include: swelling or a large lump in the abdomen (belly), fever, nausea, loss of appetite, shortness of breath, constipation, blood in the urine and high blood pressure.
9.     Bone or joint pain. Children and teens with osteosarcoma, a type of bone cancer, may experience the following symptoms or signs, though some children and teens with osteosarcoma do not have any of these changes: pain in a bone or joint that gets worse over time, especially if the pain is severe enough that it interferes with sleep, a noticeable mass or lump in an arm or leg, particularly in the areas around a shoulder or knee, a broken bone with no injury to explain how it occurred and back pain or a loss of bowel or bladder control.
10. A myriad of odd symptoms. Sometimes a cancer diagnosis can come after a variety of out-of-the-ordinary symptoms. Symptoms of neuroblastoma, the most common cancer in infants (younger than 1 year old), can include a lump or swelling in the child's belly that doesn't seem to hurt, swelling in the legs or in the upper chest, neck and face, problems with breathing or swallowing, weight loss, not eating or complaining about feeling full, problems with bowel movements or urinating, pain in bones, lumps or bumps under the skin (which may appear blue), drooping eyelid and small pupil (the black area in the center of the eye) in one eye, problems being able to feel or move parts of the body as well as eyes that appear to bulge and/or bruising around the eyes.
Learn more about SurvivorNet's rigorous medical review process.
---