Cancer in a COVID-19 Hotspot
Don't put off any type of cancer care, from screening to treatment and follow-up.
Know that hospitals take your safety very seriously.
Make all decisions about changes to your care with your cancer care team.
Battling cancer during a pandemic is not for the faint of heart and if you live in a town where the numbers of those infected with this virus keep going north, it can feel even more intense. We reached out to experts in COVID-19 hotspots, Miami and Houston, to get their most up-to-date recommendations for cancer patients living in areas where the coronavirus is spiking.
"Cancer will not disappear without treatment and cancer care is not elective"
Read More
You've probably wondered more than once over these last six months whether you're better off locking down at home and skipping a doctor visit or braving the outside world so you can make all your appointments. Three doctors living and working in Florida and Texas, current COVID-19 hotspots, told 
SurvivorNet
what you and your loved ones need to know.
"Cancer will not disappear without treatment and cancer care is not elective," Zeina Nahleh, MD, Director of Cleveland Clinic's Maroone Cancer Center in Weston, FL, tells SurvivorNet. "Timely cancer treatment is often life-saving, while delaying treatment may have dire consequences."
Related: When Treatment Can't Be Delayed: Lung Cancer and COVID-19 – What You Need to Know
Don't Delay Cancer-Related Care
When it comes to most cancers—from detection and diagnosis to treatment and follow-up care—timing is everything. So, while the thought of going into a hospital or doctors' office with other (possibly sick) people around may make you nervous, cancer care specialists stress that it's not advisable to put off your care.
"If you were to get COVID-19 or you were to get cancer diagnosed at a more advanced stage, you're more likely to die from that more advanced cancer than you are from COVID-19. The vast majority of people do not die from COVID-19. If you have a more advanced cancer, your risk of death goes up," Therese Bevers, MD, Medical Director of the Cancer Prevention Center at MD Anderson Cancer Center in Houston, tells SurvivorNet.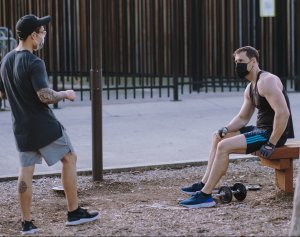 You shouldn't put off any of the following cancer-related doctor's appointments, she says:
Routine preventive screenings
Getting suspicious symptoms checked out
Treatment for active cancer
Surveillance and follow-up for cancer survivors
But, according to new research, it seems people are putting off this type of care; here's how we know. Researchers analyzed the records of any patients who got lab tests for any reason through Quest Diagnostics, the country's major provider of diagnostic testing, from January 1, 2018 through April 18, 2020. They compared cancer diagnosis rates before the pandemic and during it. They found that new cancer diagnoses have plummeted during the pandemic. The researchers concluded that the sharp decline means people aren't having screenings and these cancers will be diagnosed later at a more advanced stage.
Related: Disease Appearing In Children Amid COVID-19 — What To Know About Multisystem Inflammatory Syndrome in Children (MIS-C)
"It's not that people have stopped developing cancer," says Bevers. "It's that they are not getting in and getting diagnosed. It's so important to stay on top of screenings and, if you're a survivor, surveillance."
The same goes for active cancer treatment. Delaying care can only make it harder to treat.
Hospitals and Clinics Are Taking Serious Precautions
Care providers want to assure all their patients that cancer centers around the country, not just in COVID hotspots, are taking lots of precautions to keep patients safe.
"Oncology practices in the U.S. have rapidly adapted to the COVID-19 reality in many ways to ensure the safety of all patients. At Cleveland Clinic, and in many other practices, we have strict guidelines to deliver care in the safest way possible," Nahleh says.
How Doctors Use Telemedicine to Treat Ovarian Cancer During COVID-19
Here's some of the  safety measures clinics have adopted that you might see where you get your care:
Telehealth appointments whenever possible or appropriate
Screenings and no-touch temperature checks at entrances
Fewer patients and staff on site to limit your exposure and make social distance possible
Rearranging offices and waiting rooms so people can keep a safe distance
Medical-grade masks provided for patients at the door
Staff cleaning exam rooms, elevators, hand rails as soon as they're used
Hand hygiene stations
When patients at MD Anderson see the changes, Bevers says, "They say, 'Wow, I feel really safe here. It's so quiet. There's not that many people here.' We have been working very hard to make it that way."
If you're worried about the risks of going to a doctor's appointment, call first and ask about the safety measures.
Related: Don't Delay Lung Cancer Immunotherapy Treatment Over Fear of COVID-19
While clinics are doing everything to keep you safe, Alvaro Alencar, M.D., hematologist-oncologist at University of Miami's Sylvester Comprehensive Cancer Center, tells SurvivorNet, you should do everything possible to keep yourself safe. "Wearing a mask is by far the most important. Assume everyone is infected, wash your hands frequently, avoid crowds, and keep a safe distance from everyone. Remind everyone around you to do the same, not only because they can be carriers of the virus, but also because everyone is at risk."
Stress and Anxiety for Cancer Patients During COVID-19
Stay in Contact with Your Care Team
Any changes to your care should be a decision shared between you and your health care team.
"It's important for any patient with cancer, including those patients who live in a COVID-19 hotspot, to communicate with their cancer treatment team," says Nahleh. "Don't make a unilateral decision to delay your appointment or treatment without consulting with your doctor."
Learn more about SurvivorNet's rigorous medical review process.